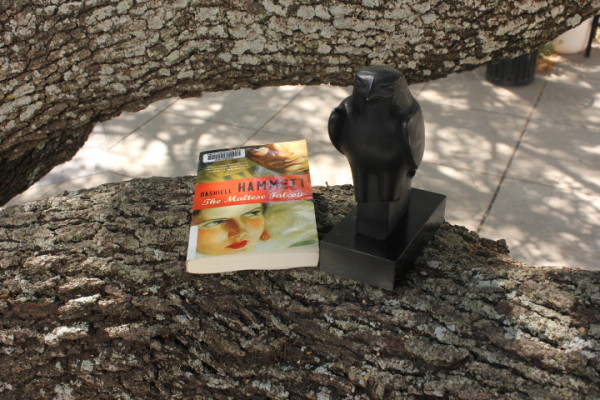 By Doug Castillo
Eastfield is taking a trip back in time to solve a somber mystery this academic year in its latest installment of its annual common book project.
This year's common book is "The Maltese Falcon" by Dashiell Hammett, a book ranked 56th on Modern Library's 100 Best Novels of the 20th Century list.
Published in 1929, "The Maltese Falcon" stars Sam Spade, a detective hired by Miss Wonderly to trail a man. The case leads him to a deeper mystery of missing prized possessions and murder that casts suspicion on the detective himself.
The common book experience is designed to encourage the college community to share the book by reading it, studying it and participating in activities connected to it.
"We want the book to enrich our students' life in a way," said Nina Lambert, English professor and co-chair of the Common Book Committee. "But it is also a way for all of us to come together. We're a community college. When we read these books with our students, we discuss, we discover things together and we share a bond that we may not have with a textbook."
This year, the committee has planned a series of mystery-themed events based on "The Maltese Falcon." Four are scheduled this month.
The Maltese Falcon Scavenger Hunt, which started Sept. 21 and runs through Sept. 25, leads students through a series of clues to find the eponymous falcon on campus. A Sherlock Holmes expert and an art authenticator will speak Sept. 29 and 30, respectively. The Perot Museum of Nature and Science will present "Diagnosis: The Body in Question" on Sept. 30 at the Pleasant Grove campus.
Future events include a mock crime scene staged by the Dallas Police Department, a Halloween costume contest and screenings of the 1941 film adaptation of the novel starring Humphrey Bogart.
"You attend the events and you're able to relate to other faculty, other students," said Judy Wayne, librarian and co-chair of the committee. "More than one person has read this book, and you have something in common with them."
Outside of these events, "The Maltese Falcon" is also being incorporated into the curriculum of many English classes that are teaching the core values associated with the book.
"When the faculty and the college at large embraces the common book, it's providing connections across disciplines. It's providing connections across classrooms," said Executive Dean Courtney Carter-Harbour. "It provides a wonderful opportunity for our students on many levels."
The library has multiple copies of the book available for checkout. The bookstore sells new and used copies.
Visit libguides.eastfieldcollege. edu/maltesefalcon for information about the novel, its author, the 1940s, crime investigation and film noir compiled by Eastfield librarians.