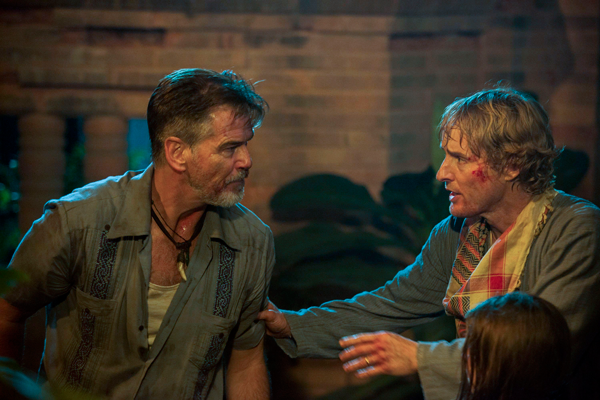 By James Hartley
If you're looking for possibly the most heart-pounding, action-packed flick of the year, "No Escape" is for you.
Starring Owen Wilson and Lake Bell, the film excels at its purpose of edge-of-your-seat suspense and draws the moviegoer in to experience the struggle of the protagonists.
With only a few minor flaws, "No Escape" provides a breath of fresh air for the film aficionado that has become tired of the dull and watered down action-thriller flicks of late.
The story follows Jack (Wilson) and Annie (Bell) Dwyer and their children, who moved to an unnamed foreign nation somewhere near Vietnam after Jack's Texas-based business failed.
They are trying to escape the anonymous country as the native population is slaughtering any foreigners and anyone who tries to help them.
Despite the slow motion, which is a problem at the start of the film and later fades out, the cinematography of the movie is extremely well done. Though CGI effects are a requirement for a film of this scale, they aren't poorly done and it's easy to get lost in the environment of the movie.
The funny introduction of the primary characters clashes with the atmosphere of the rest of the film, but it quickly recovers from this offset by initiating the action in an intense, horrific way when police collide with an angry mob of rebels and shots are fired.
This film is definitely one of the best of the year thus far. The action, which will draw most of the audience in, will not disappoint.
The character development could have been better, but compared to movies as of late, it is stellar.
The children in the film are probably the only hindrance to the plot, as their presence can be a double-edged sword. They have the ability to increase suspense and drama at times, and at other times they slow down the plot to a near stand-still.
"No Escape" sets itself apart from other recent action flicks by removing the overload on cliches and adding extensive character development.
Though there is no surprise ending or major twist in the plot, it is near-constant, heart-pounding action. Even the slower scenes, such as when the family is on a motorcycle trying to sneak through a parade of rioters while going against the flow of people, are outstandingly suspenseful.