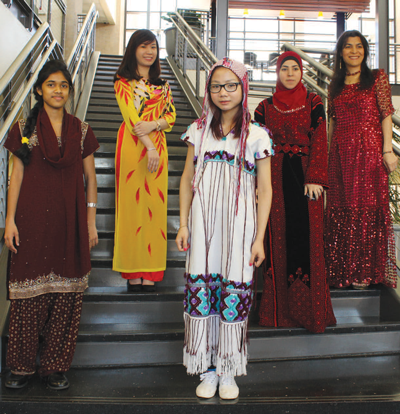 By Andy Carrizales
In a technology-driven world, it is easy to go online and get inspiration for your daily outfits from the latest Pins and newsletters. With so many global publications and advertisements promoting a contemporary western style, many cultures have abandoned their traditional attires.
The second annual Eastfield International Festival took place on March 26 in G-101.
The festival featured henna tattoos, traditional clothing and jewelry vendors, a fashion show, Japanese calligraphy and popcorn provided by the Student International Club.
The Eastfield Choir performed two traditional songs under the instruction of Professor Imthurn: "Amor Vittorioso" from Italy and "Aya Ngena," a cheery Zulu folk song. The celebrations concluded with a performance by Dr. Oscar Passley's Jazz Ensemble.
This event was organized by the administrators of the English Language Learning Advisement Center. International Student Club adviser Aline Lopes, adviser Marissa Williams and International Student Specialist Amina Kader co-organized the event.
"We've been trying to internationalize the campus," Lopes said. "This is a great idea to actually bring the international team."
This year, the festival incorporated a global fashion show. Seven international and ESOL students modeled their culture's traditional clothing.
"We're really surprised how many of the students really wanted to participate in the fashion show and wear their traditional clothes," Williams said.
The show featured models representing China, India, Palestine, the Democratic Republic of Congo, Vietnam, Iran and Thailand.
Lily Nguyen, an accounting major, modeled for her home country Vietnam. She wore an ao dai, a fitted silk tunic worn over a pair of pants, in traditional New Year's colors of red and yellow.
"I wanted to [show] my traditional clothes to everybody so that they know more about Vietnam," Nguyen said. Fatn Fuad, a nursing major, modeled a casual-wear dress from Palestine. Fuad's mother made the dress in just over a month. Fuad, now 22 years old, moved to the United States four years ago in search of an education.
Esther Mwambuyi wore a green and red dress with a complementary headpiece from the DRC, made by her mother. In her home country, she would wear this dress on special occasions, such as church, weddings and dinners.
Mwambuyi is an undecided major in her first semester at Eastfield College. So far, she said that she's enjoying her college experience in the United States.
"It's really nice," she said. "The professors take time to explain… And make the students participate."
Mwambuyi is no stranger to fashion shows. During high school, she modeled her traditional clothing at an African festival.
"I thought [the International Festival] was a wonderful opportunity for me to do it again," she said. "Why not take the chance?"
Isabella Sgobbi, president of the International Club, thought the event was a success.
"I think it's important to show the culture of different countries to everybody," Sgobbi said.