'Hairspray' cast ready for opening night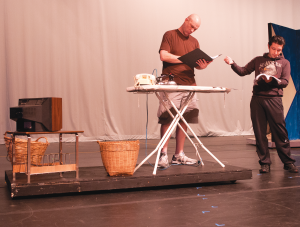 By Anjulie Van Sickle
The college's theater, music and dance departments are coming together for the first time in the upcoming performance of the musical "Hairspray."
The cast advises the audience to expect to see fabulous singers, excellent dancers, a variety of comedy and spontaneously funny moments when the musical premieres April 18. The show will run through April 21.
Set in Baltimore in the early 1960s, "Hairspray" explores such serious topics as racism and body-image issues.
"I'm really excited to do this musical," director Dusty Reasons said. "It's different than anything we've ever done. It's a comedy, but it deals with the serious subject matter of segregation, civil rights and teenage hormones — a little bit of everything."
Reasons said the audience should be prepared for a more mature subject matter than a typical "fluff" musical. The performance doesn't sugar coat any of the issues addressed.
Reasons added that she has enjoyed working with such a diverse cast.
"The students are all intermingling," she said. "We have dance students who have never done a theater show before who are meeting the theater students and getting accustomed to working within a theatrical production. It's the same with the music students and the theater students learning more about music and learning more about dance."
The musical's message has helped some members of the cast be more accepting of others' differences.
"The biggest thing the audience has to learn is to accept other people who are different and to try and find beauty within the person," said Kenneth Fulenwider, who plays Edna. "Also, just to let go of the differences, because we are all human beings. We're all the same and deserve love."
With three-hour practices every day, the cast members said preparing for the show has been exhausting, but worth it.
Musical theater major Sophia Ramirez said there's more to producing a play than simply performing a part.
"If you want it to come out good, you have to put in the work," she said. "There's a lot of background work that goes on that most people don't know about."
In addition to the voice and dance lessons, Reasons said there is a lot of work behind the scenes to ensure that the production is spectacular.
Cast members have all worked on building and painting the set as well as running lighting.
"I've learned how to work on my singing skills, my social skills and my dancing skills," ensemble member Paul Schlachtner said.
Many of the cast members have become friends with people they wouldn't have had the opportunity to meet had they not participated in the musical.
"A production teaches you how to work with all kinds of people," assistant stage manager Lindsay Stewart said. "Even if you don't like some people or the way they approach certain situations, you learn how to work together and do what you need to do."
After much hard work, practice and determination, the cast is ready for its first performance.
The shows on Thursday, Friday and Saturday will start at 8 p.m. The Sunday show is a 2 p.m. matinee.
Adult tickets are $15. Student and children's tickets are $10.