In Eastfield's music labs, the groovy sound of jazz can be heard through the halls, bathing students in its smooth serenity. That tune comes from a veteran musician playing his saxophone to share his passion for the genre with students.
Karl Lampman, 68, teaches jazz improvisation, music theory and songwriting. He has taught at Eastfield for 10 years and is a specialist in the saxophone, flute and clarinet.
His affinity for music goes back to his childhood, when he was first exposed to music in school.
"When I was in fourth grade, I wanted to play the saxophone," he said. "I was too small to play the saxophone because the saxophone was too big. So, I ended up with a clarinet."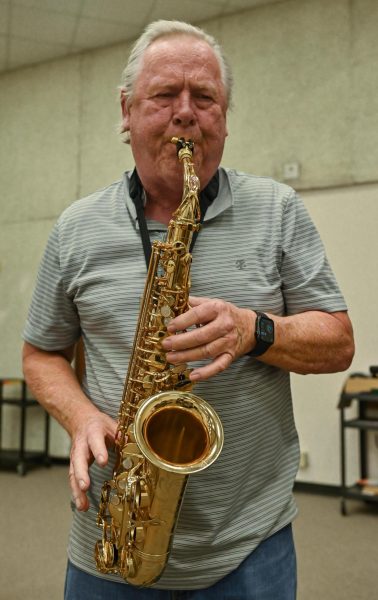 At a little league baseball game, he learned about the instrument he wanted to play from a friend.
"He brought his saxophone to the baseball game, and he showed it to me," Lampman said. "I was no longer interested in baseball. I couldn't believe the saxophone. I just wanted to play it, and I guess my parents saw this. So then, when I was in sixth grade, I got a saxophone."
Lampman would go on to perform around the country with various bands and other musicians, such as Johnny and Rosemary Clooney.
When he teaches, Lampman encourages his students to enjoy the experience and explore other styles by emphasizing fun in his lessons. 
"We just play tunes and have fun," Lampman said. "I play the piano. They play, they have fun. We play songs because adults just want to have fun. With the guys that are music majors, it's a little more rigorous. It's still basically jazz, but sometimes pop music is a little easier and accessible for a garage band style, and we'll play pop music too."
Music instructor Oscar Passley, says that Lampman is valuable to the music department because of his love for music, which benefits their professional relationship.
"He brings an experience and a fire too, and a passion for playing and teaching that you don't really find in a lot of people," Passley said. "It's great for the students. He's been crucial in a lot of the things I've been able to do at Eastfield."
Not only have Lampman's students become better musicians, but they have also become better people after learning and interacting with him. 
"Becoming a better person is sometimes more important, I think, than a better musician," Passley said. "He encompasses both, and he passed the ballot." 
Lampman was recommended for Eastfield by Louis Harlas, whom he has known since they both attended the University of North Texas. Lampman and Harlas have also performed together.
"Dr. Passley asked me who I thought would be really well that fit in here, and I said Karl Lampman," Harlas said. "He has his degrees, he's a great musician, great person, has a wealth of information, and would be very responsible."
He also believed his personality suited the environment on campus. 
"His teaching demeanor is very personable," he said. "He's a very warm individual, and that's why I thought that he would be a very big addition here."
When Lampman teaches, he bases his lessons on who the students are as individuals and their capabilities. 
"I like to try to understand the person and try in varying my approach depending on the person I'm teaching," he said. "If somebody is orally based or has a really good ear, then I'll teach based on the strength of the person and then use that to build stuff around it, or if somebody's really good at theory, then we'll go from the theory aspect and then train the ear from the theory."
While Lampman is fortunate in his career and finds a sense of community at Eastfield, he credits his family for shaping who he is as a musician and instructor.
"Having a family puts everything in perspective," Lampman said. "When you have a family, you realize that everything is actually about your family, more so than it is about the music. Satisfying yourself through your career makes you a happier and more functioning person so you can be a better family person, a better dad or grandpa."