Campus trash disposal should not be so hard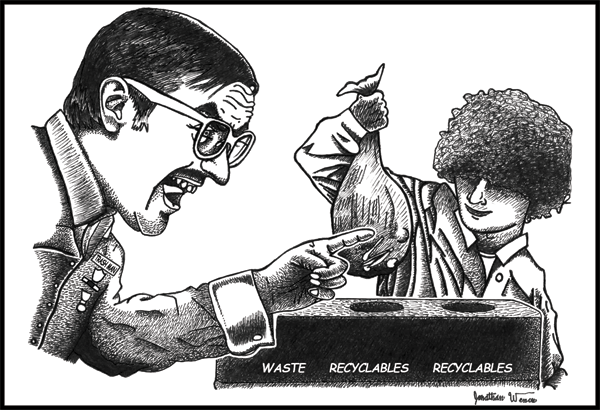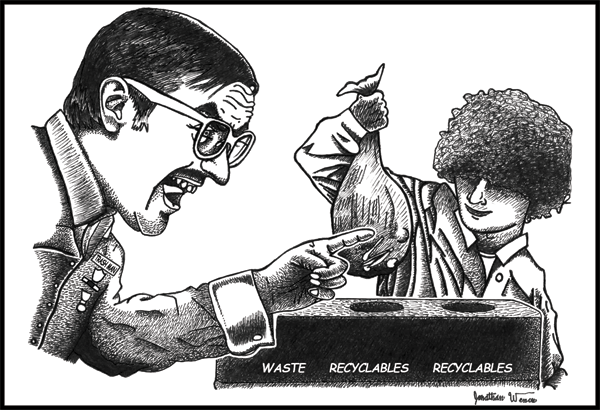 We pride ourselves on being a green campus. We have special stations for filling empty water bottles, numerous recycle bins and even a small wind turbine.
With dozens of recycle bins scattered across the college and a student body of more than 14,000, we have the potential to recycle thousands of cans, bottles, newspapers and containers every day.
However, a glance inside most of these bins will reveal something else entirely: Most are filled with either misplaced trash or recyclable material.
For the convenience of both passers-by and cleaning staff, the majority of the college's recycling bins are directly connected to trash bins in a shared container. One side is clearly marked for recycling, while the other is meant for holding food and other types of waste.
Despite this effort, many people throw trash into the recycling bins and recyclables into the trash bin.
Getting rid of trash and recyclables isn't difficult. The college has gone out of its way to provide its students and employees with a number of explicitly marked containers.
So why aren't we capable of separating the last bites of our Subway sandwich from an empty cola can?
Consider this: The average American produces around 4.5 pounds of trash every day. This amounts to around 1.5 tons of solid waste from every person each year.
If we were more willing to cut down on the amount of items we throw away every day, we could make a significant difference in these statistics over the course of a year.
The environment isn't the only thing we are affecting when we don't dispose of our trash properly, either.
When we fail to properly dispose of recyclables or trash, not only are we wasting perfectly good recyclables by covering them with food and contributing to a growing number of landfills, we are also disrespecting the hard-working custodial staff on campus.
Few people stick around long enough to see them empty the bins. It's shocking to see just how many recyclables go into the trash can, and vice versa.
This can slow down their work, making a simple task needlessly complicated and preventing them from completing other tasks.
We're no longer in grade school. We shouldn't have to be told not to throw half-chewed pizza crusts into the recycling bin and plastic bottles into the trash, and yet we do it anyway. The text on the bins couldn't be more clear.
Is it really so difficult to follow basic directions, especially ones that are so obvious?