High Five: Activities for a safe and inclusive Halloween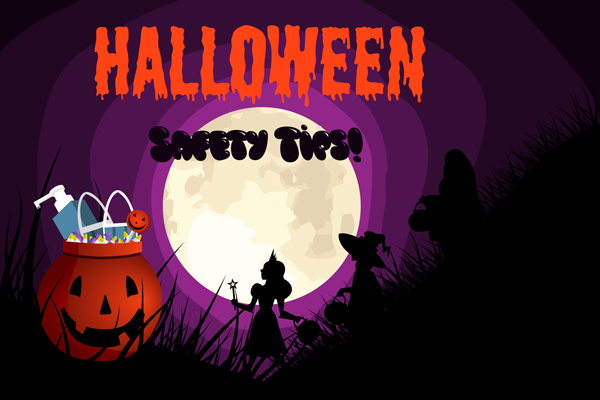 By DEIRDRE HOLMES
Not only do we have the coronavirus to deal with this Halloween, but keep in mind there are children and young people who have food allergies or other health issues and can't eat traditional treats. Hopefully these five ideas will help you make final preparations for a holiday that's safe and fun for everyone!
Do your research.
Don't lock yourself inside just because all your friends are doing it, but don't go out trick-or-treating as if this year were no different from last. In Dallas County trick or treating is advised against but not banned. Look into what your neighborhood is planning and start from there.
No-one else trick-or-treating? You could spend hours thinking up so many amazing ideas for at-home fun. Do you want to go out Halloween night? You could spend hours thinking of ideas for costumes.
Check out this list of recommendations from the Centers for Disease Control and Prevention on how to stay safe but still celebrate on Halloween.
cdc.gov/coronavirus/2019-ncov/daily-life-coping/holidays.html
That's a bit too scary…
I'm not saying don't set out spooky decorations, but just keep in mind what kids might be visiting your house to trick or treat. If your neighborhood is primarily filled with kindergarteners, maybe think twice about that cackling witch and giant murder-clown. But if all the kids you see are teenagers, you can feel free to bring on the creepy.
Be aware that decorations with flashing lights or that cause sudden scares could be a trigger for kids with seizure disorders. The Today's Parent website suggests you use decorations and music that can be detected from a distance.
Is that pumpkin…blue?
I'm one of the many kids in the United States with food allergies. From things like dairy and peanuts that could kill me, to mustard which makes my lips swell up, I have at least seven food allergies. All this makes the Halloween candy and snack scene so much scarier than a cemetery at 3 a.m.
I was 13 the first time I went trick-or-treating. That year, some families in the neighborhood, including my own, jumped into the Teal Pumpkin project. The idea is to provide non-food items for trick-or-treaters, enabling everyone to have a safer Halloween tradition.
You can still give out candy. Just keep it in a separate bowl from the non-food items. Find more information at tealpumpkinproject.org.
Ding dong!
Maybe trick-or-treating just isn't fitting on your list this year. You're a little too stressed, and you just want to take a day. You might consider what my brothers and I did before I was able to go trick-or-treating.
My brothers and I would wear costumes and look out the window, which was likely non-intentionally creepy, and wait for visitors. The doorbell would ring, and one of us would cheerfully open the door, grab handfuls of candy, and put them in the kids' (and adults') bags or buckets. And sometimes afterward I'd come around and trick or treat really quick at our own door.
We're not home.
If dealing with trick-or-treaters is not fitting on your list, you could still set out a bowl of candy, pencils, coins, or whatever on your front porch or on a table outside. It's been done before, so don't worry about looking weird. That way you're still giving your neighborhood children that extra bag of Skittles or adorable mini notepad.
Another low-stress option that can still be fun is getting together little bags of treats and leaving them on the doorsteps of your neighbors' houses. Maybe you could dress the whole family up as ninjas and stealthily place bags on all the neighborhood porches!
You've got this! I hope whatever you do, you have fun and stay safe. Happy Halloween and All Saint's Day everyone!