By ESMERALDA OLGUIN and KILEE TORREZ
@TheEtCetera
As Dallas reaches its 37th case of Zika, researchers continue to search for a vaccine and cure for the mosquito-transmitted disease, a health department official said.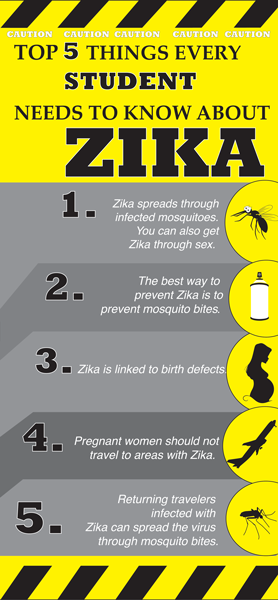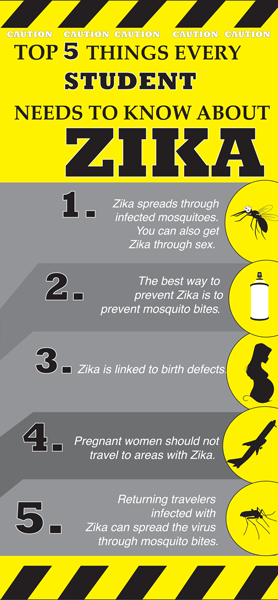 "Zika is 100 percent preventable by using insect repellent, wearing longer sleeves and pants and mosquito-proofing your home," said Julie Martellini, an epidemiology program planner for Dallas County Health and Human Services.
Martellini spoke about Zika and other viruses passed by mosquitoes, such as Chikungunya and West Nile, at a Sept. 20 STEMinar, a lecture sponsored by the Science, Technology, Engineering and Math Division.
"Because Zika is the disease du jour, there is more public concern with Zika," she said. "But we have emphasized to our team to not forget about West Nile."
Only one in five infected people develop symptoms of Zika or West Nile, and death is rare, according to public health officials. West Nile illness can linger for months, but Zika is generally mild with symptoms including fever, rash, joint pain and red eyes lasting about a week.
Pregnant women with Zika can pass the infection to their babies, resulting in birth defects such as microcephaly, a potentially fatal condition where a baby's head, and often brain, are smaller than normal.
"The bigger threat is convincing the public that this is a very big issue," Eastfield nurse Cynthia Taylor said. "Education is the key, and we're working on that."
About 200 Zika cases have been confirmed in Texas, most contracted during travel to regions with large mosquito populations. In the United States, Florida is the only state  where residents have contracted Zika from local mosquitoes.
[READ MORE: Partnership with online courese company angers faculty]
"Texas is on alert for the possibility of local transmission," the Department of State Health Service said in an Aug. 15 statement. "State efforts have been underway since January to delay and minimize the impact of Zika on Texas."
Zika is sexually transmitted and may possibly be passed on through blood transfusions.
"If you do have the Zika virus, abstain from sexual activity or at least practice safe sex," Martellini said.
Health officials recommend precautions against mosquito bites to prevent contracting mosquito-transmitted viruses, but those who travel to active Zika transmission areas should be diligent in applying insect repellent.
An uninfected mosquito that bites an infected person can pass it on to other people.
"My family and I are always careful during mosquito season," student Dishaila Turner said. "We make sure to set up magnetic screen doors that help keep them out of the house."
Congress has been unable to agree on funding for Zika research and prevention. Martellini said the health department's programs are restricted without more money.
"We are doing everything we can with the budget we have," she said. "The state of Texas had $1.5 million given to them by the federal government, but they decided not to give any of that locally. So we have actually switched funds from Ebola to work on Zika."
— Rodrigo Mendoza contributed to this report.