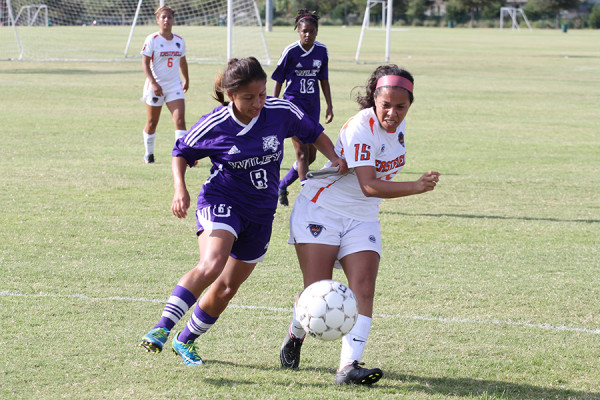 By Brianna Harmon
After ending the season with a loss to North Lake in the Metro Athletic Conference semifinals last season, the Eastfield soccer team is off to a strong start.
The Harvesters it are currently ranked No. 4 in the National Junior College Athletic Association Division III poll with a 4-1 record.
The Harvesters finished 7-8-3 last season, 6-2-2 in conference. Twelve athletes have returned from last season, and eight new players have joined the program.
This season conference play will be a dogfight to see who takes the No. 1 spot and goes to New Jersey for the national championships. Richland, who is ranked No. 8 in NJCAA Division III, appears to be Eastfield's biggest competition this year.
"I have really high expectations now," said Miriam Mendoza, a returning player with one goal this season. "We started off the season really good, and I expect to finish it just as strong."
Sophomore goalkeeper Abigayle Cantrell leads the defense. She was named an NJCAA Division III Player of the Week last season after posting an .846 save percentage and making 22 saves in a three-game period.
"The best of Abbi is yet to come," said Dustin Stein, Eastfield's head soccer coach. "Now she trusts her teammates, and last year I don't think she necessarily did.
"She is learning from every game, and we look to ride Abbi all year. She is the No. 1 unless she is hurt."
During nonconference play this season Cantrell has posted a .688 save percentage with 11 saves.
Key newcomers this season include freshman midfielder Karla Gutierrez and defender Torri
Sayman, who played together at Horn High School. Gutierrez earned a starting position and has found the back of the net twice. Sayman, also a starter, has played a crucial role in the backfield, keeping opponents off the board.
The Lady Harvesters have scored 21 goals in five nonconference games this season, an average 4.2 goals per game. Last season they scored 32 goals the entire season, an average 1.8 goals per game.
Eastfield opens conference play this week, traveling to Mountain View and Richland. The Harvesters' home conference opener is Sept. 29 against Cedar Valley.
"I expect us to go to New Jersey," said Sayman. "I'm going to push our team, and everyone else, and I want to prove everyone wrong."