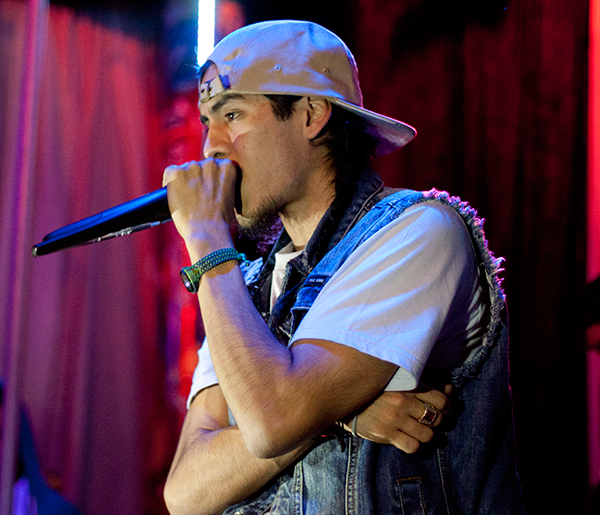 By KARINA DUNN
Music blared from Rudy Gutierrez's dorm room on a regular basis during his freshman year at the University of Texas in Austin. Gutierrez, who began dabbling in music at the age of 7, quickly earned a reputation as the dorm disc jockey.
However, he had never considered producing his own music until a friend dropped by with a special request. He wanted Gutierrez to help him record a mixtape.
With no background in mixing or recording, Gutierrez hesitated to accept the offer. Yet his friend persisted, and Gutierrez grew more open to the idea.
He invested in a stage microphone, software for his computer and other tools. And soon he had turned his dorm room into a studio.
"At the time I had no idea what I was doing, so it was the most crazy, off-the-wall thing you could ever see anyone doing," Gutierrez said. "It was just bad. If I could go back … I'd smack myself on the forehead."
Although his friend withdrew from the project, Gutierrez found his passion. He decided to return to Dallas and focus on rap music, and now his career is beginning to take off.
Gutierrez, who goes by the stage name Rhythm the M3, is pairing his music venture with his education. The 24-year-old already holds two associates degrees in commercial recording and liberal arts from Cedar Valley College, and now he is working on a degree in business administration at Eastfield.
"You have to have the knowledge to succeed," he said.
Party in Deep Ellum
Using what he learned in college, Gutierrez has released two promotional mixtapes in the past three months: "Body Mind Soul" on Jan. 6 and "Epilepsy" on March 3. In the wake of that success, he has also started work on his first studio album, tentatively titled "The M3 EP," which is due for release in spring 2015.
On the mixtape "Body Mind Soul," Gutierrez explored the contrast between the physical and spiritual self. He said "Epilepsy" uses more musical content and jazzy rhythms than lyrical content. Both projects are available for download on datpiff.com and Rhythmthem3.com.
"I try to find deeper understanding of my lyrics, real musical elements, acoustical sounds that people can play in a concert," he said.
Gutierrez's older brother and manager, Ramiro Gutierrez, has taken pride in watching his younger brother grow as an artist and a person.
"Rudy has always been more of my son than my brother," said Ramiro, who teaches auto body classes at Eastfield. "I sort of raised him … guided him as much as I could. His music is poetry to me."
The executives of Gutierrez's record label, Beast Mode Records, held a fan appreciation party for the rapper on March 28 at Elm Street Bar in Deep Ellum.
The event featured an appearance by actress Nikki Soohoo, who had roles in "Stick It" and "Bring It On: Fight to Finish."
"I've always wanted to visit Dallas," she said at the party. "Edward [Tapia, Gutierrez's booking agent] and Rhythm the M3 gave me the opportunity to come out here, so it was terrific."
The club was packed for the event, and by the end of the night, the crowd's energy had peaked. In addition to Soohoo, artists from Gutierrez's label performed, including rapper IQ from Space Camp Entertainment.
"Rhythm and I go way back," IQ said. "Since we've met, we've had a plan to stick together and grow the empire from the ground up."
Before the show, Gutierrez said he was optimistic about the night and being surrounded by people "who appreciate music as much as [he does]."
Immersed in music
Music has always been a part of Gutierrez's life. He learned to play the piano at 7 and the drums at 12. He picked up jazz at 19.
With three brothers and two sisters, Gutierrez had many influences growing up. Ramiro played in a Cumbia band, and Gutierrez loved its passionate, rhythmic sound. His brother Eloy Gutierrez introduced him to the gangsta rap popularized in Dallas by rapper D.O.C. and rapper-producer Dr. Dre.
"I grew up listening to a fusion of Cumbia on one side and gangsta rap on the other," he said. "It just came together."
Gutierrez believes in the value of work ethic, and he believes a love for the art form is needed in a competitive industry like hip-hop.
"You have to have a passion and reason for what you're doing," he said.
As a solo artist, Gutierrez searched for a stage name that matched his personality. Not wanting to use his birth name, he Googled "RG", his initials, to find out what names were already out there.
Snoop Dogg's song, "Rhythm and Gangsta" appeared in the results.
"I dropped the Gangsta and stuck with Rhythm," Gutierrez said.
Gutierrez had previously worked with the Masterminds, a rap group at UT. He originally took on the name Mastermind Musician, then changed it to Mastermind Mexica after an indigenous tribe of Mexico. He combined both experiences and arrived at the stage name "Rhythm the M3."
Life at Eastfield
Gutierrez's goal is to engage listeners and keep the art alive in his music with his unique style. His supporters at the college believe he can achieve that goal.
"He can artistically craft words in a way that is quite visionary for me," said Courtney Carter Harbour, executive dean of the Office of Student Engagement and Retention. "We herald a lot of rap artists — Kanye West, Nas, Jay Z, Common — who have songs that are socially conscious messages. I think Rudy fits within that same genre of artists."
Carter Harbour met Gutierrez during his studies with the Eastfield Jazz Ensemble. Aware of his abilities as a poet, she later learned of his capabilities as a musician.
"He is able to bridge his interests here with his interests outside Eastfield," Carter Harbour said. "I really see him as a student of the world and all the world has to offer. He's beyond his years in how he thinks and goes about his efforts."
Gutierrez is planning two performances for the college's Cinco de Mayo celebration. He plans to perform at the main campus on May 1 and at the Pleasant Grove campus on May 3. Gutierrez will perform with Eastfield's Jazz Ensemble on May 1.
Ramiro Gutierrez approached Oscar Passley, Eastfield's music coordinator, with the idea for the collaboration. Passley instructed Rhythm the M3 when he played for the Ensemble.
"Rudy was always eager to learn … and liked different aspects of spoken word, jazz and hip-hop," Passley said.
Musical inspiration
Gutierrez's break into the music industry began when he shared his music with his friend Jorge "Prophecy" Villa, who has worked with artists such as Lil Flip.
"[Jorge] was like, 'Dude, you're all right. People are not going to throw your CD out the window,' " Gutierrez said.
Encouraged by Villa's feedback, Gutierrez looked to successful emcees to improve himself as an artist.
"I started paying attention to everything they did," he said, "to the way they dressed, spoke and the content of their lyrics, to musical elements they used, to who produces or even writes their stuff."
Gutierrez's biggest musical influences include Biggie, Tupac, Big L, Eminem and Nas. He appreciates the thought they put into their lyrics and their craft.
"I'm going to give a big shout out to Devin the Dude," Gutierrez said. "I got to meet him. He's been a huge influence on me musically."
A Houston rapper, Devin the Dude, real name Devin Copeland, has released eight solo albums since 1998. Copeland has worked with artists like Scarface, Pimp C and Snoop Dogg.
Another inspiration, SPM, offered a blueprint for Gutierrez's path as an underground rapper who developed a strong Mexican following. Gutierrez wants to improve that model and help break barriers for other Mexican artists in hip-hop.
Beyond his performances in Dallas and Mesquite this year, Gutierrez looks forward to participating in Team Backpacks' national cypher in Los Angeles this spring. Cyphers allow rap artists to gather in one venue and display their skills as emcees.
Team Backpack provides a platform for independent artists to network and connect with fans.
"We're blessed to be chosen," Gutierrez said.
Tapia, dismissed the rapper's modesty.
"He was chosen because of his skill," he said.
As he did with music, Gutierrez has pursued knowledge all his life. He studied philosophers like Malcolm X and Martin Luther King, Jr., Gandhi and Confucius, Lao Tzu and Sun Tzu.
Gutierrez's oldest brother imparted spiritual knowledge to him, leading him to read the Bible, the Koran and Hindu religious texts. The experiences can be heard in his music.
Gutierrez also likes to "wear things on his arm." He pushed back the sleeve of his red hoodie to reveal an obsidian bracelet given to him by his older brother, Andres "Happy" Gutierrez. In Mexica culture, obsidian represents the Tezcatlipoca deity, a force of recreation. For Gutierrez, obsidian is an inspiration to continue his path of self-improvement.
"I didn't want to just be this rapper dude who made something of himself," he said. "I wanted to be a hero for my neighborhood, a good example to the youth [who] understood the same difficulties that we had in a lower economic, inner city situation."