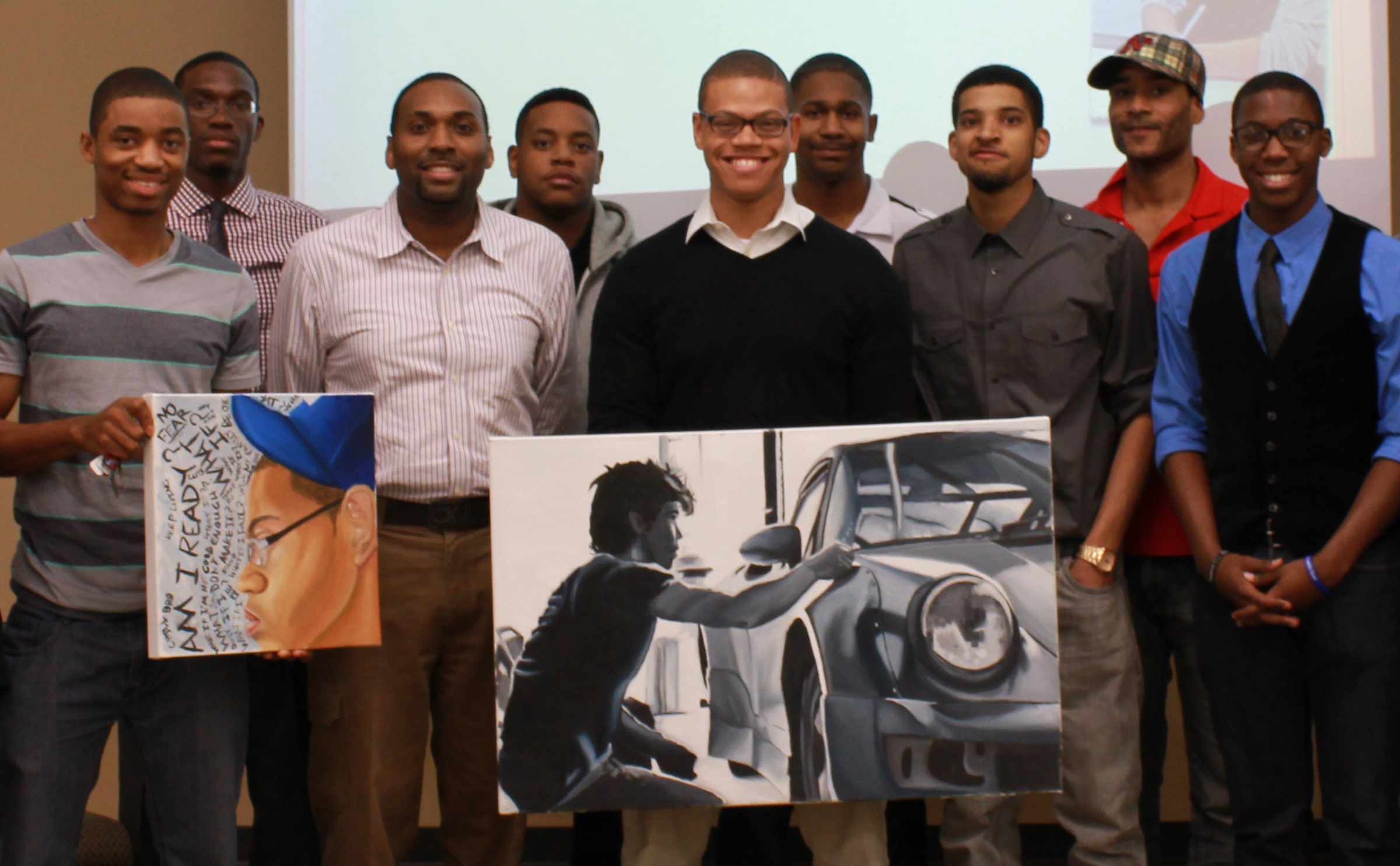 By Danyelle Roquemore
Local artist Desmond Blair has learned that life is about accepting tough circumstances and figuring out how to overcome challenges.
As a child, Blair faced many challenges at school. His classmates bullied him, and some teachers believed he was incompetent.
"Because I was born without hands in a world that's not necessarily designed for me, I realized I was going to have to figure out how to solve problems," he said. "If you think about the things we go through in life, a lot of times it is about solving problems."
On Feb. 18, Blair visited the college's African American and Latino Male Initiative club to deliver a motivational speech to the members. Blair shared his experiences and advised members on how to overcome challenges.
Blair, who was raised by his mother and grandmother, said that after he was born, his mother received a vital piece of advice from the doctor. He told her to give him the best education possible. This concept has carried him throughout his entire life because his mother stressed the importance of being educated and able to do things independently.
"[My mother would say] 'I'm not going to be here forever. I'm not going to be able to hold your hand everywhere you go or be with you, especially once you get a certain age. You're going to have to learn how to take care of yourself,'" Blair said.
Before he started kindergarten, Blair had to overcome the challenge of learning how to write. His grandmother decided coloring books would be the best way to allow him to repeatedly practice the motor skills he would need to write.
"I tried several things," he said. "I tried coloring with my feet and my mouth. Then, naturally, it came to me that I could use both hands."
Once he could write and color, he began tracing the pictures out of the coloring books. After a year or so of tracing the photos, he was able to draw them without having to trace.
He soon realized he had a passion for cartoons and comics, and he decided he wanted to be a 2-D animator. Blair was accepted into W.E. Greiner Exploratory Arts Academy, without any prior training, for his middle school years.
"I had no formal training, it was just the desire based on the dream I had and the willingness to keep solving that problem to figure out how to get there," Blair said. "From [Greiner] I ended up at Skyline because they had an advertising and design cluster."
All of the programs that Greiner and Skyline offered were making Blair a better artist. However, they weren't getting him any closer to his goal of becoming a 2-D animator, or so he thought.
In 2001, Blair was invited to visit an animation studio and was told by a worker that all of the training he was going through had put him on the right path.
"Even though I was doing stuff that really didn't seem related, that didn't make sense, this was the stuff that was going to lay the foundation for me to get there," he said.
Blair graduated high school at the age of 16, then enrolled in UT Dallas' Arts and Technology program, which consisted of 2-D and 3-D animation as well as computer animation.
At age 26, Blair already has many accomplishments. He obtained his bachelor's and master's degrees from UT Dallas, where he taught for a while and now works as a project manager.
"I learned that you can start with a dream that plants your feet and sets your direction, but you have to understand the world around you and how it'll change," Blair said. "Along the way of getting to your dream things will shift, and you'll have to shift."
Blair advised members of the club to be versatile because he believes the key component to being able to shift, as dreams shift, is being able to adapt.
Club adviser Courtney Brazile hopes Blair's speech will inspire the young men in his club to rise above any challenge they might face.
"Desmond's life shows that no matter what challenges you have when you are born, you can overcome them with the right mindset," Brazile said. "His life is a glowing public statement."
Blair's advice really hit home with club president Elijah Jackson.
"His story alone is enough to inspire anyone because it's not a common thing for an artist to not have hands and to function and go along with life just as normal as those of us who do have hands," Jackson said. "He inspired me to strive for higher goals."