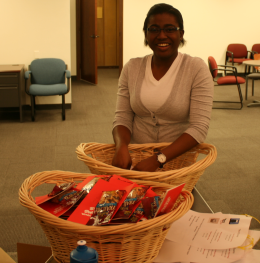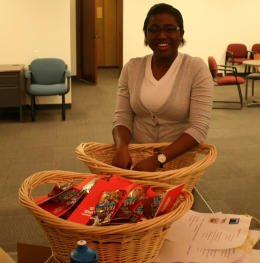 By Anjulie Van Sickle
About four years ago, TRIO director Bobbi White and program services coordinator Shatremeyia Porter discovered that some of their students' grades were dropping. After some investigation, they found a disturbing cause for their struggles: Some students were going hungry.
"We had three students who were homeless," Porter said. "There were a few who weren't homeless, but they couldn't receive any assistance from the Texas Department of Human Services, or certain food pantries, because they were limited in transportation. So there was a need."
White and Porter decided to start a food pantry, funded out of their own pockets, for TRIO students who were financially disadvantaged.
Last semester, President Jean Conway offered to provide college funding for the food pantry due to the growing number of students who had begun taking advantage of it.
"As the need grew, we couldn't afford to fund such a large-scale pantry," Porter said. "So I mentioned to Dr. Conway what the need was, and she said that we should get the campus involved to spearhead the funds for the pantry."
The ball started rolling when TRIO began taking donations from staff and faculty at the end of the fall semester.
They donated items such as Ramen noodles, cereal bars, fruit cups, chips and cookies.
English professor Dr. Elizabeth Huston was one of those who gave to the cause. She said the pantry not only helps fill stomachs, it also helps fill minds.
"We have students who need to eat well, and they're working so hard," she said. "I have students who work two jobs and take a full load of school, and some even have family responsibilities."
Huston also emphasized the importance of taking care of the body in order for the mind to work well.
According to Porter, as students come through the TRIO program, relationships are built between counselors and students. Through those relationships, trust is built. Through that trust comes a comfort level for students to feel safe sharing that they are in need.
"There are no lists and no names taken that will be disclosed to the public," Porter said. "It is completely discrete."
White said TRIO students are very helpful, especially when it comes to spreading the word about the pantry around the campus.
"The program helps because the [students] have somewhere to go to," TRIO student Susan Edwardejus said. "When they have food, they can do anything. It's not easy going to class without food in your tummy."
Students are allowed to access the pantry as many times during the week as they wish. However, TRIO does limit the number of items students can receive each day.
"When students come in and talk to an adviser or a student member, someone will walk back to the pantry with them, so people don't know if they're necessarily here for the food pantry," Porter said.
White said she hopes to raise awareness about the program so more students can be helped. She plans to accomplish this by having TRIO students speak out in their classrooms as well as in their club meetings.
"We want students to be successful, and we will do whatever it takes to help them be successful," White said. "It's hard to think or concentrate too much when you're hungry."