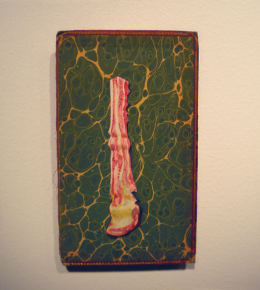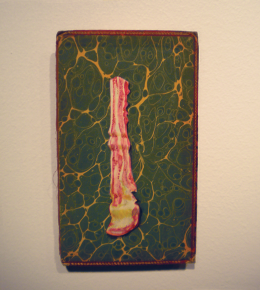 By Chanel Jimenez
The art department kicked off the semester with "Food," the second exhibit in its "Fast Food Nation" series that is tied to the common book.
"I like the idea of taking the title of the book and breaking it up into those three areas, not necessarily addressing the idea of fast food but addressing those three themes," gallery director Iris Bechtol said.
The exhibit in the H-100 and F-219 galleries features seven artists: Alison Starr, Hannah Hudson, Stephen Lapthisophon, Cynthia Mulcahy, Robert Hamilton, Tom Sale and Erik Tosten.
"What I really want [is for students] to think about the ways we relate to food in our daily lives," Bechtol said. "What are other ways that we can think about how food permeates our lives? We eat so we can live, but there are so many other things surrounding food that are just as important to consider."
Sale, who has raised chickens and cattle of his own, displayed six watercolor paintings of animals and the raw food they produce. The idea for the pieces came when Sale and his wife took some of their chicken to a slaughterhouse.
"My wife has miniature cattle, and we love these animals," Sale said. "We're not vegetarians, but we don't eat our animals. These are pets. When we took them to the slaughterhouse and we saw what that was like, it horrified us. We couldn't do that anymore."
Each of the animal parts in Sale's display was painted on the backs of old book covers.
"When you've got that big piece of pork there, you've got to think about that as flesh," he said. "When you see it as bacon on a hamburger, you don't stop to think about it. It's kind of unprocessed, which is pretty horrifying."
Hudson, a third-year graduate student at UT Arlington, brought a piece consisting of four table legs but no table top. On the floor, between the table legs, a white text reads: "We ate all of our meals together. We stopped eating at the table when he died because we couldn't look at his empty placemat."
"This started out as me being frustrated with people not using the table," Hudson said. "So many important things happen around the table … and it just doesn't get used very much anymore. It was very sad to me."
Sitting at the table, Hudson adds, helps people learn social skills, and bond. When people stop sitting together, they stop forming the same bonds.
Viewers  at the exhibit can also get a glimpse of the Seventeen Hundred Seeds Project, a public art project produced by Hamilton and Mulcahy that took place from March to June in the heart of Oak Cliff.
Now the gallery houses the project's dried-up Aztec Sunflowers and a collage of 16 mounted photographs.
"This piece was brought to the exhibit to address the disconnection between food production and consumption," Bechtol said.  "We no longer farm for ourselves."
Mulcahy said the project helped bring the community together.
"It could have been any crop, but once this crop reached its peak, it would draw everyone to the field, which is surrounded by houses and businesses," she said. "[The community was] really curious about what was happening in their neighborhood."
The food exhibit will run through Feb. 15. The "Nation" exhibit concludes the series, running from March 4 to April 5. A reception will be held on March 8 from 6-9 pm.
"It's not necessarily patriotic," Bechtol said.  [It focuses on what] it means to be from somewhere."