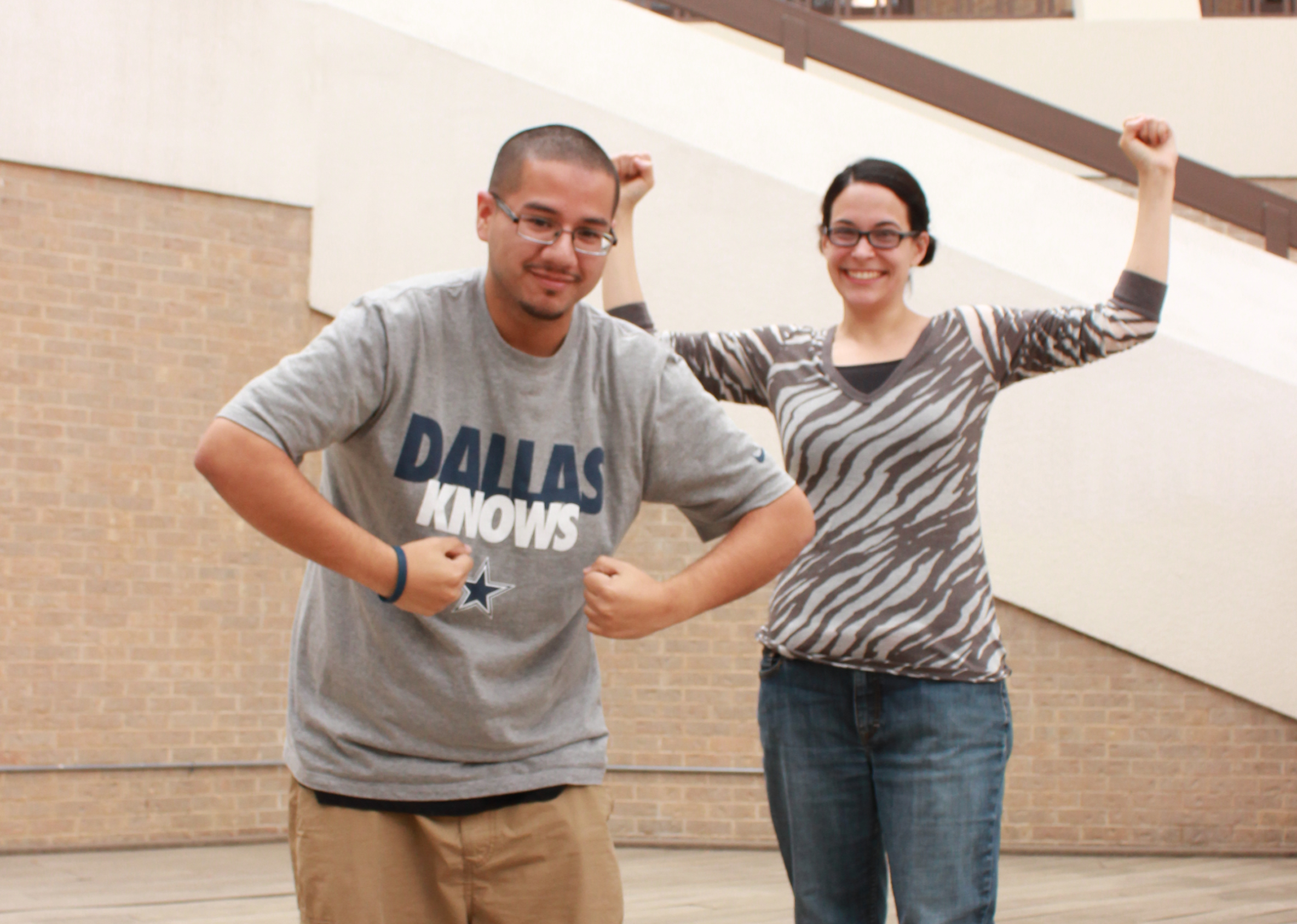 By Ginny Morris
Esteban Hernandez was frustrated with being overweight.
He had started multiple workout routines in an effort to lose weight, but never finished.  He was beginning to become concerned about his future health.
"I would look in my kitchen and say, 'Oh, that's not right. I'm not supposed to eat this, I'm not supposed to eat that,'" Hernandez said. "I was getting tired from work too easily.  I didn't want to grow up being one of those people who are really lazy.  I just want to stay active."
Instead of choosing the easy path of complacency, he decided to change his life.
Last summer, Hernandez started to make some major changes in his lifestyle. The digital imaging major decided he needed to completely change his eating habits and make time in his busy schedule to exercise every day.
"I'm the type of person that's always on the run, whether it's for work or school," Hernandez said. "So I'm always eating fast food — at least, that's how it was before. I had to cut all of that out."
Hernandez bought a gym membership and began using the treadmill and elliptical for at least an hour and a half every day.  He walked around the college track when he was on campus to get more exercise.  Hernandez quickly began to see his efforts pay off. Between June and the end of August, he lost 43 pounds.
While registering for his fall classes, Hernandez saw a sign for the Lose to Win contest and decided to sign up.   The contest, which spanned the fall semester, offered iPads to the male and female students who lost the largest percentage of their body weight.  The thought of an iPad provided extra motivation as he headed into the toughest part of his weight-loss program.
"I knew the theory of the more you weigh, the faster it is to lose your weight," Hernandez said.  "During the months of June and July, I had pretty much lost the majority of the quick weight.  Everything else is hard to lose."
After deciding he had to cut out fast food, he realized he needed more variety in his diet.  Hernandez checked out books from the library to find new recipes and get more information about a balanced diet.
"I was packing lunches more, even though it took a little more time out of my day to make them," Hernandez said. "It was worth it in the end because it was healthy."
Digital Imaging Program Director David Danforth said the change in Hernandez during the contest was very noticeable, and it wasn't just weight-related.
"Before, he was quiet, and you could tell he seemed tired a lot," Danforth said.  "After he did this whole thing, you could see that he had energy, and he seemed happy — just really, really happy.  He would smile a lot more.  You could see a confidence that really went along with it."
As Hernandez entered the fall semester, staying on his diet became even harder.  He had to resist candy around Halloween and fight the urge to eat a large Thanksgiving dinner.  His family supported him by making him a special, healthy Thanksgiving dinner.  He managed to follow his diet, and had a healthy meal of low-fat turkey, chicken, salad, mashed potatoes and fruit salad.
Hernandez's weight-loss efforts had to fit in around a busy schedule.  In addition to his schoolwork, he works in merchandising for the Dallas Mavericks.  He plans to graduate from Eastfield this spring, then go to Chicago to explore his future.
"I've been to Chicago about four times, and every time I've been there I love it even better," Hernandez said. "There's so much stuff to do. You won't get bored, and there's so much art to look at. … So I figure, why not try to look for a school out there and move?  It'd be a fresh start."
Hernandez has been a model student and is exceptionally self-motivated, adjunct Digital Imaging instructor Randy Presson said.
"I've been impressed with him in that he goes for contests, where a lot of students don't want to put out the extra effort," Presson said.  "He's been a very confident student, anxious and hungry to learn. … He's always been one of the better students I've had."
Although he lost 67 pounds between June and December, Hernandez has continued working out and is still slowly losing weight. He lost 24 pounds, which amounted to 11.22 percent of his body weight, during the Win to Lose contest.
The end of the contest didn't signal the end of Hernandez's new routine.  His ability to motivate himself continues to serve him well as he looks forward to graduation and beyond.
"I'm still working out," Hernandez said.  "Even though I won the iPad, I'm not really satisfied yet."