Comedy play explores victorian society, love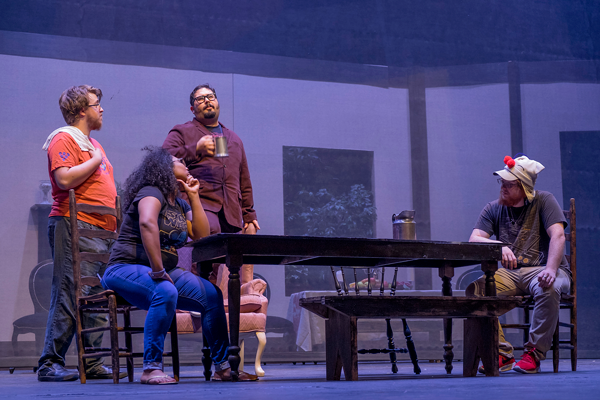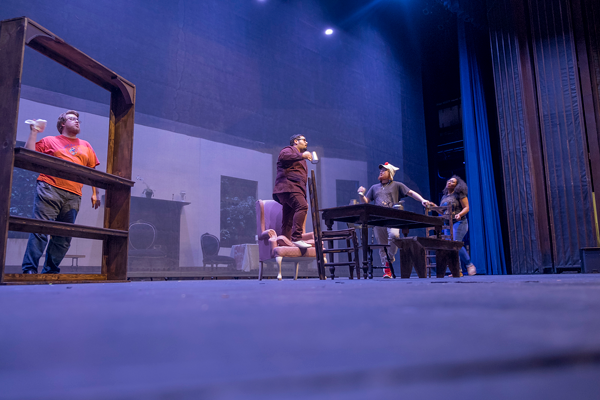 Big Hair. Rock 'n' Roll. Women's empowerment. Lots of love.
These are just some of the elements you'll see in 'She Stoops to Conquer,' a romantic comedy or comedy of manners set in late 1700's London.
"It's a comedy about behaving in polite society," play director, Lori Honeycutt said. "It's a romance. It's a comedy about mistaken identity."
This play will be part of the 'She Has a Story to Tell' theater series, which is focused on women's perspectives said Honeycutt.
The main character Kate Hardcastle pursues Charles Marlow, who is known as a playboy amongst the servants and women of the lower class.
Unfortunately for Hardcastle, Marlow is unable to communicate with and pursue high society women.
The contrast in Marlow's character and unique way of connecting to his love interest is what stood out to theater major Victor DeTerra.
Actors normally face and direct their lines to their scene partner, but because of Marlow's mannerisms, DeTerra doesn't follow this tradition.
"One scene, he could be this stumbling buffoon that's stammering and stuttering, who can't get cohesive sentences out, but in the next scene he was so confident," DeTerra, who plays Marlow said. "He sees them [higher class women] as the finest creature of all creations."
The cast consists of Eastfield students and actors from the community.
Honeycutt said after the casting process, she likes to let actors develop their characters.
[READ MORE: Honeycutt provides unique work ethic, personality to the arts]
"Because theater is so creative and collaborative, if the cast isn't allowed to create to their own character, they're not going to be invested in that character," Honeycutt said. "It will be harder for them to learn the lines because they don't care about the character. You've got to let them take on their character and make it whoever they want them to be, within reason obviously."
Honeycutt has added some of her comedic style and personality to the play with lines and mannerisms to otherwise mute characters.
She also wanted to include rock 'n' roll to the classical performance.
Large ruffles, glitter, dramatic makeup, and 5-foot tall hair will be worn by characters in the cream painted-walls living area with traditional props in the tudor style home of the Hardcastles.
"Every year, Lori makes these amazing sets for every single show. Absolutely stunning," Julissa Hernandez, theater major and stage manager said. "Her directing style really shows in the play as well. You can see part of her comedy sense coming through the actors. Amazingly funny."
DeTerra appreciates Honeycutt's directing style because she physically demonstrates her vision to them.
He said she knows what she wants, how to ask for it and get the potential out of each actor by understanding their strengths and weaknesses.
"She's not afraid to get involved, get up on that stage and show you just what she's envisioning," he said. "I don't think I've had a day of rehearsal with her where I didn't like it."
They said students should expect a light, almost slapstick comedy with memorable characters.
DeTerra described it as a frustrating comedy where characters get stuck into a heap of trouble because of other devious characters.
"It's so much fun to watch it play out," DeTerra said. "You're rooting the whole time for these characters just to open their eyes and see the big picture."
Concert Review: Quiet Slang wants to 'punch you in the heart'