Walker thrives on person-centeredness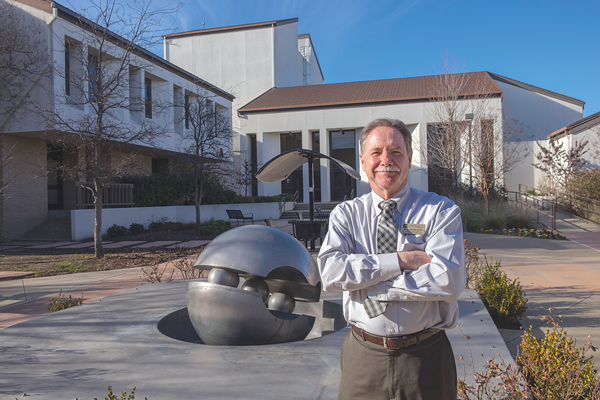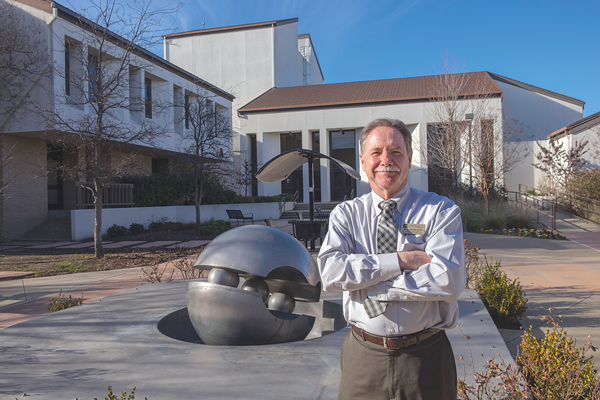 On a Saturday afternoon, Mike Walker and several Eastfield faculty and staff took a trip to Margaret Leicht's home. Their visit was a welcomed sight for the Social Sciences division's secretary, yet it wasn't one with the intention of a group dinner or backyard barbecue.
Walker, then executive dean of Social Sciences, and the visitors, which included history professor Mike Noble and administrative assistant Leslie Johnson, were there to build Leicht a new fence.
Leicht's fence was in bad shape, so much so she had received several notices from the city of Dallas. Leicht, however, couldn't prioritize her crumbling fence.
Her husband was critically ill, having spent several months in and out of the hospital after having issues with kidney disease.
Walker initiated an effort to raise money among colleagues and then recruited several to relieve Leicht's family of their home repair burden.
They took out the old fence, built a wooden one and even stained it for longevity.
Leicht's husband passed away August 2015, and Walker consistently helped Leicht with any issues she had following his death, including cutting a tree branch, inspecting plumbing issues and even teaching her daughter how to change a tire.
"It was such a dark time for me," Leicht said. "I was here and asking questions and he would say, 'Do you want me to come over and look at that?' He will help anybody out no matter what. I think he would take the shirt off his back."
These are the acts of kindness that are consistent from Walker.
Walker, a Dallas native and Eastfield alumnus, now holds the title of executive vice president of the college. Walker was interim vice president last semester following the departure of Michael Gutierrez.
Before he was a dean, he was a full-time history professor. From faculty member to the second-highest ranking position in the college, those around him say he's been an example of selflessness, passion for education and the type of person-centeredness that the college strives to encourage in everyone.
Walker's journey to education wasn't a traditional one. He majored and got his bachelor's degree in journalism from the University of Texas. After graduating, he was hired as a salesperson for Southwestern Bell, now AT&T. He had a 25-year career with the company before voyaging into his "second life."
He received his master's degree in history from Texas A&M and began working as an adjunct professor for Eastfield, Collin College and University of Phoenix–Texas Campus in 2002. He later earned his doctorate in higher education at Texas A&M–Commerce.
As an avid fan of history, Walker was determined to teach it without stressing the memorization of names and dates. Walker said studying history is studying impact. For the people who live through it, "history" is personally experienced, something that Walker can attest to.
Walker was in a Victor H. Hexter Elementary classroom the day that President John F. Kennedy was shot and killed.
The news of the president's assassination quickly spread across the school. He remembers people crying and kids getting picked up by their parents amid the panic.
In his history class, he brought that experience to the forefront.
"In history class, you learn, 'Well that happened and that it happened in Dallas,' and maybe you move on," he said. "I get to talk about what happened to the city of Dallas when that happened. It was crazy."
Walker also lived through the desegregation of public schools in Dallas.
Despite the fact that the Brown vs. Board of Education of Topeka Supreme Court case happened in 1954, many schools in the South were resistant to integration. The Dallas Independent School District was one.
[READ MORE: Eastfield reaffirms dedication to 8 week terms]
Bryan Adams High School was integrated during Walker's senior year. Before then, he couldn't recall knowing any black people.
Once he arrived in Austin as a journalism major in 1972, Walker found himself integrated with the campus' political activism.
His time at the university coincided with the Richard Nixon administration, Watergate and the Vietnam War, a time in which mistrust toward the government was becoming more and more vocal across the country.
Walker participated in a number of protests, and despite missing the '60s hippie movement, he fit the mold of the "eccentric" city with long hair and a love for rock and roll.
"In '72 there was still a world of hippies," he said. "I had a different look at the time and may have looked the part."
Walker believes that the patches of history with the most importance are the "eras of great change," eras that are similar to the assassination and desegregation he witnessed.
After seven years of teaching part-time, Walker was hired as a full-time professor.
In his time as a professor, he
displayed his passion for aiding others in any way he could, English professor Shazia Ali said. The pair co-taught a learning community for seven years and had neighboring offices. It was during this time that Ali witnessed Walker's energy and commitment to helping students first hand.
"The first week of classes he wouldn't be sitting in his office," Ali said. "He'd be walking the halls and talking to everybody and saying, 'Hey, are you lost? Can I help you?' He would be directing students to classes. He was the first one to jump out of his office to help a student."
Ali said that Walker's personal teaching style, ability to collaborate and sense of humor were the reasons they successfully co-taught for so long, a feat that many faculty members are still trying to replicate.
In 2013, Walker became executive dean of Social Sciences and with his new role further increased his proactivity in assisting students, Ali said.
"He was able to connect the dots and physically help students as opposed to as a faculty member there's only so much you can do," she said. "You can refer people, but you can't really go in and make those changes."
Former Eastfield student Stephania Montes was helped by Walker when he and Ali found out Montes was in need of a job. Montes wanted to bring income to her household but was afraid that it would deter her away from her classes.
Walker advised she apply for a work-study position in the school and walked her to the financial aid office to begin the process.
Montes was put on work-study and became the office assistant for the Social Sciences Division.
Ali said that Walker syncs so well with the person-centered motto of Eastfield because he naturally and genuinely gives people his full attention.
This is not limited to inside the classroom or even to students. Like the case with Leicht, Walker has been present for faculty members when they're in need.
"He will help a faculty member move," Ali said. "He will help someone with their backyard or whatever. He will do so much outside of his role here at Eastfield."
Ali mentioned that Walker was constantly present for former professor Phoenix Rousseau during her battle with cancer before her death on Oct. 29, 2016.
Walker also routinely visits the widow of former professor Bob Sharp, who died from a heart attack on July 24, 2015.
He also visited Johnson's husband recently when he was hospitalized.
"He's just physically so present for everybody outside of campus, and that tells you a lot about who he is as a person," Ali said.
Ali said that despite all of this, Walker shies away from announcing his actions.
"He is one of the most humble people I've known," she said. "If you do it you don't need to announce it to the world. You do it for good."
When discussing himself, Walker downplays the role he's played in many people's lives.
Walker is similarly discreet with his home life and outside-of-work hobbies.
[READ MORE: Eastfield could offer four-year degree]
Some faculty members know about Walker's love for woodwork. He creates small furniture, crafts and pens that he has gifted to his co-workers.
Most don't know that he also loves playing the guitar and singing classic rock and roll songs as a one-man band.
"I have concerts in my home," he said. "I play the guitar and I'm all about it, and there has never been a soul [watching], not even my wife."
Walker said he enjoys jamming out to The Doors, Led Zeppelin and The Beatles, and does so despite believing that he's not very good.
"It's awful," he said. "It's terrible. But I don't care, because it's great fun."
Despite his relaxed attitude, Walker understands the seriousness of the tasks at hand for his position.
As vice president, Walker faces a changing landscape for the college and higher education in general.
Things are "gonna look a little different, they're gonna feel a little different," he said. "Any institution that is successful in this country has an awareness of the changes that have to take place."
Walker will not only spearhead the college's transition into eight-week terms and Guided Pathways to Success but will do so under a new college president. Current president Jean Conway announced her retirement before the spring 2018 semester, and the search for her replacement is under way.
Walker looks to the future with optimism, understanding that changes may be difficult yet believing they're necessary for success.
Johnson believes that his positivity and interpersonal relationship skills will easily allow him to take the role of vice president head on.
"And he loves to learn," she said. "He loves a new challenge. Dr. Conway saw that in him. He's succeeded in all of his divisions."
Ali said she has no doubt that he will take his care for students and effectively use it on a larger scale.
"He's very much suited for this role," she said. "As much as I was sad about the fact that he wouldn't be in the classroom anymore, I was also delighted by the fact that he's going to be making such a huge difference on the campus on a larger scale. I'm really looking forward to see him grow into this role."
Walker said that no matter what role he's at, he's going to be proactive in bettering the way students receive their education and further lending a helping hand to those around him.
"The things that we do have to matter," he said. "There's not a chance that I'm gonna come up here and sit in this office and do things that don't matter. There's too many important things to be done. If you find yourself in an opportunity to make a change, you've got to do it."