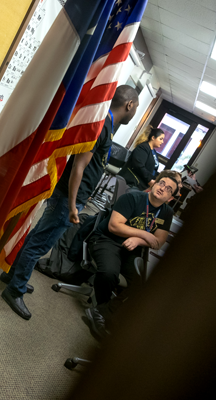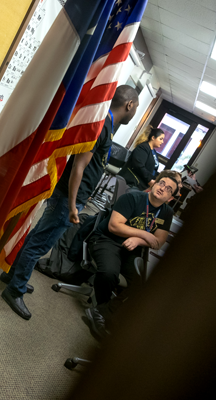 The Student Government Association is seeking to fill its executive board after not receiving any applications for their planned officer elections during their last general meeting Nov. 30.
SGA President Jasmin Larez said because of the new eight-week class schedule, difficulties keeping officer positions filled and low attendance at SGA general meetings, it's been difficult for the current SGA executive board to be the student voice on campus.
"Just because we've had such a limited executive board — and it's been kind of a roller coaster — we haven't really had time for much else," she said.
Student engagement has been a running issue for SGA this semester.
During the Nov. 16 SGA general meeting, only eight club representatives were present.
Few non-SGA or club representative students were in attendance.
The general meeting Nov. 30 had only four club representatives present. Because the SGA received no election applications and attendance during the meeting was so low, the new business portion of the meeting was skipped. The entire meeting lasted 12 minutes.
Head SGA adviser Lamont Blackman, who started working at Eastfield in September, said it's been difficult to foster student engagement for SGA because most students at Eastfield already lead busy lives.
"We have a lot of low-income students who work, have children, things like that," he said. "I wouldn't say necessarily student government but government in general isn't really a part of their day-to-day."
Blackman said the typical Eastfield student is what's called a "backpack student." He said these students come to school, go to class, leave for work and then go home, so they cannot give the time needed to participate in SGA.
"They don't seem to have much interest in sticking around because they have other obligations," he said.
In previous years, especially between the fall 2015 and spring 2016 semesters, the SGA was active on campus. Throughout fall 2015, the SGA listened to students by holding forums concerning campus carry and gun-free zones.
http://eastfieldnews.com/2015/12/14/sga-collects-opinions-on-on-campus-carry/
Katy Launius, associate dean of access and equity, was the SGA adviser last semester. She left her role as adviser after changing positions within the college Oct. 4.
Blackman said there was a three-to-four-week gap where the SGA did not have an adviser before he was hired at Eastfield.
He said this adviser switch hampered the SGA's ability to act because they were left without any sense of direction. The SGA adviser essentially acts as a liaison to the SGA from the college.
"If they need to know something, we tell them," he said. "If they need to know how to proceed with anything they do, then we tell them. We help them. We work hand in hand."
Former SGA Vice President Kaitlyn Moore said that even with low student involvement, the SGA wasn't going away any time soon.
"When it comes to things like the [OSER] roundtables, SGA can't be disbanded because we're different than some of the other clubs and organizations," she said.
Moore, who resigned as vice president after the Nov. 30 meeting, said that she wished she could do more for the SGA but her other commitments prevent it.
"The main reason is that I would like to be more active in Phi Theta Kappa and some of the stress from SGA conflicts with that," she said. "SGA is a wonderful thing and I believe with the right officer team it can go very far, but right now I do not have the capacity to do both Psi Eta and SGA with as much effort as I'd want to dedicate to them."
She said that although the official deadline to apply for a position on the executive board was Nov. 26, she doubts the SGA would turn anyone away if any positions still weren't filled.
Contact SGA adviser Lamont Blackman for more information on how to apply for an officer position:
OSER office C237 10 a.m.-7 p.m. Mondays and Wednesdays
Lamontblackman@dcccd.edu