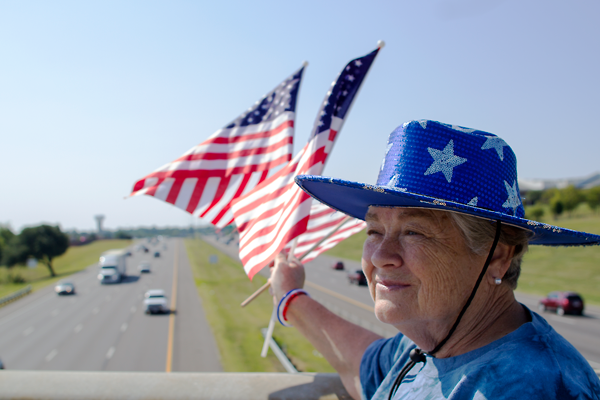 Tony Cottrell received a phone call Sept. 11, 2001, from a friend who told him to turn on the television. Cottrell had not yet heard the news: terrorists had flown planes into the World Trade Center. An attack on American soil.
Cottrell said that, like most Americans, he was horrified. He wanted to do something, he told his wife.
"Why don't we go put some flags on that bridge or something?" Cottrell asked her in 2002
Since 9-11, the attacks and the things he saw on that TV have been burned in his memory. It's the reason that, for the past 15 years, he has taken his collection of American flags to the New Market Road bridge stretching across I-635 in Mesquite.
"When something bad happens, something good can come from it," Cottrell said.
He usually arrives at 9 a.m. and stays until nightfall. "At night, the flags look beautiful," Cottrell said. "When they are hit by the car lights that drive by, they just light up and look beautiful"
The reason Cottrell stands out is because of what he decided to do as a response.
Cottrell wanted to "do something to honor the victims, show respect to the heroes who came to rescue."
Cottrell wants to remind people about 9/11, and that despite the attack, we are still here. To him, this is not just about being a patriot, or attention but more than that. It is about showing honor and respect.
He feels as though he is keeping their memories alive every year. Cottrell says that people tend to forget as time goes one, but that it is important to remember. Cottrell, along with the other people joining, not only carry flags, but dress in patriotic, flag rocking, clothes.
When they first set up the flags and began to wave, they were the only ones there. Now, the bridge is packed with people come sunset and traffic on both sides slows as people wave and honk their horns in support while passing under the bridge.
It didn't take long before cars pulled off the interstate that first year and found their way to the bridge, stopping to ask what all the flags were about. Many would return with their own flags and join them. In recent years, Cottrell has brought extra flags for anyone who stops by.
"At first the group was larger," Cottrell said, "After awhile, fewer people showed up. Just with time. I guess because it's just been so long".
Karen Winton, of Seagoville, was one of the few who stopped by to participate earlier today.
She drove by in 2002 when she saw them on the bridge. She stopped to ask Cottrell what he was doing and decided to join them. She's taken her flag there every year since.
Karen Winton describes Cottrell as "a wonderful man, he's a patriot and I just love that he started doing this".
Cottrell also caught the attention of Susan Tortorice as well.
She has been attending for 13 years now. Tortorice was driving by the bridge when she spotted the flags and stopped to participate.
"Tony Cottrell is a wonderful man and a patriot." Susan Tortorice, of Mesquite said. "I'e been coming up here for a long time and now we're really good friends.
Remy Davis, whose family used to go to the bridge together, came alone this year.
"I've been coming up here for about 4 years now with my family" Davis said. "This year, they had to work so they couldn't make it but I came anyway".
Cottrell says that many families have stopped by and joined them over the years.
Although the bridge was not very full early today, Cottrell said most families show up after work.
"We stay up there until they can no longer be seen," Cottrell said. "When the cars stop honking it means they can't see us so that's when we leave"
He wishes to continue to do this for at least twenty years, but work makes it a struggle. Everyone that stays on the bridge all day asks for the day off of work. The few people able to have the day off and come to the New Market Road bridge in the morning with an ice chest full of food and drinks.
It makes him happy to know that he is reminding his fellow Americans about 9-11, and is encouraged every time he sees someone wave or hears them honk.
Cottrell shows that anyone is welcome to join, whether it be in the morning at night. All anyone has to do, is stop by, and wave a flag at passing cars.
"It's really nice having cars stop by" Cottrell said. "They hop out and join us for a while. It's nice to have that"