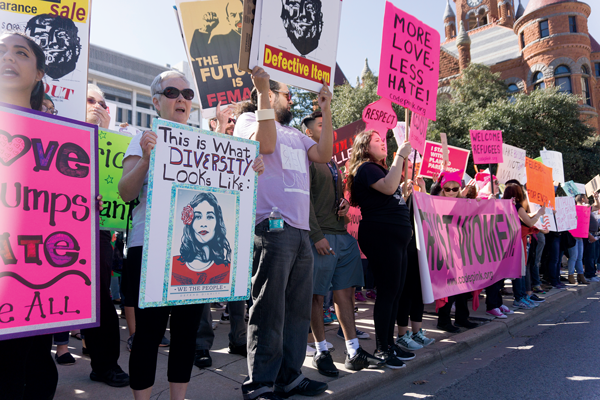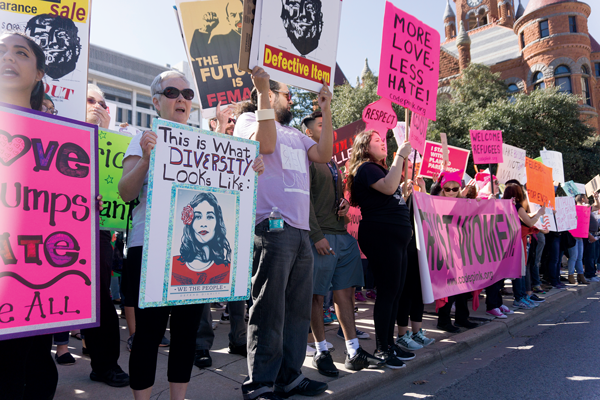 Students say they fear for themselves and their families in the wake of increased immigration enforcement stemming from President Donald Trump's executive orders.
Architecture major Jessica Ortiz, a League of United Latin American Citizens member, said her mother's friend was deported three weeks ago after being pulled over for a routine traffic stop.
Now Ortiz fears being targeted despite her enrollment in President Barack Obama's Deferred Action for Childhood Arrivals program, which grants some legal protections to people who entered the country illegally as children.
"Everybody is worried, especially where I live, because I live in a Hispanic neighborhood," she said. "When I drive, I get nervous. I try to be careful now."
Officials say no one has been detained in the Dallas area. Arrests across the U.S. have created anxiety.
"I've had six students now literally crying on my shoulder," history professor Kat Reguero said. "I can reassure them as much as I can. I can empathize with them. But I am not in their situation, and I can't offer them solid solutions."
Thousands marched Feb. 18 in Dallas to support immigrants, two days after the national Day Without Immigrants, when people stayed home from school and work and abstained from purchases to show how immigrants affect the economy.
UT Southwestern student Daniel Mejia, who was handing out voter registration forms at the Feb. 18 protest at Dallas City Hall, said his family is afraid.
"It's terrifying to think that there's groups of people that can come and raid your home without having done any illegal activity," he said. "These immigrants haven't committed an illegal crime. They're just undocumented."
Reguero knows students whose family members were questioned in the last two weeks. One was in the Dallas area, while another student had cousins in Arizona who were deported. She also has students who came to the country legally or are protected by DACA.
The Dallas County Community College District should offer guidance for professors to help students potentially affected by the raids, Reguero said.
"They tell us, 'If a gunman comes into the campus and they are in your classroom, here's your steps. This is what you do,' " she said. "I need the same kind of steps. 'If a student comes to you and they're worried about being deported or their family being deported, this is what you do.'
More than, 'Try to reassure them.' Because I don't want to give them lip service and possibly be lying."
Reguero also suggested the district offer free legal services for students.
When Barack Obama took office in 2009, he changed the immigration enforcement priorities to focus on deporting those who were threats to the nation or had criminal histories. Obama also stopped worksite raids, where Immigration and Customs Enforcement officers would target undocumented workers who did not have criminal records.
President Trump has changed the priorities again, authorizing raids and allowing the deportation of those without criminal records if they are found.
According to the Mexican Consulate, 44 Mexican immigrants were detained in Austin between Feb. 9 and 10. Until that week, an average of four to five people were detained each day. Reports of detainees in San Antonio, Houston, New York and San Francisco have the Latino communities on edge.
English professor Andrew Tolle has asked Eastfield President Jean Conway to help craft solutions and support for affected students.
"I was concerned about enrollment and retention because if such raids are going on, that will affect their academic performance," he said.  "If they're concerned about that, it could affect whether or not they come to class, and it could affect whether or not they decide to register again."
At this time, the district has not released an official statement regarding the ICE raids.  Tolle believes this is due to a lack of concrete evidence that raids are happening in Dallas.
"There was an immediate response regarding the Muslim ban because we had information," he said. "The ICE raids are so murky because everything that we get are unconfirmed reports."
Tolle also said reports of Dallas raids do not need to be confirmed to have an affect on students.
"Whether or not raids are happening in Dallas, it does not mean that their family members are not being raided elsewhere," he said. "There are tons of people who have family members in San Antonio, the Valley, Houston and a lot of the places where we have actually heard confirmed reports of those raids."
Reguero also believes the raids could affect students' academic lives.
"You can't study," she said. "You can't put your mind into your schoolwork when you're terrified that you're going to be deported."
Although students under the DACA program are supposed to be protected, Josue Romero, a student at the Southwest School of Art in San Antonio, was arrested and detained for two days before being released.
Reguero said stories like Romero's worry DACA students because President Trump can override the program with another executive order if he so chooses.
The ICE raids have also affected students from countries other than Mexico.
Rasila Ojha, an agriculture major and immigrant from Nepal, is afraid she will be questioned and possibly detained by ICE officers despite her legal status. She carries her passport everywhere and has had nightmares about the raids.
"It has affected a lot of students mentally," she said. "A lot of students, they fear getting deported back to their country."
Computer Science major Bryan Jennings said he believes that Trump's actions are in the nation's best interest. The majority of people who were detained are criminals, he said, and the targeted enforcement actions will aid immigration reform.
"He's going to try to fix the immigration system," Jennings said. "Putting a ban on immigration will keep people from being mixed up while all these rules are changing."
Jennings also referred to the executive order banning refugees and immigrants from seven predominantly Muslim countries, which has since been suspended.
Dallas resident Jorge Ramirez, who is currently undocumented, believes that the president should reshape his immigration stance.
"There's so many immigrants like me that are modern citizens, and it's unfair to be treated like criminals," Ramirez said in Spanish. "I haven't had any deportation, any detainments [or] any run in with the police. I've never done anything to anyone. I'm just here to work and prosper with my family."
Speech professor Nick Vera said President Trump's enforcement is the next step in the immigration reform process that was set in motion by President Obama.
"Most people don't know that President Obama has a little bit of a role to play in this," he said. "It shouldn't be a surprise that [Trump] is doing what he said he was going to do, and it shouldn't be a surprise given the previous administration's hardcore, vigilant stance on arresting and deporting illegal immigrants."
The Obama administration deported more than 2.7 million undocumented immigrants in eight years.
Tolle agreed that ICE raids have been going on for years, but they were never at this magnitude.
"It is important to note that these raids are not new, but they are different than they have been before, as far as their scope and the number of people that have been arrested in a certain time period," he said. "It is not new, but it extremely different."
Tolle said that due to the nature of the ICE raids, at-risk students would most likely not seek help for fear of drawing attention to themselves.
"It's impossible for us to know who is affected because people will stay quiet," he said. "I think that we need to emphasize that there are places for them to go because it's going to be impossible for us to do the outreach."
-David Silva contributed to this report