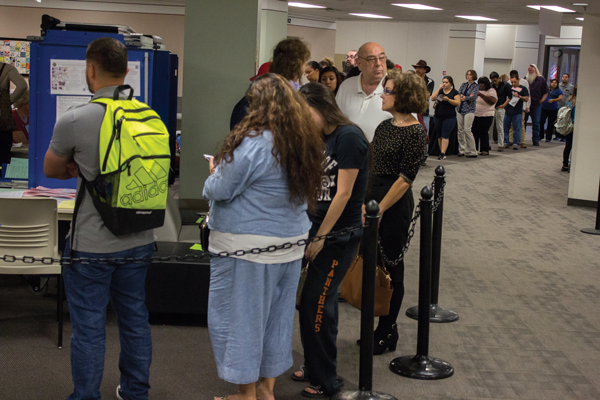 By Parker Ward
Contributor
@TheEtCetera
Incumbent Lupe Valdez (D) easily defeated her opponent, businessman Kirk Launius, with 59 percent of the vote to keep her seat as Dallas County sheriff.
The race was a rematch of the 2012 sheriff's contest.
Elaine Sacks, who has worked for Hillary Clinton's campaign, thinks that Valdez won this race due to her approachability.
"There has never been a reason you can just go up and talk to [Valdez,]" Sacks said. "She's someone who is very warm. She doesn't mind talking to anyone about anything."
Launius believes that there is still much to be done in a Democrat controlled Dallas County.
"We've got a lot of work to do in Dallas County," he said. "It's a big urban center and the Democrats want it very badly. It's a cornerstone to what they would hope to achieve."
Clara Brown-Trimble, a Valdez supporter at the Dallas Democrats watch party at the Hyatt Regency, has faith in Valdez's experience in law enforcement and how the world currently treats women.
"The world is changing," she said. "The world is open, and the world is accepting ladies and then once they get in there, they don't shut you down. They lift you up higher and make new things happen."
After losing twice, Launius is not sure if he plans to contest Valdez again. However, he is ready to get back to work full-time.
"My business partners are going to be happy to see me back and helping out," Launius said. "Wednesday morning will be the first day in 12 months where I don't wake up and wonder what I have to do to help the campaign."