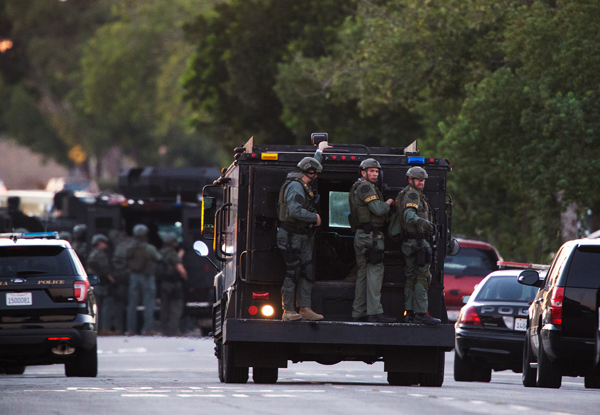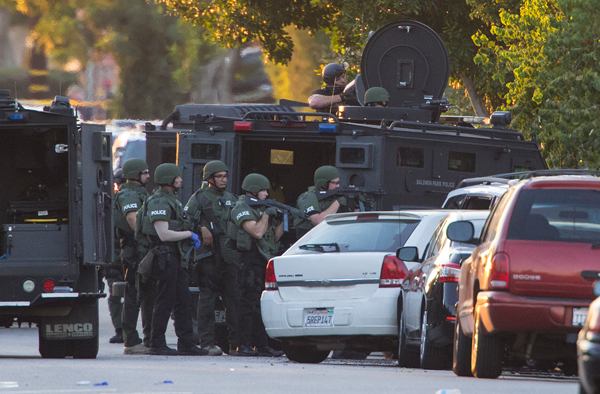 Updated Nov. 8 at 10:17 p.m.
LOS ANGELES – An elderly man was killed and two others were wounded Tuesday when an assailant armed with a military-style rifle opened fire in a residential area of Azusa, forcing authorities to secure the neighborhood and shut down nearby polling places – sending voters scrambling to find alternate locations.
After a standoff that lasted several hours, police announced that the gunman was found dead inside a home across from Memorial Park Recreation Center, which served as a polling place.
Officials said they didn't know whether the man – who was described as heavily armed – was killed by police during a short but furious gun battle or from a self-inflicted gunshot wound.
"We're in the process of figuring out why this happened," Los Angeles County Sheriff's Lt. John Corina said.
Tuesday afternoon, Azusa police said it was too early to determine a motive.
At least one victim had been on his way to vote, a law enforcement source told the Los Angeles Times.
Sheriff's Capt. Steven Katz said that the violence was not related to the election and that the location near a polling place was merely a coincidence, though he warned that all of the information was preliminary.
The shooting took place just after 2 p.m. on a residential block.
Responding officers were tending to the victims when they were met with a hail of gunfire by a man armed with an assault rifle with "a rapid-fire capability," acting Azusa Police Chief Steve Hunt said.
Officers took cover and returned shots at the assailant, who retreated into a home.
No officers were injured. "I heard this 'boom boom' like a rifle or shotgun, and then I heard 'pop pop' back, then boom boom again," said neighbor Hector Serrano, 21. "I came outside and (police) were throwing gas at the house."
Roberto Chavez, 67, and his wife were sitting on their porch when they spotted a heavily armed man fire at least 10 rounds at a group of people.
The gunman, who wore a white shirt and black pants, ran into a home about three doors down from his house, Chavez said.
Chavez said he didn't know the man's name but recognized him as someone who frequently visits and hangs out at his neighbor's home.
Another neighbor saw the same man as he was walking away from the Memorial Park parking lot. "I just ran inside," Fabiola Morena, 47, said after the man stopped to reload his weapon and glanced her way. "I secured the door, grabbed my granddaughter and ran into the bathroom, and we locked ourselves there."
Liberata Collela, who lives next to the residence that the shooter entered, said she was at home with a friend and heard dozens of shots.
She also said that a vehicle smashed into her parked car. "Someone got out of the car. It was really scary," she said. "All the guns were targeting the house next door. The shots were going back and forth."
Collela said she saw a body lying near the front door of the next-door house. She was startled when officers knocked on her window.
They escorted her and the friend into an armored car.
Authorities had not identified the victims by early Tuesday evening, but two women were in critical condition.
Paramedics airlifted them to a hospital.
The vehicle that crashed in front of the home was driven by a motorist who was hit by gunfire from the shooter, according to Katz, who oversees the Sheriff's Department homicide unit.
Sheriff's officials sent a robot with a camera toward the gunman Tuesday afternoon and were able to confirm that he was dead.
The shooter, who was not identified, was found in an entryway to the home lying next to a rifle, Katz said. Officials said an earlier report by authorities that the shooter was a woman was the result of "misinformation."
Police believe the home in which the gunman was found was empty when he broke in. It was not clear whether he lived there, Katz said.
The shooting unsettled Azusa – a bedroom community of 50,000 that marks the entrance of the San Gabriel Canyon – on the eve of a contentious election.
As helicopters droned above, residents attempted to navigate around sheriff's cruisers stationed in multiple intersections, cutting off traffic.
Some approached officers, searching for a place to vote.
Residents were told they could cast a provisional ballot anywhere in the county.
Rosa Valdovinos, 62, said she had raced to Memorial Park, where some children who attend nearby schools huddled on a bleacher, and was relieved to learn that her grandson had already been picked up by a relative.
Still, she was rattled. "We never had this happen before here in Azusa. Especially with the election? It's weird," Valdovinos said. "There are so many crazy people, acting emotionally."
–Los Angeles Times via Tribune News Service
–Follow @TheEtCetera on Twitter