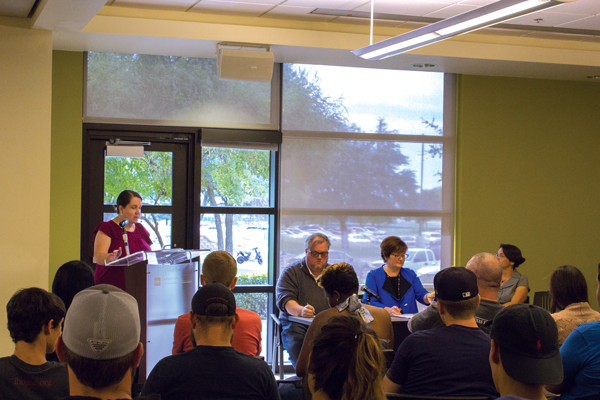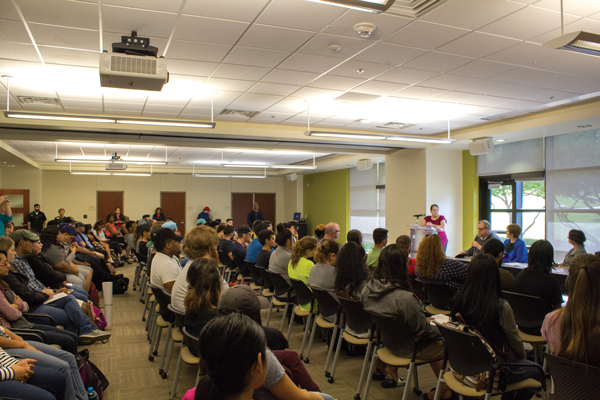 Dallas Morning News editorial writer Michael Lindenberger defended the paper's controversial decision to endorse Hillary Clinton for president during a free speech panel Oct. 18.
Lindenberger, Associated Press editor Maud Beelman and government professor Cindy Castaneda were the central speakers during the panel, which focused on the relationship between the 2016 presidential candidates and the media.
This election cycle has seen newspapers that traditionally endorse Republican candidates instead support Democratic nominee Hillary Clinton.
The Dallas Morning News editorial board hasn't endorsed a Democratic candidate since World War II, and their editorial decision has not sat well with some of their readers.
"Anybody who writes opinions will find quickly that the readers, the public include very nasty people who strongly disagree," Lindenberger said.
The Arizona Republic, also a historically conservative newspaper, has received death threats for their endorsement of Clinton.
Lindenberger went on to say that the decision to endorse Clinton was not as unthinkable as some might perceive.
"As far as our process goes, we weren't too surprised," he said. "We decided ultimately that Donald Trump was manifestly unfit to be president."
Despite Lindenberger's disapproval of Trump, he was quick to point out that an important element of free speech is accepting the opinions of others with grace.
"There's a great deal of people out there who think Donald Trump is beneath contempt and his supporters are either crazy, racist or some combination of the two," he said. "And that's not always fair, because he is speaking to a large chunk of people who feel left out of the current political situation and the economy."
[READ MORE: Trump, Clinton in final round for White House]
Castaneda said the hostile atmosphere of this election cycle, including what she perceives as threatening rhetoric from Trump and his followers, worries her. She said Americans are often put in a difficult situation when they try to voice their political opinions.
"When it comes to things like voter intimidation, that's where your physical bearing and your words can cross that line," she said.
Beelman said that intimidation against journalists is also common.
She said the death of Don Bolles, an investigative reporter for the Arizona Republic who was murdered during to his coverage of the mafia, is an excellent example of journalists prevailing past intimidation and violence against others.
"The thing about violence is that it does not work to stop journalists," she said. "You can kill a journalist and other journalists will come in and finish the job."
The panel touched on the role of the press through social media outlets, citing the near-limitless access to information it has provided.
"There's been a boom of information for someone who revels in as much information as they can possibly find," Beelam said.
Journalists and seekers of information like herself have access to things they have never had access to before, according to Beelam.
Castaneda said that it's essential for consumers of that information to find reliable sources to fact-check things like political statements and claims by presidential candidates.
[READ MORE: Executive orders polarize 2016 election]
"The term media is related to the term medium," she said.  "So there is a filter, and that's an important part of the distinction between our customary news outlets and when you're getting information from the candidate."
Castaneda said that students must cherish and protect the worth of the freedom of speech, along with the other freedoms given by the First Amendment.
"It is essential for you as active citizens in our democracy study and appreciate and fight to defend those rights and understand them when you fell that they may be violated," she said. "It's so fundamental to who we are as a democracy."
Lindenberger told students to uphold the First Amendment and said that their generation will intemperate the five freedoms in a way that's unique to past generations.
"The First Amendment as we know it is a relatively recent phenomenon in American history," he said. "It's not a permanent condition. Each generation must decide for itself how they balance the different values that are represented in the Bill of Rights."