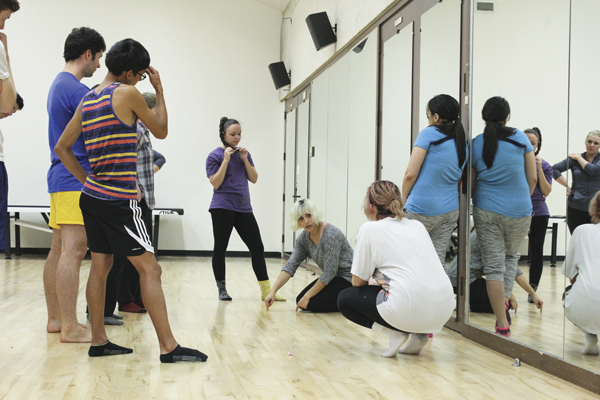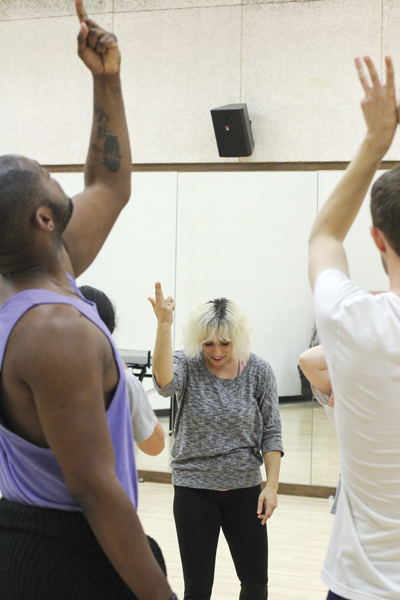 By LANDON WILLIAMS
Reporter
@TheEtCetera
Dance professor Danielle Georgiou's dance company is gaining a faithful audience in the Dallas area.
The Danielle Georgiou Dance  Group was selected in August as a reader's choice in D Magazine's Best of Big D awards. The company was named Best Dance Troupe in the Dallas Observer's 2015 Best of Dallas.
Dallas Observer writer Lauren Smart described the group as "edgy, raw, a little perverse, … pretty damn cool."
Colby Calhoun, who graduated from Eastfield in May, has performed with DGDG about 20 times.
"Danielle is doing things and creating things that are different for the Dallas art scene," he said. "I'm glad that people are recognizing that and appreciating that."
Georgiou started the German Expressionist-inspired DGDG in 2011 after she was asked to present her work at the annual National Performance Network event by the former director of the South Dallas Cultural Center.
[READ MORE: Movie Review: Poetic storyline drives 'Moonlight']
She and five of her friends presented a multimedia dance that caught the attention of a Dallas theater that commissioned her to provide an original production for a two-week run. It received positive reviews, and more people approached the group for performances. Before she knew it, Georgiou had a dance company.
Georgiou calls her dancers performers because they do much more than just dance. All of her shows are narrative-driven — the performers act, sing and speak while they dance — and reflect social and psychological themes.
"Really what we are making is dance musical theater," Georgiou said.
The group is known for its especially unconventional performances, according to D. "The group's occasionally profane approach has made waves in the
Dallas dance community, but has attracted an entirely new and untapped audience as a result," the magazine said.
In the 2015 production "The Show About Men," the dance company explored society's expectation of manliness and included a song advocating gender-neutral bathrooms. Georgiou and DGDG producer Justin Locklear created the show with original music and input from the dancers about their real-life experiences.
[READ MORE: Hidden Gem: Angry Dog offers 'highest quality food']
"Nice," which debuted in 2014, examined society's expectations of women, a common theme in Georgiou's work.
"No matter what language you speak, no matter who you are, where you've been or what you've experienced, you can watch somebody dance and really understand what they are trying to say," she said. "I think that that's beautiful."
Georgiou started dancing at age 3 and decided it would be her profession after seeing "The Nutcracker" at age 7.  But it's more than a job, she said. It helps her deal with hardships and functions as a form of therapy.
"Dance has been everything for me," she said. "A problem-solver, a life-saver, a voice when I didn't have a voice."