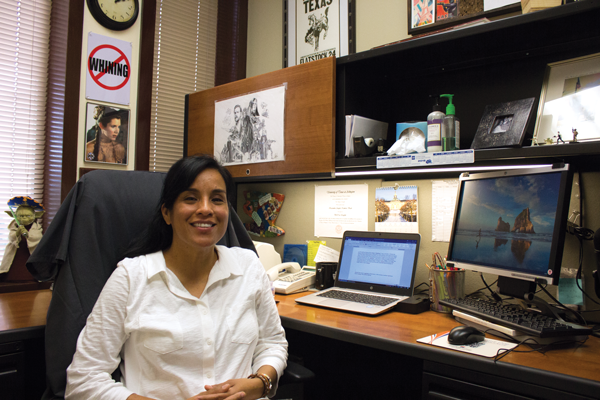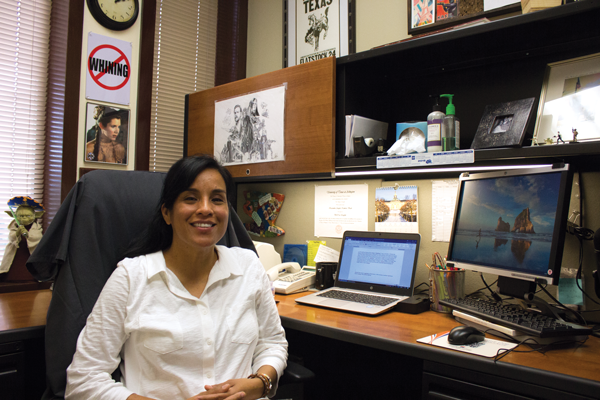 When English professor Kassi Buck is on campus, you can find her in her office, surrounded by "Star Wars" memorabilia, Native American art, lots of books and a fake graduation certificate. Buck is fully qualified to be an English professor. The fake certificate, she said, is to keep her focused on her next goal: her doctorate.
When Buck is finished teaching classes and grading papers, she goes home and works on her own homework and readings for her coursework at the University of Texas at Arlington.
"One of the things I was raised on is that learning is fun," she said. "That's why I've always liked to keep learning."
Buck said that after establishing her career at Eastfield, it was the "natural" next step to pursue her doctorate. Buck stays goal-oriented by keeping the certificate she made in her office and on her refrigerator.
The doctorate, she said, would be for both herself and her family.
Buck comes from a family of educators and was taught that obtaining a good education is very important.
"[My father] has three masters and a doctorate," she said. "Well, everything but the dissertation."
Buck's father, professor Anthony Ramirez, has played an instrumental role in her career, from instilling in her a love for classic novels to inspiring her to become an English professor.
At age 19, after two years at Angelina College in Lufkin, Buck decided to quit school and move to Austin. She became the manager of a financial corporation where she supervised employees
20 years her senior. This experience was difficult.
"I would cry every day," she said. "My dad was so angry with me."
Over the phone one night, Buck's father delivered what she considered the "verbal slap in the face" that encouraged her to go back to school.
She decided to return to where she was raised in the Rio Grande Valley to attend classes at South Texas College, where her father taught. An undeclared major, she attended classes to build her GPA.
[READ MORE: Disc golf course welcomed by avid players]
As she observed her father engaging with his students, Buck decided she wanted to pursue teaching and chose to major in English with a minor in science, focusing on education. She transferred to the University of Texas at Pan American, where she obtained her bachelors degree in English.
After college, Buck decided she needed a change of scenery. She was brought to Dallas by chance and found work as a middle school English teacher.
Buck spent 10 years teaching in Plano, then decided to pursue a career as a corporate trainer for an oil and gas company. She traveled the world to train employees to use software created by the company. Although this job was similar to teaching, Buck was unsatisfied.
"I hated it," she said. "Every Sunday, I would be miserable because I didn't want to go to work. … That's when I realized I needed to go back to teaching because that is my love."
She earned her masters degree in literature from the University of Texas at Dallas and started working as an adjunct professor for North Lake College.
Without funds to hire any full-time employees, the dean of the English department at North Lake called Eastfield's Rachel Wolf and suggested that Eastfield hire her, Buck said.
Buck started her career at Eastfield in 2011 as a visiting scholar and became a full-time faculty member in 2013.
Since coming to Eastfield, Buck said she is in the "happiest" place in her career.
English professor Andrew Tolle was mentored by Buck after he was hired as a full-time educator a year ago. He said Buck gave him confidence and taught him not to second-guess himself.
"She really is very approachable and accessible as a human being in all aspects," he said. "She is someone you know you can go to with a question and you're not going to feel silly for asking it."
[READ MORE: Enrollment bounces back up]
Buck teaches six online courses and 15 lecture courses, including one contextualized English course for the automotive technology learning community. In the course, automotive students gather in the T building computer lab to write documents that will help them in their future workplace.
"A lot of what we teach so often is foundational," Tolle said. "You end up using it, but you sometimes end up using it a few years down the road and you don't even realize you're using it. "The good thing about her class is that is going to happen, but also everything that they do in that class can be used immediately."
Students have to wear uniforms to enforce the automotive workplace mentality, so Buck requested one for herself.
"I'm not going to go in there not feeling like I'm part of them," she said. "I don't want them to think I'm coming in there and just lecturing to them. I want to be with them."
The ability to relate to students is important to Buck, she said. She begins each course by letting her students know that she is dyslexic.
"I want them to know that I'm human, she said. "We all have our weaknesses."
However, Buck said she doesn't want her students to use their weaknesses as a "crutch." She wants students to take the opportunity to learn from their insecurities.
"If I can do it, you can do it," she said. "If you don't have the support at home like I did, I will be your support."
Healthcare management major Rory Garrett appreciates Buck's efforts.
Garrett said he was not sure what he could gain from reading a poem. He felt "lost" in his American literature class until he reached out to Buck for help.
After turning in his final paper, Garrett said he felt confident that he passed the class.
"I think I pulled off an A," he said. "That's only because of her."
Psychology major Valerie Rodriguez said that over the course of her American literature class, Buck was a caring professor who "really conditioned your brain to think in different ways."
Tolle said having an instructor like Buck on campus "boosts Eastfield's credibility" and "helps Eastfield College seem like the community-engaging institution that it wants to be."
"It's responding to the needs of the community," he said, "which is exactly what a community college is supposed to do."
[READ NEXT: Enough time for mom: Current maternity leave policies draw scrutiny]