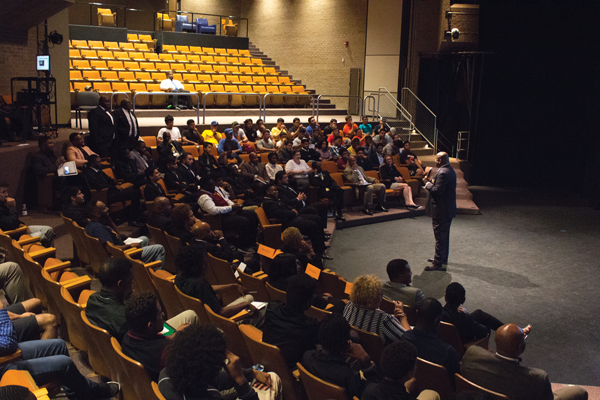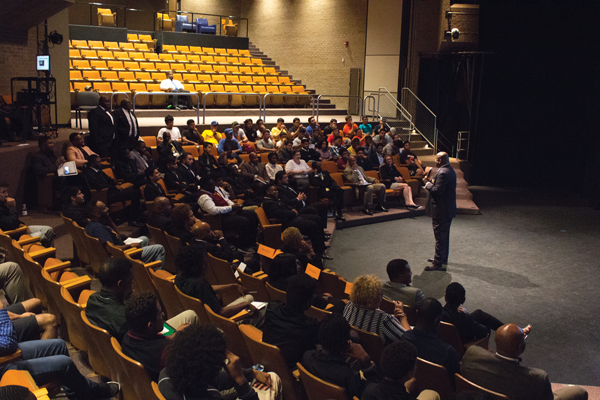 The M.A.L.E.S. Mentoring and Retention Program is kicking off its fifth year with the debut of a documentary created to motivate male students to take control of their futures.
"I hope that this will be a piece that will have people think about where they are now, where they want to be and what resources they need to tap into to actually get there," speech professor and M.A.L.E.S. Club adviser Courtney Brazile said.
The film, titled "Direct Your Future," will premiere at 12:30 p.m. Oct. 11 in the Performance Hall. It features interviews with students, alumni and community leaders.
Brazile said he wants to spark a conversation about helping young men of color succeed.
"The beauty of what we're doing here is that this is the right time," he said. "We've had a lot of serious things that have happened, that we've seen in the media with police and race relations. What I hope is that this project speaks to the hearts of our young men, that it speaks to the hearts of parents that are raising young men, and to really begin to invoke change.
[READ MORE: Pokemon invade Eastfield]
"Until we become change agents, we'll continue to get what we've always gotten."
Video filmmaker of Eastfield Angelica Peterson shot and edited the film and co-produced it with Brazile.
"I think this video is a wonderful representation of the hard work of our faculty, administration and staff to help these students get to where they need to be while featuring our wonderful students and all the great things that they do," she said. "They work. They go to school. They participate in the men's empowerment program. They volunteer. They're a great example of what an American is and should be."
Peterson believes the biggest goal of the documentary is to combat perception of male minorities in the media.
"We see these documentaries that talk about minority males, but they see them as an issue," she said. "We need to stop treating them as something that's like a symptom that we need to fix."
Brazile and Peterson agree that images of violence, hatred and discrimination among male minorities have dominated the news.
[READ MORE: The Art of Teaching]
"It's kind of an upsetting subject," Peterson said. "Folks of any minority deserve to have the same opportunity to succeed without having to automatically be cast as someone who just wants to party, or goof off, or just be a criminal. These students are working hard. They're coming together to work in the community. They're striving for the best, and I think it's important for us to talk about it."
The M.A.L.E.S. group, formerly known as the Men's Empowerment Coalition, strives to engage and retain male students by involving them academically, socially, culturally and professionally on campus and in the community.
The group sponsors events and participates in state and national leadership conferences.
Mentors strive to help members achieve personal and professional goals.
Brazile said it's important that young men know how to adapt to hardships and keep themselves motivated as they follow their dreams.
"It doesn't mean quit school or give up on your dreams," he said. "How can you encourage yourself and be around people who are going to encourage you to make it to the finish line? That's what I hope people take away from this documentary."
The documentary features students Rameez Sohail, Jarvin Lockett and Telvin Coumpy, alumni Aaron Fields and Nikhil Jeevaraj and community leaders state Sen. Royce West, Dallas Independent School District Superintendent
Michael Hinojosa and Paul Quinn College President Michael J. Sorrell.
As she made the final edits to the film, Peterson said she hopes the audience hears the message.
"I'm hoping that students will watch this and know that it's their turn," she said. "It's in their hands to make the future great. It's in their hands to make the changes that we need to see."
[READ MORE: Five must-have apps that will help you make it through college]