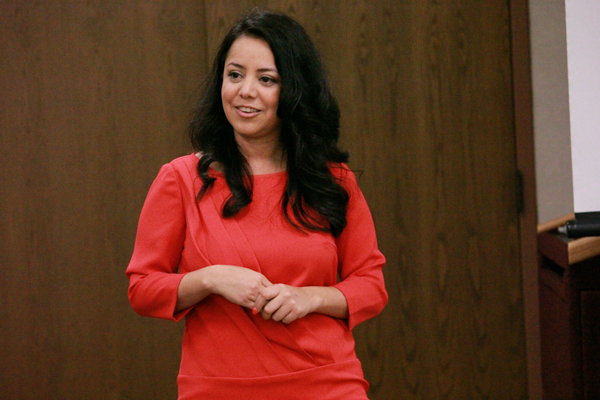 By Parker Ward
Victoria Neave visited Eastfield on April 13 as the third and final featured orator in the Student Government Association's Distinguished Speaker Series.
Neave grew up in Pleasant Grove. Her parents advised her to remember her roots.
"You can go be a doctor or lawyer, but never forget where you came from," she recalled them saying. "Give back and serve your community."
She became a lawyer in 2009 and has been focusing on cases in the Latino community, particularly cases concerning small businesses.
"So many small businesses don't realize that if you don't incorporate or protect your company in certain ways and you get sued, then you can be sued individually," Neave said. "Making sure they have the tools to succeed is something that is important to me."
Neave is currently running for the House of Representatives as a Democrat in District 104, which covers parts of Dallas, Mesquite and Garland.
She talked about her experiences in education while on her way to becoming a lawyer and encouraged students to continue their schooling beyond Eastfield.
"[My father] came with a sixth grade education and a dream," she said. "He dreamed of a better life, and my parents emphasized to me the importance of education.
"That's the solution to so many of our state's problems. We need to be investing in our public schools."
She believes she will be a good fit in office because of her experiences in serving the community.
While getting her bachelor's degree from the University of Texas at Dallas, she served as vice president of the Student Government Association.
"Ever since I was young, I was involved in lots of organizations and community service and trying to make a difference in our community," she said. "I want to take the skills that I have as an attorney to be able to write and advocate for laws that impact the future."
Neave gathered opinions on issues facing students from those who attended the event. Biology major Tori Finley said campus carry concerns her, however, she does not know what to believe.
"I feel like there are so many different opinions, it is hard to form one," Finley said.
Former Texas Junior College SGA President Rameez Sohail said he enjoyed listening to Neave.
"It is such an honor to be able to listen to our future state representative speak today," Sohail said. "It's great to know that there is someone here working for social justice."
Toward the end of her speech, Neave stressed the importance of voting.
"The importance of getting engaged [in voting] now is something that we want college students to be a part of," Neave said.
"We want to make sure that your voices are heard," she added, "because there are important decisions being made in the Texas Legislature that effect everyone."