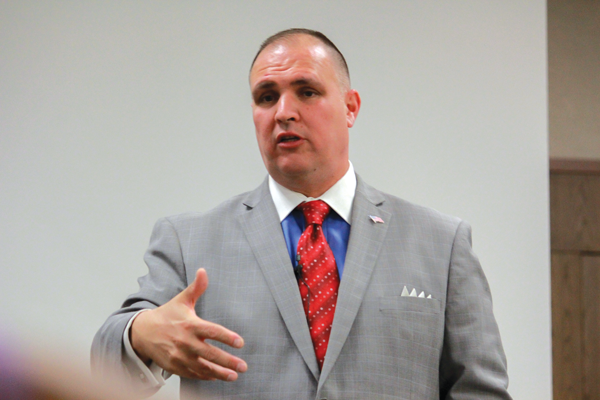 By Jennifer Sanmiguel
People interested in government careers should start by volunteering in the community and making connections with elected officials, Dallas County Community College District Trustee Bill Metzger said in a March 30 speech at Eastfield.
"It's a lot different when you are the candidate," Metzger said. "People are going to want to talk to you more, ask questions. They're going to be more engaged. Quite frankly, not many elected officials knock on your door saying, 'Hey, what is it that you want to see your government doing for you?'
"That is one of the things I do frequently. I'll go out and knock on doors and just ask people, 'What do you want from your government? What do you think your judge should do?' "
The Student Government Association invited Metzger to launch its Distinguished Speaker series.
The series also featured state Rep. Cindy Burkett, an Eastfield alumna, on April 4 and will feature attorney Victoria Neave on April 13.
SGA Vice President Andrea Carrizales, who is also managing editor of The Et Cetera and a member of various clubs, said she keeps in touch with government officials she has met through student organizations.
"The point of this event is so that people can network really, so students can learn how being at the top, being a trustee, being a state representative is actually something that they can accomplish," Carrizales said.
Metzger, who attended Eastfield, was elected as a Dallas County justice of the peace in 2014 and is not running for re-election to the DCCCD board of trustees.
His mother, Martha Sanchez Metzger, previously held the same board post.
Government major Zachary Wright said he found the event helpful and looked forward to others in the series.
"I didn't know much about the justice of the peace," Wright said. "It was really informative about that. I don't know if the judiciary department is something I'm interested in, but he gave an informative look at what they do."
Metzger advised students to find their own paths in their personal lives and careers.
"Don't let someone define success for you," he said. "It is what you want it to be."
Carrizales suggested that students reach out to Metzger for help.
"I hope that those students realize that they can actually just contact him if they have any concerns about the school or contact him if they want to have an internship or even a job," she said. "He is really friendly, and he really cares about the students."