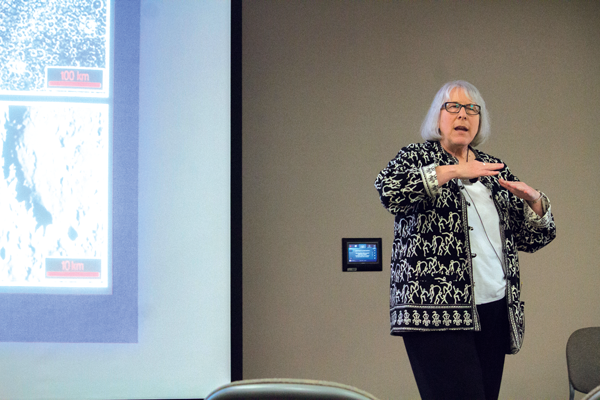 By Brittany Parker and Jamiah Sandles
During 14 years in space, the Galileo orbiter collected photos of Venus' clouds, evidence of oceans beneath the icy surface of the Jupiter moon Europa and data about volcanic activity on one of its other moons, Io.
The unmanned spacecraft launched from the shuttle Atlantis on Oct. 18, 1989. It took six years to reach Jupiter, the largest mass in our solar system after the sun.
"You could fit three of our planets into the great red spot on Jupiter," Galileo mission manager Eilene Theilig said.
Theilig, who earned her doctorate in geology, spoke about the NASA project at a March 31 STEMinar sponsored by the Science, Technology, Engineering and Math Division.
Space exploration fascinated Theilig from a young age.
"I watched the early manned explorations when I was a child," she said. "Then in the '70s while in college, we started to see new and different worlds, and that's what really hooked me."
Theilig joined the Galileo project seven months before its launch and was promoted to mission manager in 2001.
Prior to the Galileo mission, the Voyager mission, which started in 1977, recorded data from Jupiter before continuing toward interstellar space.
"NASA tends to have a pattern where they do one mission that flies past a planet, and that was Voyager," Theilig said. "The next follow-up mission is usually an orbiter, so you can stay and take observations over time. You can actually see more of the system. So the Galileo mission was that orbiter."
Galileo provided more precise data than Voyager, Theilig said. She described the difference as reading a book from the top of the Empire State Building versus standing on the sidewalk looking down on the book.
NASA focused Galileo's observations on Jupiter's moons. One of these moons, Ganymede, is bigger than the planet Mercury.
Jupiter's system – a massive planet in the middle of orbiting satellites moons and a strong magnetosphere – could be compared to a "mini solar system," Theilig said.
Sociology major Karla Rangel didn't expect much from the session.
"I initially just came for the extra credit," she said. "I'm not really into science, but it was interesting to learn about Jupiter and its surface."
Amy Vance, associate dean of STEM, said she hopes students interested in planetary studies noticed that Theilig is a geologist.
"They can have any background," she said. "They don't just have to have a career in space."
Theilig advised students not to box themselves in.
"Get the best education, basic knowledge with focus in science and math and stay flexible with your options," she said. "It's OK if you don't stay in the field you initially intended."