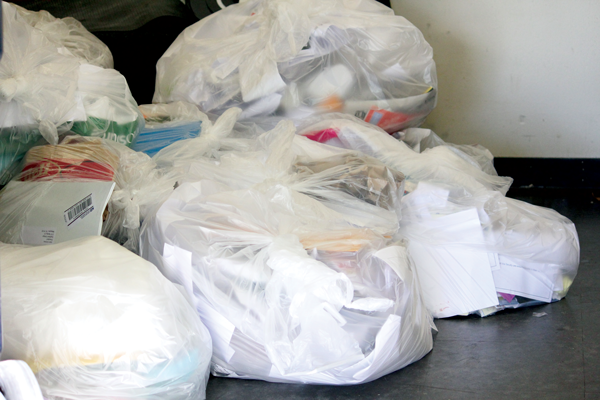 By James Hartley
College custodians have been contaminating recyclable material by mixing the commodities with waste collected around campus, an Et Cetera investigation has found.
The investigation was launched in November after faculty and staff reported seeing custodians putting recycling and waste in the same containers.
The college contracts with GCA Services Group for custodial services such as waste collection, vacuuming and cleaning bathrooms.
[READ MORE: College seizes opportunity in recycling]
Two custodians, who are not being named to protect their jobs, said that while they are not supposed to, many custodians throw trash and recycling into the same container, treating it all as waste.
The sources said that many custodians mix waste and recycling because it is easier than separating them and they face no consequences.
Director of Facilities Michael Brantley said mixing recyclables is against Eastfield procedure.
"They are told about the campus program," Brantley said. "We tell them how we want them to adhere by the recycle program. I actually work with them without writing anything down. I show them how this needs to be collected."
Math professor Terrance Wickman, volunteer sustainability coordinator for the college, said he has not personally witnessed custodians contaminating recycling, but he is concerned about the reports.
"We're here to set a good example, get folks to recycling all the time," Wickman said. "The second thing is we're supposed to educate. We need to educate them that the process that we have is whole, it's not smoke in mirrors."
[READ MORE: Clean & Green: College takes proactive steps to reduce waste]
After learning of the problem, President Jean Conway met with Brantley and Nallely Quintana, the onsite GCA manager, to develop plans to fix the problem.
[quote]"I think that our being good citizens with our sustainability efforts is important," Conway said. "One of the important sustainability efforts is recycling, and making sure that our recyclable material is handled in an appropriate way so that it is actually recycled. I believe in that."[/quote]
Since November, custodians were observed multiple times taking both waste and recycling receptacles and, without checking the recycling for contamination, dumping both into a black bag in a gray rolling trash can.
They are supposed to carry two bags, a clear bag for recycling and a black bag for trash.
However, they have been observed carrying only a black bag and taking the items to a blue Dumpster for waste in the parking lot.
Brantley said recycling and trash collection should follow these steps: Custodians empty trash and recycling from the black, single purpose waste bins in public areas around campus and put them in separate Dumpsters.
Custodians and volunteers with the Sustainability Team collect recycling two days a week from office and classroom recycling bins.
Republic Waste collects Eastfield's recycling and waste from Dumpsters around campus with the exception of scrap metal and aluminum, which are sold.
Cliff Snell, senior manager of media and production, said that while he has noticed waste and recycling being mixed, he never reported it because he didn't know the proper procedure.
Snell said that he saw presorted, uncontaminated material and shredded paper disposed of as waste.
"I have heard that perhaps they have a single-stream recycling program," Snell said. "That would be where they dump everything together and then have a sort-out of materials. I think others have observed the same thing. It would make better sense for me if they had separate cans, maybe something bright blue. That way, everybody knows what that's supposed to be."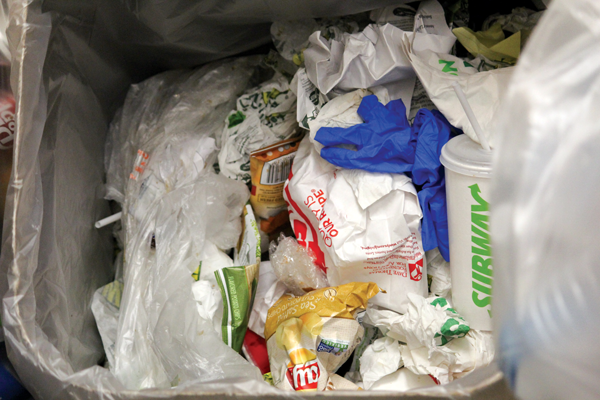 Eastfield has a single-stream system for recycling, meaning items are collected together and sorted at a commercial recycling facility. But introducing trash, such as liquids and food, can contaminate the recyclables and make them unsalvageable.
When first asked by The Et Cetera in November about the mixing of trash and recycling, Wickman said he had been told that a machine could separate and clean contaminated recyclables.
But Eastfield does not have access to a so-called Dirty Materials Recovery Facility, Plano Commercial Recycling Supervisor Chris Day said.
"I don't know of one that exists in Texas," Day said. "There's one that exists on the West Coast. … It's had a tremendous impact on their conversion rate, but there's a detriment to the value of the commodities when they're mixed in with trash like that."
Wickman said the college should focus on fixing the problem. While it may cost money, the effort would be worth it, he said. He suggested adding details about recycling into the custodial contract, properly monitoring collections and providing a way for people to report bad recycling habits.
Brantley said the custodians do not receive a manual or written set of rules and procedures relating to recycling, and training the custodial staff is up to the manager.
"I train their manager who is looking over all of them, which is Nallely [Quintana]," he said. "It's her responsibility to train everyone else about what we're doing on campus."
However, Brantley said that he has had to retrain Quintana.
"It's popped up once or twice," Brantley said. "I've gone down over the last three years training, reiterating the training, probably less than half a dozen times."
Quintana denied that she has ever had to be retrained by Brantley before. She said that the custodians have been trained and she does not know why they contaminate the recycling by mixing it with waste.
"This is the first time that this [retraining] has ever happened," Quintana said. "Nothing like this has ever happened before."
Eastfield provides marked bins for recycling and waste, but Brantley and Quintana said many students and employees do not properly separate waste and recycling.
Conway said officials will attempt to raise awareness of recycling practices among faculty, staff and students. Brantley will also be working with the GCA Services Group regional manager to create a manual to outline waste and recycling procedures.
Lid fixtures on gray, multi-function cans placed in hallways and around the Pit have been marked to help custodians replace lids correctly. Recycling should always be on the left side.
Funds raised from the sale of recyclable aluminum and scrap metal will soon be redirected from general funds to the sustainability fund, Conway said.
"We needed to tighten up some processes," Conway said. "Through what was really happening or perception, people believe that we weren't handling recycle materials appropriately. I don't want that to be the case."
—David Silva contributed to this report 
[READ NEXT: Student moms make time for family, school, work]