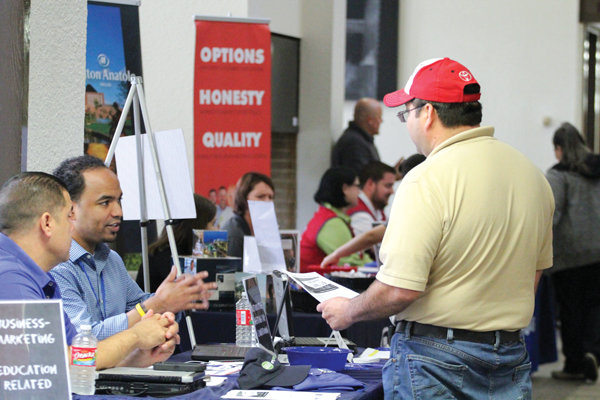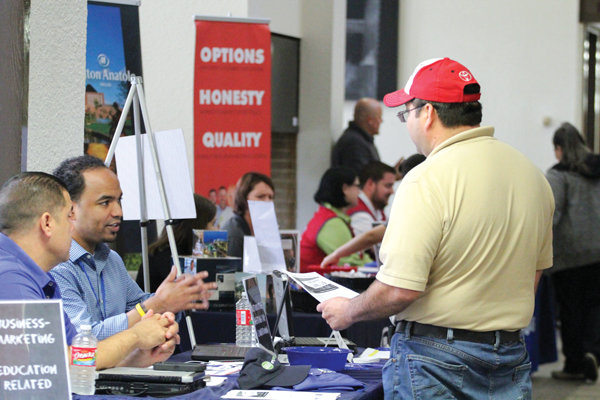 By Taylor Roberts
Students starting college should not only be planning what classes to take but also where they want to be in five years, an Eastfield career counselor said.
"You wouldn't start a trip without knowing where you're going," career services assistant Patsy Caropresi said.
The college's Completion Center staff guide students in long-term career planning and help them find jobs. They assist with training, resume building, interviewing skills and job applications.
The center also offers an online job system from employers looking to hire Dallas County Community College students with more than 2,000 job opportunities listed.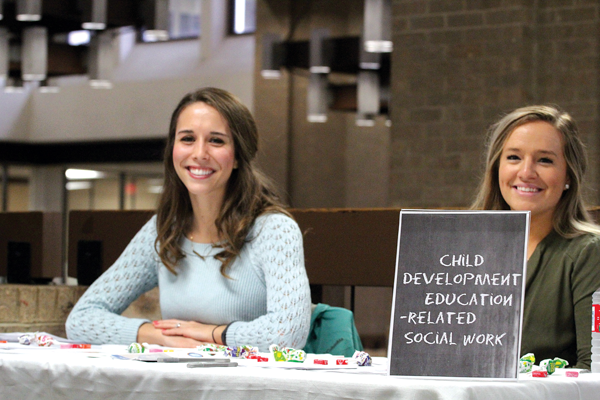 More than 70 recruiters from more than 45 companies visited campus March 9 at the Career Information and Job Fair. Tables stretched through the second floor hallways of C building where potential employers handed out fliers, key tags and other promotional items.
Some recruiters sought specific majors, such as accounting, child development, criminal justice, education, social work, science, technology, engineering and math, automotive and business-marketing. Students were provided insight into how their program of study can connect with current and future careers as they enter and leave college.
"We are looking for people with great customer service abilities and to be a face for our company," Wells Fargo staffing specialist Payam Daragalayi said. Students need to "look for companies that have development opportunities and give them the ability to grow."
Companies attending included Home Depot, Senior Helpers, Texas Instruments, YMCA, AutoZone, Six Flags Over Texas/Hurricane Harbor, ARS/Rescue Rooter, ChildCare Careers and State Farm Insurance.
"I think job fairs are helpful to students because the recruiter can talk about what is necessary in that field of study," Roxy Rubio, a pre-veterinary major, said. "It will make it easier on students to find a job instead of searching all around for different companies."
[styled_box title="Vital qualifications for the job hunt:" color="black"]Resume: Even if you have no work experience, volunteer work and awards can show potential employers your skills and qualifications.
Communication: Be able to tell employers why you are qualified.
Writing: Be able to write effectively though emails, memos, etc.
Leadership: Participate in volunteer work, clubs, etc. It makes a good impression on employers.
Teamwork: Show an ability to work with others.
Other qualifications that can help:
Other languages: Being bilingual is an advantage, and some companies offer bonuses and extra pay.
Professionalism: Act as if you already have the job. Arrive early or call if you will be late. Only be late if it's an emergency.

Source: Completion Center[/styled_box]