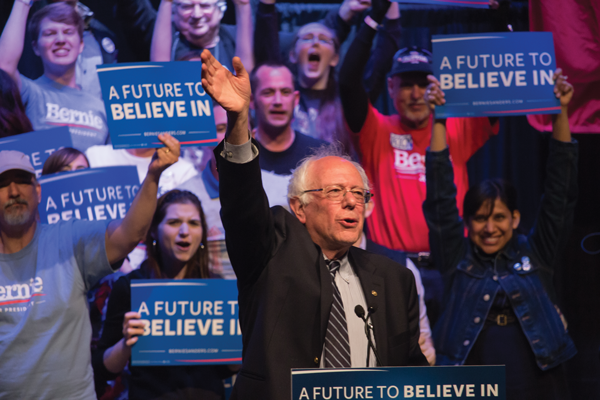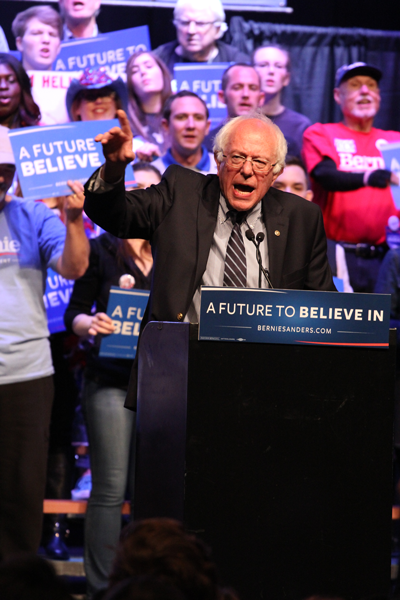 By Parker Ward
GRAND PRAIRIE — Democratic presidential candidate Bernie Sanders, coming off a morning of campaigning in Austin, played to the Texas crowd and used a football analogy to draw more voters to the polls March 1.
"Democracy is not a football game. It is not a spectator sport," Sanders said. "All of you are enormously powerful people if you choose to use your power" to vote.
Shortly after speaking to a crowd of more than 7,000 at the Verizon Theater in Grand Prairie, his opponent Hillary Clinton won the South Carolina Democratic primary and increased her delegate lead 542-83.
Sanders said that support from the American people, not "the establishment," will win him the election.
"It is one thing to have the support of the establishment," he said. "It is another thing to have the support of the people."
Sanders said that he could beat Republican frontrunner Donald Trump in the general election.
"We will defeat Donald Trump because the American people do not believe in a president that insults Mexicans, Muslims, women, African-Americans, veterans and basically anybody who is not like Donald Trump," he said. "Thank God most of us are not like Donald Trump."
The Vermont senator also took some shots to distance himself from Clinton, noting her vote in favor of the war in Iraq and her acceptance of money from super PACs. Sanders voted against the war and has no super PAC support.
Nick Ligon of Denton said that attracting minority voters and making his large messages clear will aid Sanders's campaign.
"Texas has a lot of minority voters, and Bernie still has not gotten his message to minority voters," Ligon said. "He's very vague, and when it's vague, it all sounds very fishy."
Sanders appealed to Hispanic voters by calling the need for immigration reform.
"Our job is to unite families, not to divide them," he said.
Once again, Sanders called for free public college education. He plans to impose a tax on Wall Street businesses to pay for widespread education.
"Wall Street's illegal behavior nearly destroyed our economy." Sanders said. "Now it is Wall Street's turn to help the middle class."
Kenzie Pauley of Denton said she is drawn to Sanders's honest personality.
"He's such a genuine, great guy, and you don't see that a lot in politics," she said.
Dorian Smith of New Orleans said that although Sanders's topics are broad, his willingness to begin to change things is what makes him a good candidate for president.
"Even if he is not able to follow through on all his promises, I'm just thrilled to know that there is a candidate that is willing to change some things," he said. "It gives the people who can't get to college to have a little bit of something to believe in and some hope they can get a piece of the American dream."