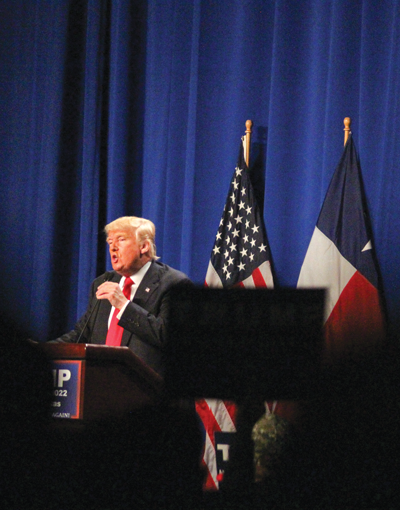 By James Hartley
FORT WORTH — Donald Trump welcomed an official endorsement by New Jersey Gov. Chris Christie during his rally in Fort Worth on Friday. Then Trump turned to his usual topics: building a wall on the U.S.-Mexico border, getting America out of debt and creating new jobs.
Christie, a former political rival, said Trump is the only qualified Republican left in the race for president.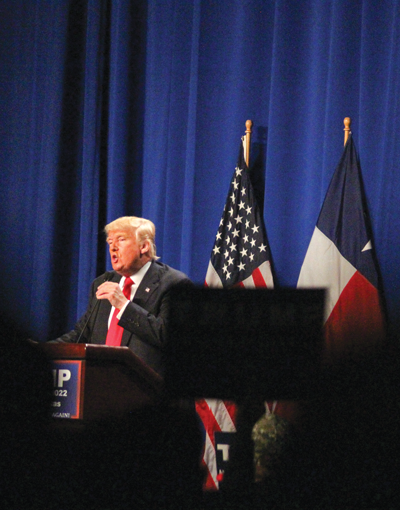 "There is no one who is better prepared to provide America with strong leadership that it needs, both at home and around the world, than Donald Trump," Christie said during a news conference before the rally at the Fort Worth Convention Center.
While Trump is still the frontrunner for the Republican nomination by more than 10 percent, according to an average of national polls gathered by Real Clear Politics, he is currently second in Texas behind Sen. Ted Cruz, who is from Houston. Sen. Marco Rubio also made a stop in Dallas on Friday, and Dr. Ben Carson will be in Frisco on Saturday to vie for voters in the 155-delegate state.
Christie said he was also endorsing Trump because of his electability.
"I've been saying this from the moment I entered the campaign, the single most important thing for the Republican party is nominating the person who gives us the best chance to beat Hillary Clinton," Christie said. "I can guarantee you the one person Hillary and Bill Clinton do not want to see on that stage come September is Donald Trump."
Christie said there has been no talk about him holding any positions in a Trump administration, including vice president.
"I don't speculate on those things," Christie said. "I am governor of the state of New Jersey until Jan. 19, 2018, and I have every expectation that I will fulfill my term and then go off into private life and make lots of money like Trump."
Trump said that while endorsements don't usually matter to him, Christie's backing will aid his campaign.
"I could have had many endorsements," Trump said. "I could have had many good ones … but I didn't want to take the time, the two hours of dinners and everything else. It just wasn't worth it. This was an endorsement that really meant a lot."
After the endorsement announcement, Trump boasted of his recent wins in New Hampshire, South Carolina and Nevada.
"I won women, men, evangelicals, vets, and we won with Hispanics," Trump said. "They don't want their jobs taken away, and I'm going to bring a lot of jobs back to America."
Trump said that under his presidency, U.S. citizens also would have more options for healthcare.
"The insurance companies want to keep it the way it is," Trump said. "It's like a monopoly in every state. … What's going to happen is you're going to have open bidding by getting rid of the borders around each state. You're going to have so much competition, you're going to have so much bidding, that you can't really say it's one plan. … You're going to pay far less money."
Trump also warned that media organizations will face more lawsuits if he is president.
"I'm going to open up libel laws so when [media] writes purposefully negative and horrible and false articles, we can sue them and win lots of money," he said. "When the New York Times writes a hit piece, which is a total disgrace, and when the Washington Post, which is there for other reasons, writes a hit piece, we can sue them and win lots of money. … We're going to sue you like you've never got sued before."
Trump added that the Iran deal will not stand under his presidency, calling it "one of the great big sellouts in the history of deal making."
"We give them $150 billion and we get absolutely nothing," he said.
Trump also reiterated his plan to build a wall on the Mexican border.
"Mexico will pay for the wall," he said. "And the reason is very simple. We have right now $58 billion in trade deficits. The wall is a fraction of that, so we'll get the wall done."
Trump supporters were met with protests as they exited the building. Jose Duran gathered with other protesters outside the convention center to protest Trump's immigration policy.
"I'm out here to support my fellow Mexicans, because Trump wants to take us all out," Duran said. "He wants to kick us out, but we're the ones working hard. … He's trying to destroy the Constitution, trying to kick us out just because we're Mexicans."
Trump supporters Ruben Salinas and Marisol Salinas argued that Trump's proposed immigration policy is not about hate, but about security.
"For the last 35 to 60 years, we've just basically been exploited by many people," Ruben Salinas said. "Not only Latin Americans but people from all countries who have come to our country, violated our laws, and broken the laws immigrating here illegally and taken advantage of our system."
Marisol Salinas added that the threat of ISIS is also a consideration.
"We need a wall to protect our people, our citizens, our children, mothers," she said.
Trump also said during the pre-rally news conference that he would not back any candidate if he does not get the Republican nomination, but would instead go back to managing his businesses.
"I don't need to do this," he said. "It's something that I am doing because we are going to make America great again, and politicians are not going to do that."
Trump also threw a couple of punches at Cruz and Rubio.
"I used to call Ted Cruz a liar," Trump said. "Now I'll call Ted Cruz and Marco Rubio a liar."