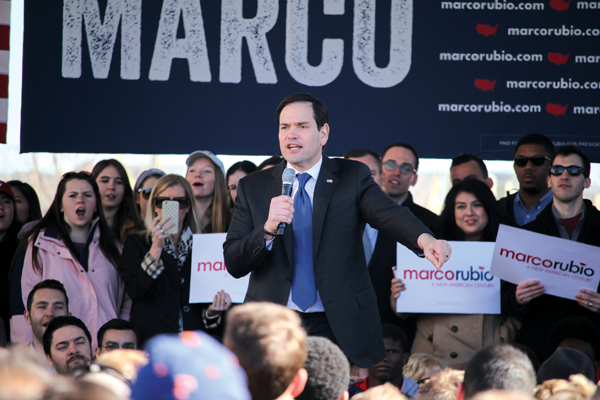 By Andrea Carrizales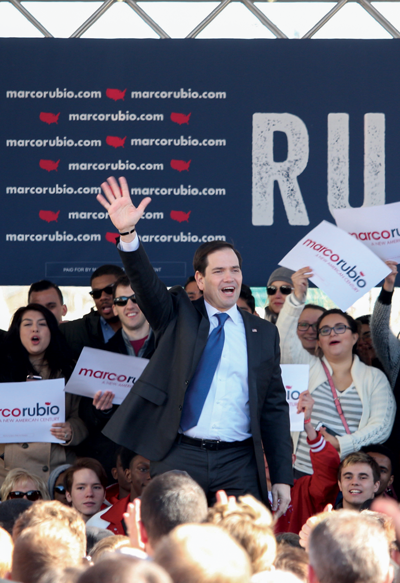 DALLAS — Republican presidential candidate Marco Rubio continued to take aim at Donald Trump during a rally at Klyde Warren Park on Friday, hoping to secure votes before the Texas primary on Super Tuesday.
Rubio, who argued with Trump often during Thursday night's Republican debate, denounced his opponent's "disastrous" business ventures, support of Planned Parenthood and unwillingness to side with Israel against Palestine, among other topics.
Rubio acknowledged that Trump was the GOP front-runner, which prompted the crowd of more than 200 to boo loudly.
"What we are dealing with here, my friends, is a con artist," Rubio said. "He runs on this idea that he's fighting for the little guy, but he has spent his entire career sticking it to the little guy."
Cindy Jones, 45, said that although she likes Rubio's energy and enthusiasm, she supports Trump.
"I already voted for Donald Trump," she said. "I think we have to have someone who can actually defeat Hillary Clinton. Either one of them probably could, but to me, we're going to need somebody with real star power. And I think Donald Trump has that."
Jones attended the rally with her friend, Shelley Walters, 44, who was interested in learning about Rubio's stance on several issues before she votes on Tuesday.
"I've been to a Trump rally, so I kind of know where Trump stands," she said. "But I'm not convinced that he's the right one to be the president of the United States."
The undecided voters who showed up to hear about Rubio's vision heard more about Trump. Rubio continued eliciting laughter from the audience by alluding to the businessman's bankruptcy of the Taj Mahal casino in 1991 and the bankruptcy of the Trump Hotels and Casinos Resorts in 2004.
"The charade is up," Rubio said. "If he had not inherited $200 million, right now he would be selling watches in Times Square."
Andrea Cocker, 30, said she was pleased with Rubio's performance and that he has her full support.
"I'm glad that Rubio is finally taking Trump to task in pointing out that he's not a Republican and not what people who are really conservative believe in," she said. "We deserve better for the party and for the country."
Rubio also took time to read several of Trump's recent tweets, making fun of his spelling and age. He also referenced Trump calling him a "lightweight" and "Mr. Meltdown" during the Feb. 25 GOP debate in Houston.
Camille Smith, an engineering major at SMU said she enjoyed hearing Rubio.
"I believe in most of what he's saying, if not all," she said. "He's very funny, which I didn't know."
Trump held a rally in Fort Worth a couple of hours after Rubio spoke in Dallas, defending himself and reiterating that Rubio is a "little boy" not fit to be president, which he also mentioned on Twitter the night before.
Rubio appealed to Texans' sympathies by saying he will repeal much of Barack Obama's work in his first day in office, as well as give more power back to the states.
"He was taking stances for Israel and for our troops, which are obviously really great things. Texans love to hear that and [that he supports] the Second Amendment," said Elizabeth Ricketts, a mechanical engineering student at SMU "If he follows through in all those things, I think it's great. I think he got a lot of support taking those stances."
Cameron McBay, a political science major at Brookhaven College, said he is convinced Rubio will take Texas on Super Tuesday.
"Marco is the kind of person America should have as president," McBay said. "The Republicans are a diverse group, all different sections. And when a Republican president wins, they pull from all the various parts. He's the only one in the race that can do that."
Tom Mitchell, 68, said he is not sure who he's going to vote for, and doesn't believe that Rubio will be able to win Texas.
"I would think it would be [Ted] Cruz or Trump who will carry Texas, and Rubio would be third," he said. "If Trump has a good Super Tuesday, it's going to be tough to stop him, unless he puts a foot in his mouth one too many times. Then maybe that'll slow him down."