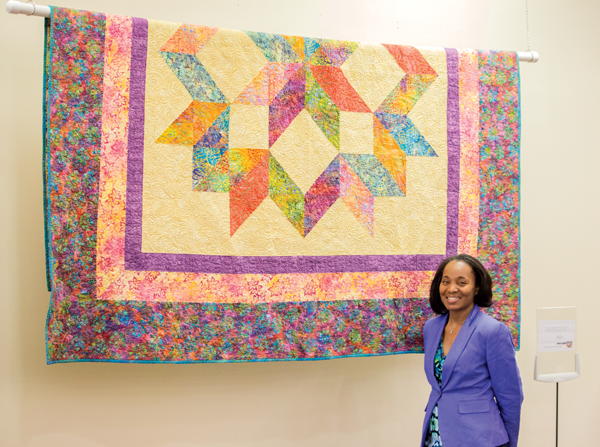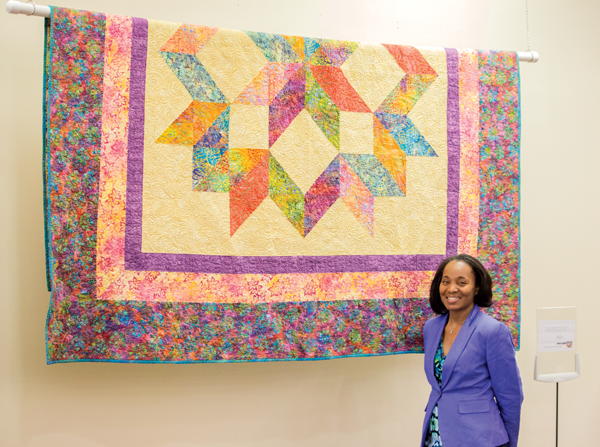 By Jennifer Sanmiguel
In celebration of African-American History Month, Eastfield is exploring heritage passed down through the art of quilting.
Eight faculty and staff members donated quilts to the display, which runs in the library through Feb. 26.
Courtney Pickens, student development and leadership coordinator, said she planned the exhibit because of the tradition of quilting in her own family.
"It was something that we all share," she said. "Whatever race, we all share in the histories of our families. We all want to tell the stories. I definitely wanted to bring that kind of light here to Eastfield."
Pickens said she hopes visiting the exhibit will spark an interest in researching family history.
Quilting in many cultures was a way to bring the family together and share their history. For African-American culture, this was a way to keep their stories and communication alive for generations when they were not allowed to write, Pickens said.
Vivian Davis, rehabilitation specialist for the Disability Services Office, donated a large quilt made by her grandmother titled "The Circle of Life." The art and tradition of quilting was passed down through many generations, Davis said, and her grandmother kept a book filled with inherited stitch patterns.
Davis remembers growing up playing under the quilting frames with her younger family members while the women sat above quilting and gossiping.
"It brought my family together," Davis said. "That's how you found a lot out about your family. You know, just what's going on. It's more like oral history. They would be talking about World War II, just stuff that happened, and a big flood in Mississippi or that blackout in World War II.
Gretchen Riehl, executive dean of science, technology, engineering and math, said quilting was not a tradition in her family. But her grandmother crafted the "sunburst" quilt that she donated.
Her grandmother made the original design, but died before finishing the quilt. The family sent it to an Amish community to be completed traditionally. Pieces of fabric came from family clothing.
"If you ever talk to someone who grew up in the Depression, they used everything," Riehl said. "They didn't like to throw stuff away. My grandmother had this leftover fabric, and she didn't want to dispose of it because you could use it. … So I think that quilt really came out of that."
The quilt was passed down to Riehl because she is the only granddaughter in the family. She considers it a treasured heirloom and plans to give it to one of her stepchildren.
The quilt donated by English professor Larissa Pierce was gifted to her by two close friends: Hazel Hunter and Gloria Moore. Moore was Pierce's mentor, and they now share a mother-daughter relationship. Moore introduced her to Hunter.
Moore and Pierce chose the fabrics for the quilt and Moore asked Hunter to assemble it. Pierce describes Hunter as a "whiz" in creating and crafting. Hunter turned a vintage wedding gown into a cocktail dress with a matching scarf for Pierce.
Pierce said she treasures the two women, especially Moore, and friendship symbolized by the quilt.
Quilts "hold on for so long, and even in their most ragged state, they're still so beautiful," she said. "This quilt was not from a person who was my supervising teacher when I did my student teaching. At this day, she is more of a mother to me."