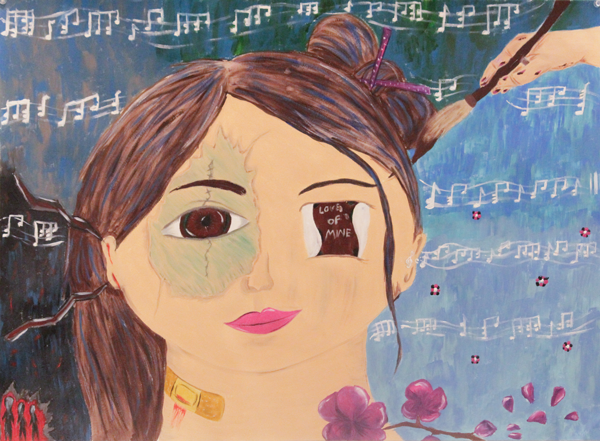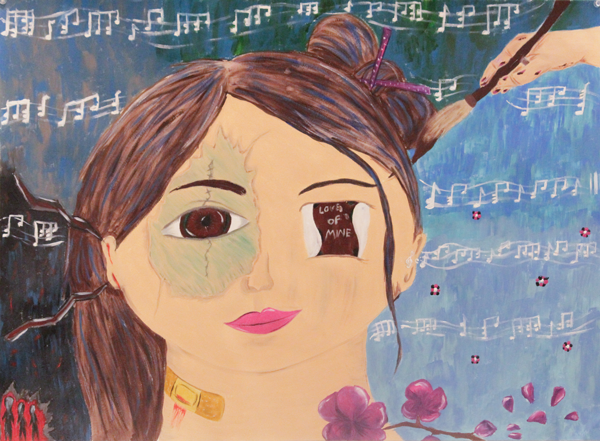 By Hunter Cave
Dozens of student art pieces fill both of Eastfield's galleries to the brim, ranging from small ceramic pottery and abstract paintings to detailed sketches and large sculptures.
Gallery F-219 and H Gallery are displaying art students' assignments through Dec. 11. Gallery Director Iris Bechtol said that both galleries are in use because the number of submitted pieces is up from previous years, and some pieces are too large for the F Gallery.
"The students are allowed to submit one piece of artwork from every art studio they're enrolled in," Bechtol said. "Some students are in multiple studio courses, … and that's what makes the show fairly large."
Among the artists showcased was engineering major Joaquin Prado, who took an introductory drawing course after being a self-taught artist for many years.
Prado said his professor assigned him to create a "psychological self portrait" with the result being his multimedia drawing "Tony."
"Tony" depicts a man with the head of a tiger with golden teeth on his lower jaw. A variety of animals are tattooed on his right arm and chest along with several words, most of them crossed out.
"The tiger is fierce, but he is lazy," Prado said, "I can be very laid back and cool, but I could be set off. So in many ways … that's who I was."
Other pieces from the gallery include Abraham Tesafaye's untitled abstract painting with patterned waves of color splashing around and Eunhee Kim's "A moment," a charcoal drawing depicting a little girl smiling with her curly hair blowing back.
Britney Winkles's abstract collage "Abduction," full of reds and greens and what appears to be a snake, and Tiffany Frame's untitled black and white painting showing a bowl of cereal with a skull peeking out are also new additions to the gallery.
Those who came to the F Gallery for the Wednesday reception were greeted with live music from the Eastfield Guitar Ensemble. Bechtol collaborated with Eastfield music professor Eddie Healy to provide the accompaniment. Healy was impressed with the gallery, and his band drew a positive reaction from the audience.
"Those in attendance were very complimentary of our playing," Healy said. "Some took photos, some took videos and there was quite a bit of applause in between selections."