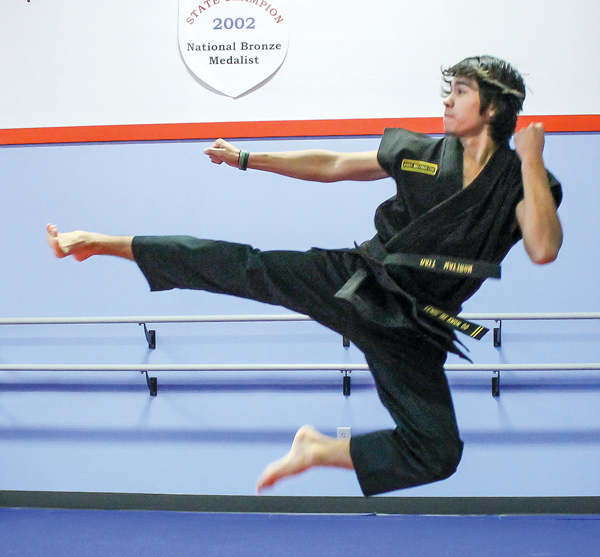 Once bullied, black belt now teaches martial arts to pay for college
By Brianna Harmon
It's the second round of the semi- final fight, seconds ticking off the clock, and Matt Wattron knows he has to score points before the round ends.
His opponent, the national champion, has just landed two back roundhouse kicks on Wattron's chest, putting him up by two points.
Wattron takes a step forward and checks his opponent to try to catch him off guard, his opponent counters with a kick to his chest.
"KIHAP!"
Wattron throws a back kick that hits his opponent square in the face. A water faucet of blood pours from his crooked nose.
The officials stop the fight to check if he is OK. A few seconds pass as they pack his nose with gauze, and the fight continues.
The second round ends tied, bringing them into to a sudden death round. The first person to score wins.
Wattron and his opponent dance around the ring, even though they are both spent, blocking every kick they throw at each other.
His opponent scores a round- house kick as Wattron tries to back away.
Wattron finished third in the tour- nament after losing that match, but took it as a win because years ago it would have taken a toll on him.
Wattron was physically bullied in middle school. He was a chubby, insecure kid, and that was when he turned to taekwondo to build his confidence. Taekwondo is a Korean martial art that puts heavy emphasis on kicks. It also teaches discipline, respect, integrity, self-control and perseverance.
"Bullying messes with you men- tally and physically," Wattron said. "You just don't want to wake up and go to school because it is the same thing everyday."
Being tripped and slammed into lockers became a daily occurrence.
"I was bullied because I was a big guy; I was kind of like a nerd," Wat- tron said. "I always did my work, was a teachers' pet."
The bullying got to the point where Wattron and his parents decided that it was time for him to start taekwondo. He has been a student at Lewis' Taekwondo in Dallas for eight years.
"It changes you once you go from being bullied to being trained," Wat- tron said. "You become more confi- dent, and you feel better about your- self. Instead of walking with my head down, I walked with my head up and chest out. It doesn't bother me any- more."
His taekwondo instructor, Master Johnny Lewis, said that Wattron took to taekwondo like a fish does to wa- ter.
"He came in with almost with no self-esteem, and this built it up to a higher degree," Lewis said.
Wattron is enrolled at Eastfield and pursuing his associate degree in science. He is paying his way through with his earnings from the dojang, a taekwondo training facility, and from working as a Papa John's delivery driver.
When Wattron joined Lewis' Tae- kwondo, two students who joined at the same time dominated him. But once they reached red belt, Wattron started to have the upper hand when training with them.
Wattron is now a second-degree black belt and has earned the right to teach his own class. Currently, Wat- tron teaches a kickboxing class every day at noon.
"I want to teach people and make them feel good about themselves," Wattron said. "It's fun to teach. I love it."
Tai Chi Chuan instructor Greg Young, who also teaches at Lewis' Taekwondo, said Wattron is dedicat- ed to his education and martial arts.
Wattron says that if it weren't for him joining taekwondo, he would still be a victim of bullying.
"It is a real eye-opener," Wattron said. "It changed me definitely. With- out taekwondo and martial arts, me being involved in something that will help myself and bring my confidence up, I would still be that same kid I was in middle school getting picked on. I might not even be in college be- cause I didn't know what I wanted to do or what my life was going to be like.
"But now, I want to teach because
I have seen how all of this came through. I love it so much."
Wattron wants to transfer to the University of North Texas to get a de- gree in kinesiology after he receives his associate degree. Wattron says that he could practice taekwondo forever.
"I knew I was going to get into martial arts as soon as I started," he said. "I was like, 'Man, I want this to be a lifelong thing. I don't want to stop. I'll do whatever I have to do to succeed.' "