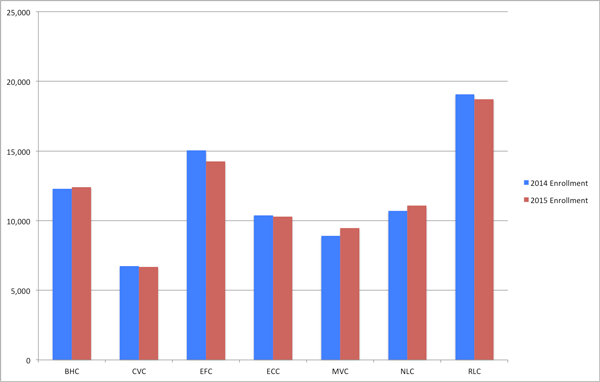 By James Hartley
A drop in enrollment has prompted minor budget cuts in some areas of the college's academic divisions.
Enrollment fell from 15,000 in fall 2014 to 14,251 in fall 2015, a difference of 5.3 percent.
This drop is the first since President Jean Conway was appointed at Eastfield in 2011.
Since then, enrollment had increased at Eastfield even as other campuses in the Dallas County Community College District faced dropoffs.
Conway said students and faculty are not expected to see any effects of the decrease at this time. An Enrollment Research Task Force of college employees is looking into the issue.
"The task force has just been charged two weeks ago," Conway said. "We don't know exactly what they'll come up with in their research."
To offset the decrease, departments were asked to cut 5 percent from select areas. Most divisions applied the cuts to administrative functions such as office supplies.
"We're looking at making the adjustments in the things that probably don't affect these students that much, and the faculty are given what they need," Executive Dean of Career Technologies Johnnie Bellamy said. "Maybe there's a little bit of fat we can trim off of supplies we don't need."
Faculty have already started making adjustments to the way they use supplies.
"In our division, we tried to make certain that the brunt, the most of that 5 percent reduction, was in things like the use of the copy machine," Executive Dean of Social Sciences Mike Walker said. "Faculty have been very on board, too. … They'll find that maybe there's more than one thing we can put online or on a screen instead of paper."
Walker said freshman-level classes have seen the biggest drops in enrollment.
"Some of the hardest hit classes were like History 1301 for our division, some of those classes that all incoming freshmen are going to take," he said.
Some administrators believe that the recent economic recovery has played a part in the decrease.
With national unemployment down from 5.9 percent to 5.1 percent since last year, it appears some are going to work instead of attending college.
"The economy gets a little bit better, and there are some number of people who are less likely to feel the need to go back and get a little more education to better themselves in their job or to get another job," Walker said. "That's not to say we should just accept that, and we don't because there's a lot of people here in this community that we just haven't reached yet."
Bellamy said the biggest hit in career technologies has been with second-year students, possibly due to the improving job market.
"They have some skills. They were able to get a job, so they didn't come back," Bellamy said. "In the past, we have always seen that when the economy is good, students don't seek education. That's a standard. That's something we almost see cyclical throughout the different times."
Conway has charged all college employees with proposing new ways to recruit and retain students.
"There's not just one answer," she said. "When our enrollment kept going up and up, people asked, 'What are you doing?'
"There wasn't one answer. There were multiple things we were doing. We've sort of had to get our own reality check and say "It's time to get back out into this community.' "