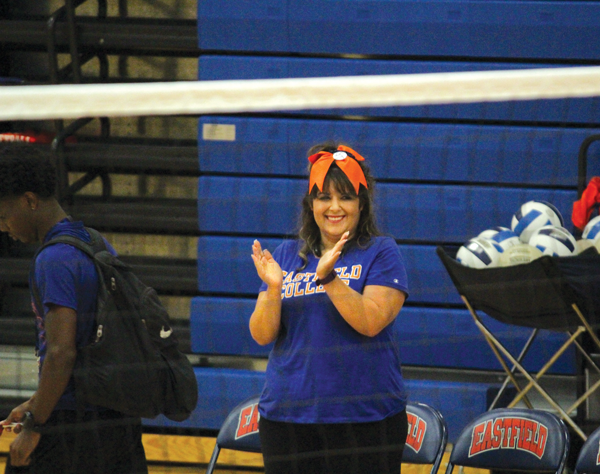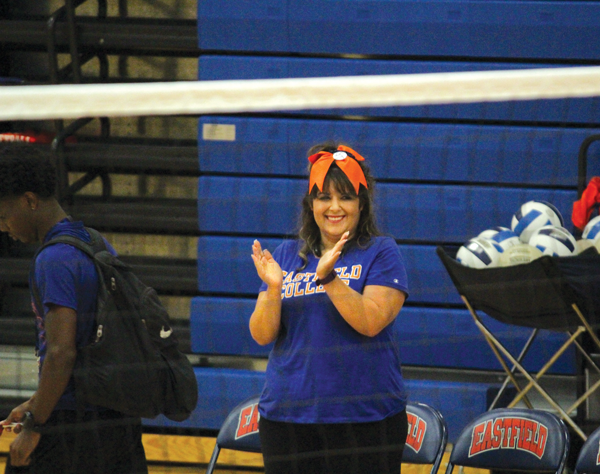 By Brianna Harmon
Kat Reguero left her history classroom Sept. 22, pinned a giant orange bow to her head and stepped onto the sidelines of the volleyball court.
"Good job," she shouted as the Harvester team took the court. "Way to go."
Reguero was the first guest coach of the season for Eastfield in their conference opener against Brookhaven. Brookhaven opened the season ranked No. 1 in the National Junior Athletic Association Division III.
"I was very excited when I first found out she was going to be our guest coach," freshman setter Zelda Ortiz said. "I love her in the classroom, and I knew I'd love her on the court. She comes to the games and supports us, and I can always hear her voice. And that makes my heart smile."
Reguero teaches History 1301 and 1302, and created a civil rights class and developed the curriculum for it.
"It was a different spin. I've never had a teacher come be a coach for us," freshman Madi Wenrick said. "So it's cool. She is really upbeat and positive all the time, and it's different from most coaches because coaches aren't positive all the time."
Coach Brandon Crisp asked Reguero to be the guest coach after a game. She accepted immediately.
"I had zero reservations," she said. "I was super excited."
Nerves started to plague her on game day but evaporated when she reached the locker room.
"Oh my god, your bow," one girl cried.
"They were super cute and super excited to see me," Reguero said. "It made me feel like this is where I belong and that I'm going to have a great night."
Reguero stayed with the team while they reviewed scouting reports and mentally prepared for the game. Each player sat at a desk and read through a binder filled with facts about their opponents.
"For us in the stands it honestly looks like when the ball comes to you that you just hit it," Reguero said.
But she saw how much more the players put into their play.
"They are very skilled and good listeners," she said. "They are very dedicated. They throw their bodies out there. They are sliding across the floor. They are amazing."
Reguero tried the keep the Harvesters' spirits high as Brookhaven dominated the match.
"We were losing really bad in the game, and she told us that great people are made from great moments and for us to go get that great moment," Ortiz said. "That made my eyes tear up because it's the truth. And to hear her say that from her perspective just really lifted everything off my shoulders and made me feel OK."
Eastfield lost the match to Brookhaven 3-0, with game scores of 14-25, 21-25, 7-25.
Crisp created the guest coach program to give faculty and staff the chance to see the work that goes into the games and to become better acquainted with the athletes.
Basketball coach Anthony Fletcher has invited guest coaches for his team's season, which starts Oct. 30.
Guest coaches for future games are Amy Vance, associate dean of Science, Technology, Engineering and Math; Judith Dumont, acting executive dean of Workforce, Corporate and Continuing Education; adviser Corey Loverson, admissions specialist Simon Ozuna and police Lt. Timothy Ellington.
Reguero encourages others to get involved with the teams.
"They will find it really rewarding," she said. "I mean these girls are amazing. It's one thing to have them in the classroom. I've only had them three weeks. I feel like I know them now and how dedicated they are."