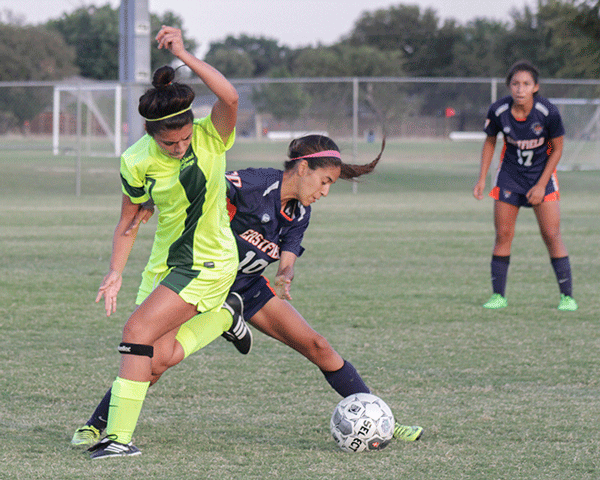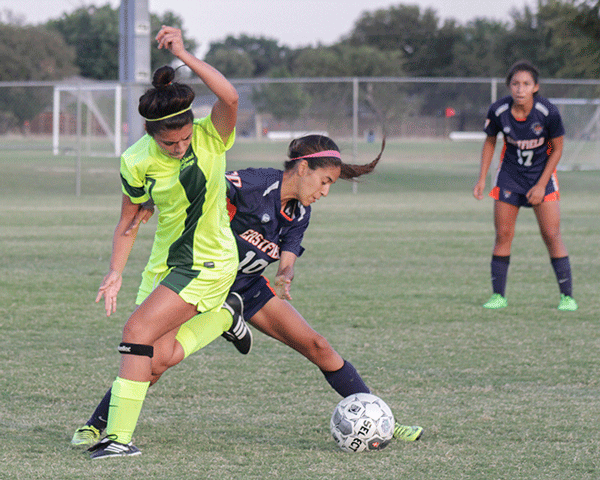 By Gabriel Flores
The pitch fell silent as Eastfield's Hazel Espinoza lined up to take a crucial penalty kick with just under 11 minutes to play in the first half of a top-10 clash against Richland on Sept. 25.
Espinoza rifled her shot low and to the right, freezing the keeper, who watched helplessly as the ball struck the back of the net.
The goal propelled the fourth-ranked Harvesters to a 1-0 lead they would never relinquish as they knocked off No. 8 Richland on its home field.
It marked the first win over the Lady Thunderducks in Eastfield history and gave the Harvesters (7-1, 3-0) sole possession of first place atop the Region V standings.
"It's a big win for our program," Eastfield coach Dustin Stein said. "If you can beat Richland, you can beat anybody in the country. They're always in the mix for a national title, so beating them shows that we're on the right path."
After the game Espinoza admitted that she, like many of her teammates, was nervous coming into the matchup. However, she seemed unaffected by the most crucial point in the game, scoring for the sixth time this season.
"I just tried to focus on placement and being calm," she said. "I was trying to picture where I wanted to put it."
Sophomore midfielder Miriam Mendoza said she always has confidence in Espinoza and the rest of her team in penalty kick situations.
"Whoever is up there will put it in the back of the net," she said.
After the goal, the Harvesters seemed quicker, swarming to the ball, and rooting out the Thunderduck attack with a number of tackles and interceptions.
"The defense was a confidence boost," said Eastfield sophomore keeper Abigayle Cantrell, who only had to fend off two shots because of her team's performance.
Eastfield played the game without starting midfielder Karlee Hickson, who was nursing a sprained ankle. Still, the Harvesters were able to play at their pace with precise passing and ball movement.
Historically, Richland has dominated the region. However, Stein wanted his team focused on the now.
"History is history," he said. "I didn't feel like an underdog. They needed to knock us off."
Eastfield nearly defeated Richland last season, losing 2-1 after relinquishing a 1-0 first-half lead.
"It feels so good to beat Richland," said Cantrell, breathing a sigh of relief, who was on the field during the tough loss last season.
After the game, Stein made it clear to his players that there is still much work to be done and urged them to keep it all in perspective.
"You haven't won anything yet," he said to his team while huddled in celebration.
The road to New Jersey for the national tournament is paved with tough opponents, including a rematch with Richland at home Oct. 13.
"That win did nothing more for us than beating Cedar Valley or beating Mountain View," Stein said. "They all count the same in the standings. Our goal is to be the No 1 seed in our district tournament."