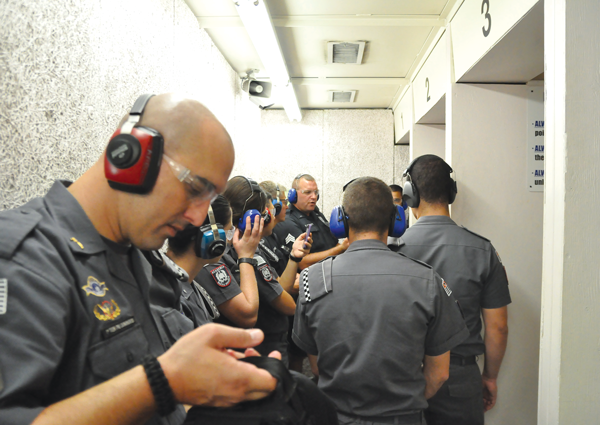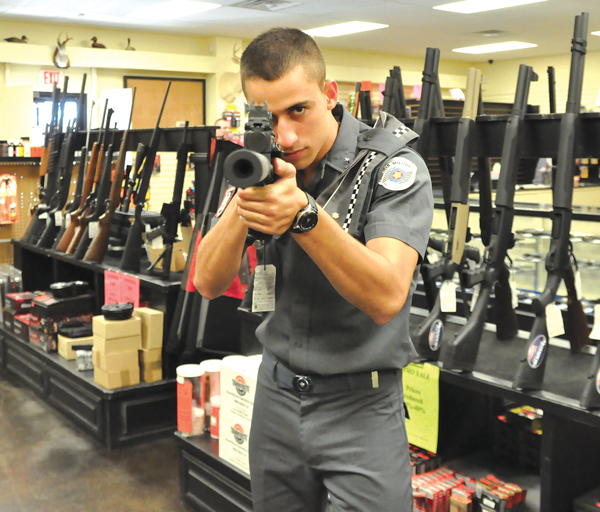 By James Hartley
For the second year, Eastfield College's Police Chief Michael Horak invited cadets from the Barro Branco police academy in Brazil to train with Texas police.
After years of building relationships with "the right people," Horak said, a unique interchange program was created between Sao Paulo and the Eastfield Police Department.
The cadets came during July and stayed for two weeks.
The cadets visited Texas, stayed at the police chief's house, ate at local legendary food joints such as Keller's burgers in Dallas and enjoyed the culture of the Dallas area, which Horak says is one of the important parts of the program.
"This is about education," Horak said. "They love the idea of getting this kind of education."
The cadets worked with the Mesquite, Garland and Eastfield police departments as well as with the Texas Rangers Special Response Teams in Waco.
Brazil is a tough place to live and work, especially for a cop, according to the cadets. Overcrowded prisons and negative stigma from past generations of police have made the jobs of the modern Brazilian Military Police significantly harder.
The cadets talked about their struggle to gain the support of their parents in their decision to join the Military Police and the challenges faced by all military police in Sao Paulo.
"Before getting in the Military Police, I was a school teacher," said cadet Andre Roschel, who lives with his mother, father and brother. "I am the only police officer in my family. It's weird, because my family didn't support me in getting into the police, but now they are happy. It's the best job in the world."
Roschel taught history before becoming a cadet, a profession which he now looks down on because of the way many Brazilian teachers twist history, he said. Many of the problems faced by the "Policia Militar," or their "police force," stem from misconceptions of modern police based on previous corrupt forces. Roschel says that teachers of history and government are partially to blame because they teach on the platform that the police are still loyal to the military regime that ruled Brazil before many of the current officer cadets were born.
Like her fellow cadets, Ana De Abreu talked much about the way police are treated in Brazil.
"When I was 18, I moved to the countryside. I went to vet school. I stayed there for five years," said De Abreu, who grew up in Sao Paulo. "My mother didn't like it very much, but she got used to it. When I told her I wanted to be a police officer, she really found something she didn't want me to do. But now she's OK with it. She's very afraid, because it is very dangerous in Brazil, being a police officer. I enjoy being a police officer. … No one day is like another."
Cadet Pedro De Mattos had set his mind on being a chemical technician during high school, but after graduation he decided to become a helicopter pilot. When that didn't work out due to health issues, he had to figure out something new.
"I was trying to figure out what to do and I had always wanted to be a firefighter." De Mattos said. "Barro Branco came to [mind], that is where you graduate as a firefighter. But I saw what police was like."
That was the changing point for De Mattos, who is now 22.
"I fell in love with the police. I mean, it's awesome." De Mattos said. "I wouldn't do it different now. I couldn't see myself becoming a chemical engineer. … It feels so weird. We go out into the street and it takes out so much from us. You've got to be in charge of a large number of troops and there's a lot of responsibility, but a lot of privilege comes with that."
It isn't easy for the cadets.
"You've got to go through three years. You've got to go through hell," De Mattos said.
The restrictions Brazil places on citizens and police alike can be taxing, especially for the cadets.
"There are a lot of restrictions, but what doesn't kill you makes you stronger, it's kind of our motto." De Mattos confirmed.
The way the cadets see it, though, the struggles in the academy are worth it.
"You feel like a family. The guy next to you, he will always be there," De Abreu said.
Having a family to watch their back is very important to the Brazilian police, De Abreu said. With the way their society looks at them, hostility is a common attitude the police face when doing their job on the streets.
"We just catch the guy and take him to the police station," De Abreu said. "Society … they criticize us, but they don't know us."
The cadets love their job as police, but all professed the danger of it.
"In Garland's police department they have three fallen officers in their whole history. We lost three officers just last month," Roschel said.
The cadets hope that what they learned during their stay in Texas will help them to improve conditions in Sao Paulo. From learning how American police and civilians interact to better tactics and weapons handling, the cadets feel like they are ready to head back and do their part to improve police relations in Brazil.
"First off … you give your policemen good stuff to work with," De Mattos said. "And second, the respect the American have for the police … makes them treat you a lot better than we can treat people back in Brazil. The less danger [a police officer faces], the less aggressive he has to be."
De Mattos hopes that his generation can change the view people have toward police in Brazil, lessening the danger and allowing them to become more integrated into society. All three of the cadets agreed that is necessary to restore order to Brazil.
"Your police have a lot of great ideas," Roschel said, "like using drug dealers' money to buy things for the department. … And this program of police for the college, we don't have these in Brazil. It's a pretty good idea. We [will face] many problems to begin this, but it's a good idea. And the video conference, in the beginning of a shift, police officers from different locations talk to each other through video chat, that's a good idea, too. We can take all this to Brazil."
De Abreu agreed.
"I think the most important thing is how close the police officers are here, especially with all the students. It's the community policing," De Abreu said. "All the material you have, all the technology, we could buy, but the most important thing is the community policing, because if you have the population by your side, it's less dangerous.
You'll have more information, you have the support … you can make a difference."
The cadets also said they hope that with their generation of military police things in Brazil can change. They hope to take what they learned back and use it to make the military police more popular and improve their ability to effectively enforce laws and protect civilians.
"I think that the most important thing that we've learned here is that the police must be close to the society," Roschel said. "It is difficult because … we are just surviving, you know?"