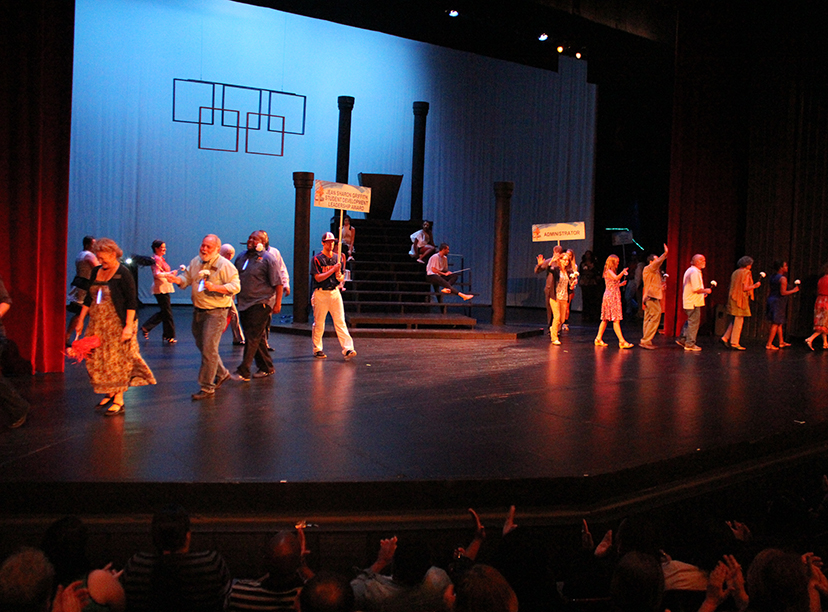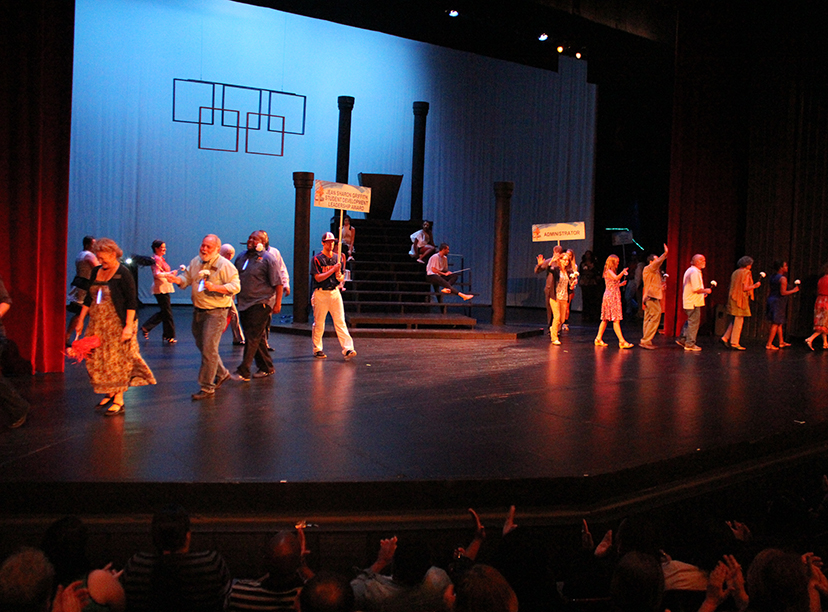 By Andrea Carrizales
Faculty and staff gathered in the Performance Hall on Aug. 28 to reflect over the progress of the past few years and set the goals for Eastfield College in 2015-2016.
The celebration started with the naming of the annual employee-award winners.
The Excellence in Teaching Award for full-time faculty went to Selena Stuart-Alexander, professor of learning frameworks.
"It was very exciting." Stuart-Alexander said. "I love teaching. It's something I've been wanting to do since I was 8 years old. And then to be recognized for something you enjoy is just wonderful. Actually one of my former students nominated me, so that was extra special."
Adjunct faculty winner was English professor Kelly Savage.
The award for innovation of the year went to Jason Busbin.
"I'm a celebrity now," Busbin joked. "I totally didn't expect it."
Busbin, whose innovation was the instructional design in the Faculty Center, trains faculty members on how to use eCampus for online and hybrid classes.
He has several videos available online and hopes to continue producing instructional videos and engaging faculty and students through eCampus.
Professor David Danforth was named Administrator of the Year. His walk up the stage, accompanied with John Williams' "The Imperial March" drew chuckles from audience members, who know of Danforth's fascination with "Star Wars."
Leslie Johnson was recognized as the full-time professional support staff awardee.
The award for part-time professional support staff went to former Eastfield student Travis Graves, who is now assistant baseball coach.
Professor Courtney Brazile received the Jean Sharon Griffith Student Development Leadership Award. He said that he is ready to go to the next level with his teaching and as an adviser to M.A.L.E.S., formerly the Men's Empowerment Coalition, and the Communication Club.
"I want to meet the needs of my students through clubs that I advise, through the curriculum that I teach," he said.
Brazile's commitment to his work goes along the theme for convocation. President Jean Conway encouraged participants to "Take the Lead" this upcoming year.
"If we are going to be champions, if we are going to be leaders again, it starts with us, as a college and as a district," she said.
A flash mob dance to Michael Jackson's "Don't Stop 'Til You Get Enough," led by speech professor Nick Vera, concluded the celebrations