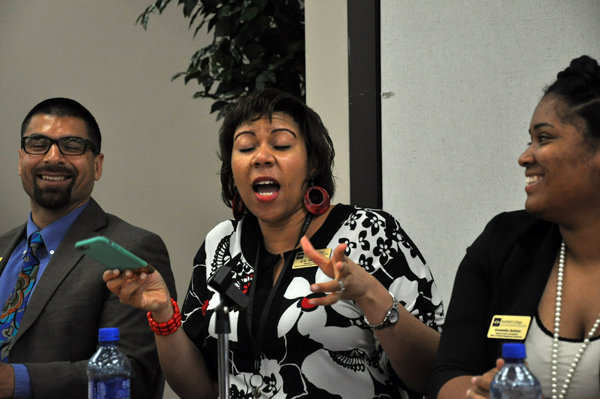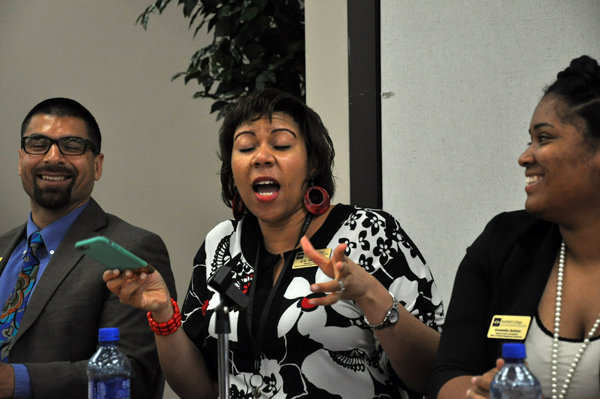 By James Hartley
Students angered by the dismissal of Student Life Director Judy Schwartz and her assistant expressed skepticism Thursday about the Office of Student Engagement and Retention's ability to take over the women's responsibilities.
"Judy and Norma have been there for me, for the club I started, from day one," Monica Stockton, president of the Allied Health Society, said at a forum. "Any questions or concerns that I had, they were there. They know the ins and outs, and any time I had a concern and I went to them, or had a question about anything, they answered it or helped me find a solution."
The Student Government Association organized the meeting, and Vice President Michael Gutierrez, Executive Dean Courtney Carter-Harbour, club coordinator Unswella Ankton and OSER office manager Rita Bregola formed a panel to answer student questions.
The week of May 18, Student Life was absorbed by OSER. Schwartz and her assistant, Norma Mendoza, were removed from their jobs.
Outraged students and alumni launched a Facebook page, Students4StudentLife, which swelled to more than 300 members overnight. Many met off campus May 23 to discuss the changes and draft a plan to seek answers from Eastfield administrators, which prompted scheduling of the forum.
Moving Student Life within OSER is designed to replicate Student Life's impact on a larger scale, Carter-Harbour said.
"Do the numbers really matter compared to student success individually?" Texas Junior College SGA President Rameez Sohail asked.
"Yes, it is about numbers. We live in a very numbers driven world," Carter-Harbour said. "But I think it's about impact, and I think it's about making sure that those students who do participate in clubs and organizations, participate in leadership workshops, take their experiences and share with students who have not been afforded those types of experiences."
Sohail questioned how this recruitment would take place.
"We really cannot force students to get involved in activities on campus," he said.
Carter-Harbour replied: "It's really about casting a wider net."
Gutierrez said he believes OSER possesses the tools to engage a wider population of students.
"We as an entity need to recognize what our student body looks like," he said. "We have 15,000 students, but 77 percent of them are part-time. That's a lot. So how do we engage those part-time students?"
Participants also noted displeasure with how Schwartz and Mendoza were treated.
"Is this how you treat your employees?" Stockton said. "No 90 day notice?"
Gutierrez said both women will be paid through the end of August and may apply for new jobs within the Dallas County Community College District.
"OSER has some pretty big shoes to fill," Stockton said.
Other students are concerned about how OSER plans to replicate the intimate mentoring relationships Schwartz and Mendoza had forged with students.
"It's been, like Monica said, them that's brought a lot of us together," Jose Marquez, an Eastfield alumnus, said about Schwartz and Mendoza. "We want to know what you guys are going to be able to do to really engage these students as we were engaged by these people."
Ankton, the club coordinator, asked for patience.
"I think what we need to realize is that relationships aren't just built overnight," she said. "The relationships students built with Judy and Norma happened over time. Just like you guys had that time, everybody in that office that is right now downstairs needs that time. As students the only thing that we could ask of you guys is to be open-minded."
Students were also unhappy that they were not notified about the change before it happened.
"Is the most professional SGA in Texas not entrusted with that?" member Steven Klehm asked, referring to a recent award the group received.
"It's not that we don't want to tell people, it's that we can't. It's a human resources issue," Gutierrez said. "The first individual we need to tell are the people who are being impacted immediately."
Gutierrez offered to hold a "meet the vice president" forum in the fall to increase his interactions with students.
Alumnae Maria Garcia urged the group to release its anger and move forward.
"Look around the room. These are individuals that have been impacted by Norma and Judy," she said. "She may be gone, but she left an everlasting legacy. … Use this momentum, use this energy, to continue this communication, … to continue to move forward."