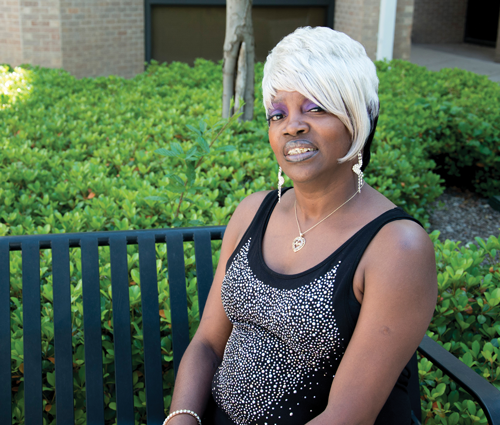 Former addict uses tribulations as tool to console, teach others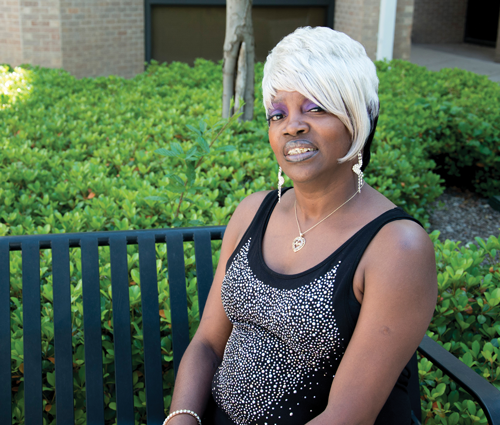 By J. Gomez
She unfolds a paper bearing mug shots dating back to February 2002. The mug shots show the battle of a woman in the midst of an addiction to crack.
Substance abuse counseling major Charlesetta Garrett keeps copies of this paper with her everywhere she goes. It is a reminder of how much she has overcome and is a tool to reach those who still fight the affliction of drug addiction.
"I have done so many things," Garrett said. "I am speaking of my past life. I robbed. I stole. I jacked. I wrote hot checks. I pimped women. So many things that I have done that I am not happy about. But that's why I am trying to build a future that I can be happy with."
Garrett said her drug-driven criminal life began in 1987 as a prostitute and ended with her arrest in 2009.
Garrett has been incarcerated three times for non-violent crimes.
"I went in and out of institutions … jail, prison and rehab," Garrett said. "The longest time I ever did in prison was 21 months. The reason why I went in and out of prison was because my addiction, using, forging checks and prostitution."
Addiction to crack motivated Garrett for more than 20 years, she said. She hit rock bottom several times but was unable to maintain sobriety.
"They gave me probation and I couldn't do the probation because I kept using," she said. "And when I went in for [drug testing] I was dirty and ended up in prison."
Garrett grew up in Oak Cliff, living there for almost 50 years. She is the youngest of four with two sisters and a brother. They all have addictions of their own, she said. One of her sisters passed away due to congestive heart failure related to her drug use.
After her parents divorced, Garrett felt an emptiness that grew too painful to bear.
"My prostitution occurred from my abandonment from my father" Garrett said. "Now see I was a daddy's baby, not a mama's baby. Everywhere he went, I went. The drag strip, the juke joint, we just ride around town and he fill it up with 50 cents of ethyl."
Garrett said that after the divorce, her father's visits became less frequent.
"I didn't like that," she said. "I wanted to see more of him. So I'm having problems, and I don't know how to talk about it. I'm just 11 years old. It got to where it was once every other month and I'm really tripping now. I'm missing my daddy."
By the age of 26, the unshakable feeling of abandonment is what led to her becoming a prostitute, Garrett said.
During this period of addiction and crime, Garrett gave legal guardianship of her two daughters to her mother.
"She was beaten badly on several occasions," Nikki Shields, Garrett's niece, said "Years ago she was kidnapped by a gentlemen who took her out of state and the police got involved. She got in the car with him, and he wouldn't let her get out the car."
Last semester Garrett took a speech class taught by Professor Nicholas Vera. One project he assigns students is a personal narrative speech. Garrett's personal speech covered her battle with addiction.
"It wasn't pretty," Vera said. "It wasn't 'And then you know I hit rock bottom and then I came back.' It was 'I hit rock bottom, then I wanted to get better, then I hit rock bottom again.' "
For another assignment Vera said Garrett delivered an "impactful" speech on the reality of individuals whose addiction has led them to a life on the streets.
"She owed money to all kinds of seedy people on the streets and there were people that threatened her life," Vera said.
Things turned around for Garrett after she went through a Dallas County rehabilitation program called STAR court. According to the court's website, the program takes people convicted of felony prostitution and places them in a treatment facility.
"Once she got out of that cycle she started to discover things about herself that started to build herself back up," Vera said. "Because she wasn't depending on drugs anymore and she started saying 'What value do I have to offer society after this?'"
Garrett successfully completed the program at the Phoenix House in Wilmer, Texas.
"I decided I wanted to live and so they gave me the tools to do that," Garrett said. "I have been clean ever since."
The program provided Garrett with strategies to assist her in her new life.
"You are taught coping skills, different types of things to avoid using drugs and alcohol or committing the same crime," Garrett said.
Garrett created her mission while at Phoenix House.
"I decided while I was in rehab to help others, to give them what was freely given to me to help save my life," she said.
Along with this change in philosophy Garrett decided in 2013 to go to school to become a substance abuse counselor.
"I want to be able to counsel families that are having issues, no matter what the issue is," Garrett said. "I just want to be able to save lives, bring families together … because my family was broken up pretty bad."
Garrett works at her sobriety on a daily basis by taking part in church-sponsored programs such as Overcomers, which she said is similar to a 12-step group.
In addition, she is a sponsor for several individuals in a 12-step program for narcotics.
Garrett also makes use of her experience by volunteering at ABC Behavioral Health and Nexus Recovery Center.
Garrett recently obtained employment at a transitional house, which has provided her with income to move into her own place.
"I was in a housing program at ABC Behavioral Health for five years," she said. "I just recently was able to move out on my own.
"I felt like, 'OK I've been here five years, now I have a job, I have income and so somebody else needs that spot, somebody else needs to move in there."
Garrett's transformation has had a positive impact on those who are close to her.
"Some of the biggest changes is that she is able to take care of herself and her kids," Shields said. "Just being there for them is something she has never really done."
Garrett is now a doting grandmother of six as she works towards her degree.
"I want to help save people in their addiction," she said. "To find a new life, a new way, a new day."