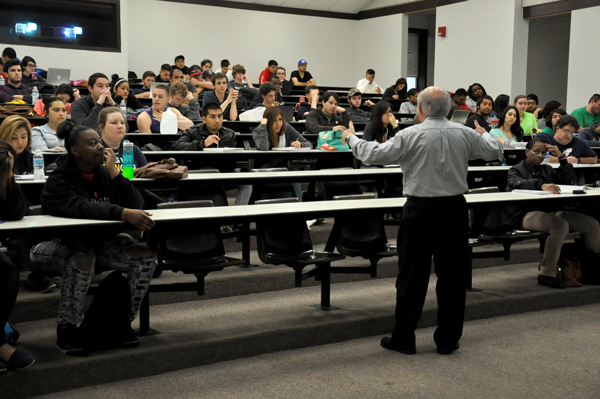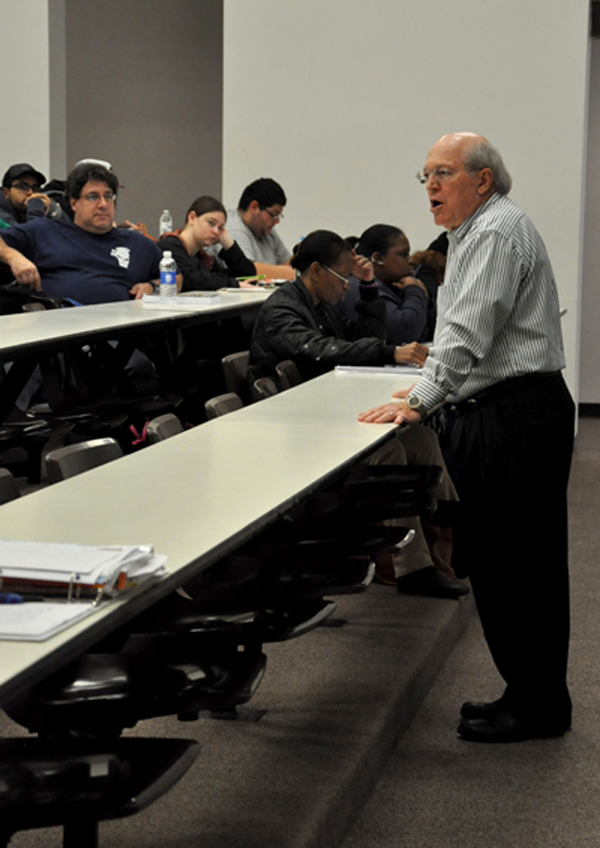 By Parker Ward
When Dr. Jerry Henson walked in as one of Eastfield's first professors in 1970, the college had four buildings, one of which was not complete, and lacked carpet and furnished classrooms.
Now, 45 years later he will walk out for the last time.
Henson found his new job through a friend. He was excited to be part of the first group of professors at Eastfield.
"It's very exciting to start something," Henson said. "We were instrumental in getting the college up and running."
Henson originally taught religion and philosophy classes. Henson has a bachelor's in religion from Hardin-Simmons, a Master of Divinity from Southwestern Baptist Seminary and a doctorate in philosophical theology from Baylor University.
At the end his seventh year, however, he became the division chair of social sciences. After serving for a year, Henson was promoted to vice president of instruction, where he would serve for 11 years. Later, after serving as an administrator, he returned to teaching religion and philosophy classes for a year before transitioning to history.
"When I came back on faculty, we had vacancies in history," Henson said. "We were overstaffed in religion and philosophy, so I was knocking someone else out of a class [in religion and philosophy], and I always wanted to get into history."
While at the college, Henson has had his hand in several major projects including writing Eastfield's history book, "The Person Centered College," which documents the first 30 years of Eastfield. He helped create the honors program and Oral History Project.
Henson has seen many students and staff members come and go, as well as seeing some famous people on campus including comedian George Carlin, David Eisenhower — son of former president Dwight Eisenhower — theoretical physicist Edward Teller and two U.S. presidents, one of which he was able to speak to personally.
"George H.W. Bush came when he was vice president," Henson said. "I got to visit with him a few minutes alone, and we talked basketball and a little bit about West Texas."
Both came from small family farms in Texas.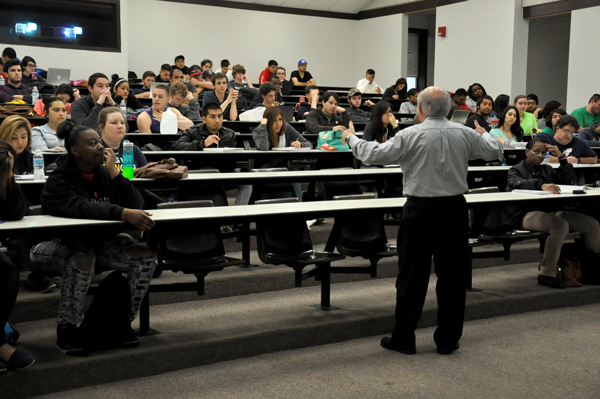 "I was the first in my family to go to college," he said. "I discovered the world of [academic] scholarship and I discovered that I would like to be a college professor."
Though he knew that he wanted to go to college, Henson was not always interested in teaching.
"I made that decision about the time I was 14," Henson said. "That was a decision to go into the ministry to be a pastor."
After 45 years at Eastfield, Henson has inspired professors around him. One is Professor Michael Noble, who has taught joint history classes with him for five years.
"I look at him almost as like a father figure," Noble said. "He's the guy I go to whenever I have questions or I just need to vent."
Henson has always enjoyed making sure that students in his class feel relaxed.
"Students then and now feel very comfortable and relaxed around him," said Dean of Social Sciences Mike Walker, "He's smarter than us, but he doesn't act superior in any way."
At the end of the day however, Henson has always been here to serve the students.
"The institution was here to serve the people," Henson said. "I found that here I could change lives, much more than I could have at a university."