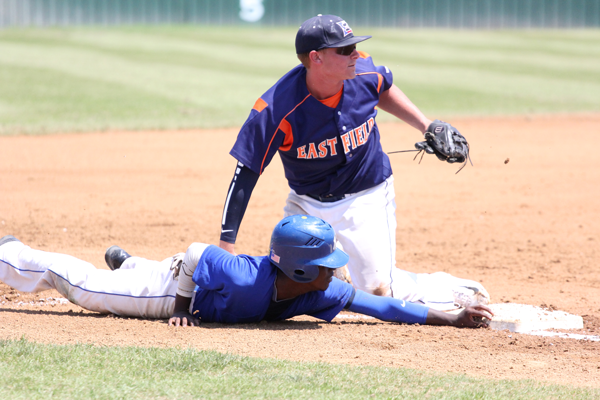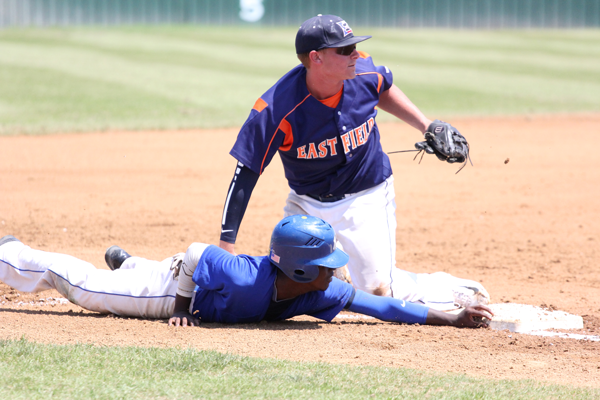 By Parker Ward
The Eastfield Harvesters swept a home doubleheader against Mountain View on Saturday to clinch the regular-season Metro Athletic Conference title.
Eastfield (34-10 overall, 22-8 MAC) finished the season ranked No. 6 in the National Junior College Athletic Association Division III poll.
The Harvesters used a pair of strong pitching performances from freshman Blake Barr (8-3) and redshirt sophomore Emilio Gonzales (3-0) to win their final conference series of the season.
Both pitchers posted complete-game wins and threw a combined 32 strikeouts — Barr with 14 and Gonzales with 18.
"We have a good group of guys that have worked hard all year long," Eastfield coach Michael Martin said. "They have had a goal in mind that we set from day one, and that is to win this conference."
In Saturday's first game, Barr gave up just one run on five hits and worked out of a bases-loaded jam in the top of the seventh to end the game.
Offensively, the Harvesters also had only five hits, but one was a home run by Michael Kister, who was 2-for-2 with two RBIs and a stolen base.
In Game 2, Eastfield scored three runs in the first inning and cruised to a 9-1 win. The Harvesters had 14 hits, led by sophomore Jason Serchay, who was 3-for-5 with a double, three RBIs, one run scored and a stolen base.
Sophomore infielder Cody Duplechin went 4-for-4 with a double and two runs scored. Redshirt freshman Casey Maack helped to round out the offense, going 3-for-5 with a triple, two RBIs and three runs scored.
Gonzales dominated the game, surrendering just three hits and taking a shutout into the eighth inning.
"I had all my pitches working and I was hitting locations with them," Gonzales said. "The mechanics fell together nicely today, and I got back to what I know I can do and I'm capable of."
Serchay is optimistic about the future of this team.
"I'm just excited to keep going," he said. "I can't harp on the past too much. I'm hopeful for the present and focused on the future."
Eastfield has now won nine of its last 10 games.
The Harvesters will represent the MAC in the NJCAA District C tournament which will be held May 13-17 at Cedar Hill High School. Eastfield's opening game will be 7 p.m. May 14.
"The momentum is huge," Gonzales said. "We've got a week to prepare and then we'll carry this success into the regional playoffs."