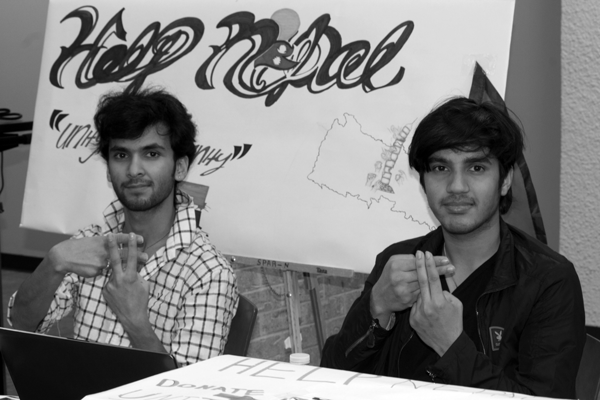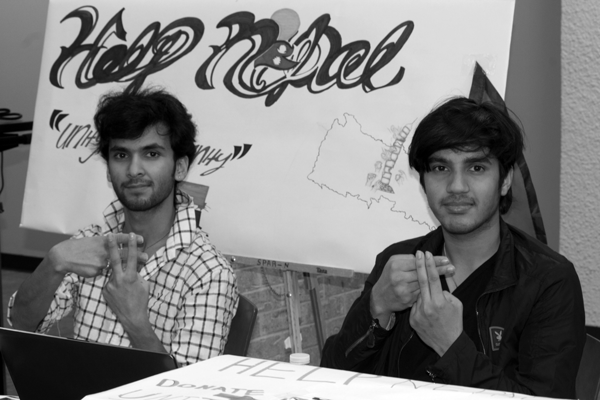 By Andy Carrizales
Rohan Dokharel remembers the night of Friday, April 24 very clearly.
"It was when the tornado came on the DFW area," Dokharel said. "I came back from my grandpa's home. I was looking at Facebook. Somebody [had] just uploaded a status like 'Earthquake in Nepal.'"
Dokharel, who has experienced minor earthquakes before, said he was not concerned for his friends and family back in Nepal.
"I was like laughing 'cause I have faced a lot of earthquakes in Nepal and they're pretty minor shakings," he said. "Used to be fun when I was with my friends, so I thought 'OK, it must be fun.' "
The earthquake that hit Nepal just before noon April 25 Nepal Standard Time reached a 7.8 magnitude with an epicenter in the small district of Gorkha near Nepal's capital, Kathmandu.
"Then I came to hear about the magnitude of the earthquake and it was huge, so I just needed to call my family but the number was not being dialed," Dokharel said. "I thought it might be the network disturbance. After an earthquake you get a lot of disturbances on the network because a lot of buildings shake. Cellphone towers and Internet towers don't match up the signal because of the high magnitude of the earthquake. So I thought, 'OK, I'll wait.'
"I came in contact at five in the morning," he said. "I was trying to [get] in contact [since] 12 a.m. and then everything was pretty fine, but everything was ruined in that old city that I [grew up in] till [I was] 18 years [old]."
Just like many other Nepalese students, Dokharel left his country in search of a quality education. He is an undecided major at Eastfield and has been in the country for nine months.
On every post-quake picture that Dokharel sees, he remembers the places, the buildings and the areas he used to visit. He is convinced that if he went to Kathmandu today he could still find his way around the city, even though the quake leveled many buildings. He said that it would feel like déjà vu.
"I know every nook and corner of Kathmandu," he said. "The buildings that used to be there, they won't be the same. It would look a lot different."
The earthquake affected many people around the Gorkha district. Ten days after the quake death tolls surpassed 7,000 with twice as many injured, as reported by the National Emergency Operation Center.
A week later the earthquake survivors were still being rescued. It has been determined impossible to rescue more survivors.
Dip Niraula, an undecided major, said the biggest problem is that Nepal's government is not handling the situation efficiently.
"They got the resources there, they got the first aid sent by the other countries, but it's not delocalized by the government, it's just stuck in one place," Niraula said. "It's not even distributed in Kathmandu."
Resources such as food, water, clothing and tents are being delivered by helicopter but the landscape provides many obstacles. Many of the main roads are covered in rubble, making it nearly impossible to reach small villages.
"One of my friends, she had her house break down in the earthquake," computer engineering major Milan Biswakarma said.
The aftershocks of the earthquake are still terrorizing the population.
Every day there are two smaller earthquakes that still cause trouble to the architecture and the psychological well-being of the people.
The families of Niraula, Biswakarma and Dokarel did not suffer from any physical harm. However, Biswakarma said that this doesn't mean they aren't affected.
"Rather than not being affected, I think all of them are affected," Biswakarma said. "[The Nepalese] have to live in tents in the ground outside their [houses]. They don't have good food to eat, good water to drink, so when they need food or water they go in the house and it's a horrible situation because they have to go there in fear, fear that an earthquake might hit again and they might die. It's far from being normal."
Biswakarma, Niraula and Diwas Adhikari, a computer science major, created their own donation campaign to help the earthquake victims. They are taking donations in the Pit through May 8.
They accept most first aid supplies, but since airlines are charging processing fees, Dokharel said that monetary donations would be better.
All collections will be delivered through the Nepalese Society of Texas.
The campaign started when they emailed their English professor, Kassandra Buck, asking for an extension on an assignment.
"As soon as we sent our email, she gave me a call saying 'How are you? We are there for you,' " Biswakarma said. "It was like a feeling of motherly love for us because we had no one here for us. We all were not able to make contact with [our] families."
Buck encouraged them to start the campaign and contact faculty and students who might be able to help.
They now have the support of various student organizations such as the Rotaract Club, the International Club and the Student Government Association.
"I really thank all the people in the Earth, especially Professor Buck. She has been like a light for us," Niraula said. "When you are so far from the homeland, somebody does something like that. It always feels good."