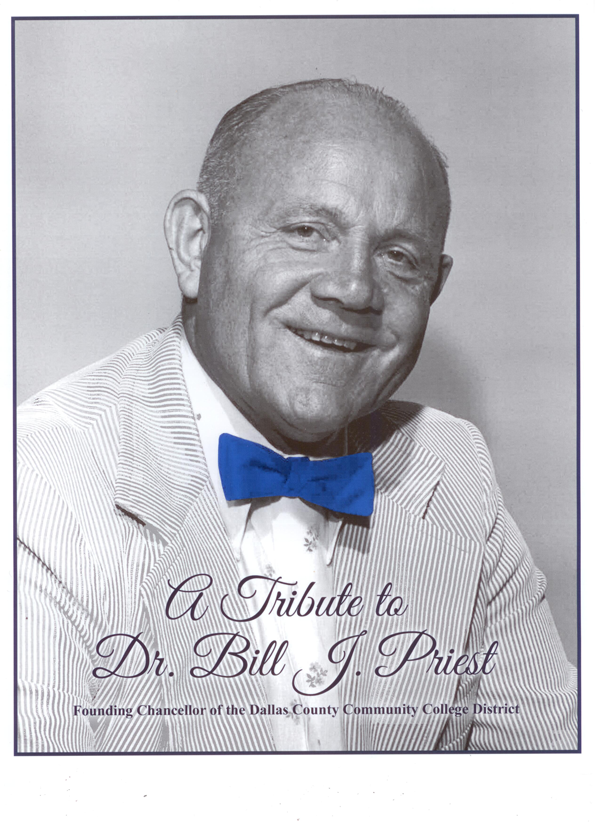 By Andy Carrizales
Blue balloons arranged in the shape of a bow tie decorate the right side of the stage in the Performance Hall. In the middle, a screen displays several photos, the backdrop to influential leaders who await their turn to say a last goodbye to Dr. Bill J. Priest.
On April 22, Eastfield College hosted the memorial for Priest, founding chancellor of the Dallas County Community College District.
Priest died Dec. 31, 2014. He was 97.
The tribute to Priest involved many high-profile individuals in the North Texas area and abroad who started their careers under his tutelage. Dr. Joe D. May, current chancellor of the district, started off the memorial.
"When you set something on the right course, when you bring in the right people, when you have the right vision, good things happen and continue to happen," May said. "And that continues to happen to this day because of [Dr. Priest's] vision, his leadership, frankly his unwavering commitment to quality and doing things right.
"We now continue to have and provide an opportunity for the millions of people that live in this area, the millions of people that will come in the future," he said.
Former college presidents and retired faculty also spoke about Priest's influence in their lives. Mentorship, leadership values, entrepreneurship and a great passion to serve the public are some of the characteristics Priest passed on to his employees and friends.
Community leaders and Eastfield students were also in attendance. The diversity of the attendees reflected Priest's passion for serving the different entities that make up community colleges, many speakers said.
"There were no little people in the DCCCD [for Priest], whether students or employees, full-time or part-time, or in one's personal life for that matter," Dr. Stephen K. Mittelstet, former president of Richland College, said.
DCCCD legacy
Priest, a California native, arrived in Dallas in 1965 and was hired as the first chancellor of the DCCCD. At the time the district was just about to open the doors of El Centro College. Two more colleges, Eastfield and Mountain View, were in planning stages. The district is commemorating its 50th anniversary this year.
Robert L. Thornton III, executive officer of the DCCCD Foundation Board, although unable to attend, sent a video remembering his friend.
"Bill Priest was … an extraordinary leader who built the DCCCD into one of the top community college systems in the country," he said.
Priest retired in 1981 and was named chancellor emeritus with base at Richland College.
His commitment to providing aesthetically pleasing environments for students to learn has been translated in the creation of various buildings named in his honor, Mittelstet said. El Centro's Bill J. Priest Institute for Economic Development, now named the Bill J. Priest Campus and the Bill J. Priest Center for Community College Education in the University of North Texas are examples of how the work of Priest is remembered.
Leadership
Many speakers provided insight to the intimidating words of the man with the bow tie, but none of them showed resentment. On the contrary, speakers expressed great admiration toward Priest's autocratic leadership – his brutal honesty, swift reprimands and unyielding character.
Dr. H. Deon Holt, former vice chancellor of planning and founding president of Richland and Brookhaven colleges, talked about Priest's words and lessons.
"I remember and appreciate what I call Bill Priestisms," Holt said. "Such as 'If you never make any mistakes, you're not trying enough new things.' And another one, 'The only dumb question is when you ask twice.' "
Much of Priest's success in building the DCCCD was his ability to surround himself with a hard-working, passionate and knowledgeable team.
"He was a good people-picker," Dr. Kathleen Krebbs Whitson, retired DCCCD administrator and author of the biography "Bill Jason Priest, Community College Pioneer," said. "He could see the strengths in those around him and help them in developing that."
Personal Life
Priest's experience in junior college education started early in his life. He attended Modesto Junior College before transferring to the University of California at Berkeley to get his bachelor degree.
Priest, just like any college student, had some trouble finding his vocation when he was young.
"He wanted to be a professional baseball player. That was his ambition," Whitson said.
Priest was always a genuine person, in his leadership style as well as in his personal relationships, Dr. Ruth G. Shaw, former president of El Centro College, said. His affinity for tennis, fishing and baseball is something remembered by all those who knew him.
Mittelstet's recollections of uncomplicated luncheons with Priest at economic venues with 2-for-1 coupons moved the audience to laughter.
Priest's grandchildren, Matt J. Priest and Dr. Jill Priest Amati, also spoke at the ceremony.
"To us he was simply Papa. To the people here today he was so many things," Priest said. "Educator, innovator, hunter, fisherman, world traveler, bow tie wearer, baseball and tennis enthusiast and, for some folks here, probably some words we just can't use in public."
Before arriving in Dallas, Priest served in the Pacific during World War II as an intelligence officer.
When his grandchildren asked him why it was he had chosen to serve in Asia, they remember he replied that it was because his wife, Marietta, was living in San Francisco at the time and he would have the opportunity to see her before shipping off to the war.
"I love this story because it brought to light the human side of him," Amati said. "He was always so calculating and well thought out and not to be one overcome by emotions, but this story illustrates his softer sides, I always found it very
wonderful."
Priest's work for the DCCCD will continue to inspire generations who attend the Dallas Community Colleges, Mittelstet said.
Priest was "a giant of a leader," he said, "and a human being with a big heart."