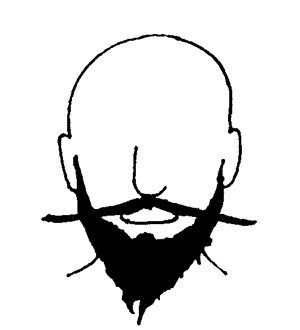 Facial hair is making its way back into fashion
By J. Gomez
Beards are back! Grizzled jaw lines are more and more the cultural norm as men young and old abandon their razors and ride the wave of the latest trend.
Over the past few years the trend of beard wearing has resurged. Some say the hipster movement hijacked this look and incorporated it into its own ethos, while others say the bearded look has never gone out of style.
Beards have grown affiliated with a variety of pop culture icons in America, from TV show personalities such as the "Duck Dynasty" crew to the Boston Red Sox team.
"I eventually had a full beard at one point like baseball players from the Red Sox team because I was originally from Boston," theater major Ian Perkins said. "Back up in New England, it's sort of a symbol of pride, a brother-ship almost, everyone in Boston recognizes it as respectable."
Some of the big beard moments in America's history include the 1800s, the 60s and now. What's more fascinating is the length and style of today's beards. They are almost akin to something you would see in a Civil War photo, in relation to length and girth.
Besides fashion, many men choose to sport facial rugs for economical and low maintenance purposes.
"When I retired, one of the first things I decided was 'no more shaving.' With the price of razors, I was glad I quit," science major John Usener said.
There does seem to be an earthy, primal, manly mythos that has attached itself to the reputation of the beard.
"I had a deal [to grow a beard] with a friend and he said I wouldn't last because my parents don't like beards, because I might look weird," said nursing major Kev Weezey John. "I look like a caveman."
The beard also carries an allure that some find attractive.
"The wife turned around and said if I get rid of the beard, I might as well not even come back home," Usener said. "She said the beard was kind of a necessity (because) every time I shaved I looked like a kid and she doesn't like it."