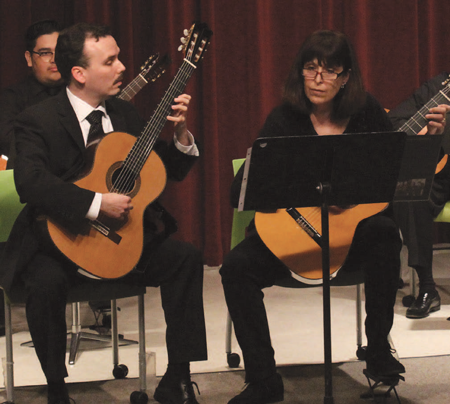 By Andy Carrizales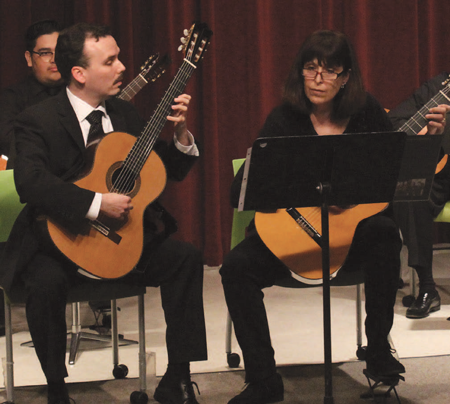 Directly beyond Ed Healy's office door is a table piled high with books on music theory and famous composers. A full-body mirror rests against a wall and, apart from two chairs, the only other furniture in the room is a stand for music sheets.
Although the room seems uninhabited, the signs that this is a musician's office are prominent.
"I have this lifestyle where I don't just show up to teach class and then I go home and just vegetate," Healy said.
Professor Ed Healy attended Eastfield College from 1995 to 1997 and has been working as a classical guitar instructor for the last 12 years.
He started playing electric guitar when he was 13 years old and discovered his passion for acoustic guitar at Eastfield under the direction of his former professor and current mentor Enric Madriguera.
Healy continued his education at the University of North Texas and later attended Southern Methodist University, where he earned his master's degree in music.
Madriguera remembers Healy as a dedicated and talented student. Now that he is mentoring Healy in his pursuit of a doctorate in humanities, he sees Healy as a serious musician.
"He's gone from being a fine local student to being someone who's published internationally and [is a] recording artist," Madriguera said. "He's an emerging international figure on the guitar as well as a composer."
Healy's job as a musician goes past the ordinary 9 to 5. He teaches at Eastfield, Brookhaven College, the University of Texas at Dallas, Collin College and the Gray School of Music. He also conducts private guitar lessons in his studio.
When he is not teaching, Healy focuses his time on his own practice, performances and marketing.
"I have to practice," Healy said. "I have to teach. I compose, I arrange, I have to get gigs for myself. It's kind of a 24-hour-a-day job."
Healy also has had an ongoing collaboration with mezzo-soprano singer Brandi Estwick for the past three years.
When rehearsing, Healy doesn't have any kind of rituals or routines. He reviews the music sheet and ensures that he has perfected the piece in the easiest way possible.
"I try to make sure that I structure my practice in ways where I can be as close to perfection as I can all the time," he said. "So that when you're under pressure, when that performance is going on, when the nerves strike, that everything is kind of automatic, everything is already there because your hands are so used to doing things the right way."
Igor Stravinsky, Joaquin Rodrigo and Eric Whitacre are three of Healy's favorite composers. As a composer himself, Healy strives to create music that incites a great passion on his listeners.
Healy admires Stravinsky for the passion his compositions created among the Russians during the 1900s. He enthusiastically narrates how, on the first night of its performance, Stravinsky's "Rite of Spring" drove the audience into a riot. Six months later they recognized him as one of the best Russian composers.
"It's really hard to incite that kind of passion, whether positive or negative, in people when they listen to music anymore," Healy said. "It doesn't mean that people don't have passion about music; it just means that so many things have happened in music and so many different phenomena have happened that people are more interested in kind of getting fired up about whatever Miley Cyrus might be wearing when she's on stage.
"They don't talk that much about her music. They talk more about what this person's wearing, what that person did on stage or something like that, so to write music that really kind of fires people up on basis of the music is really challenging. It's kind of a lifelong challenge I think, for composers."
Healy's compositions have been performed in the U.S., Mexico, Italy, Spain and Germany.
In addition to Stravinsky's impact on Healy's works, Whitacre's choral pieces strongly influence Healy's original compositions. The harmony and flow of the music, which don't always translate on the pieces arranged from singing to guitar, is what concerns Healy the most.
This kind of interconnected relationship between disciplines is what allows music to keep evolving, he said. The feeding off from each other creates innovative pieces, even in the classical genre.
Hugo Rivera, an electrical engineering major, said he enjoys Healy's Intro to guitar class.
"I feel like I've improved a lot since I first started," Rivera said.
Healy emphasizes the importance of practice to his students.
"Being a musician isn't just a plain old job," he said. "It's a lifestyle."