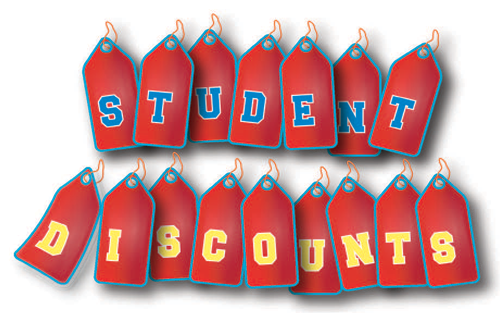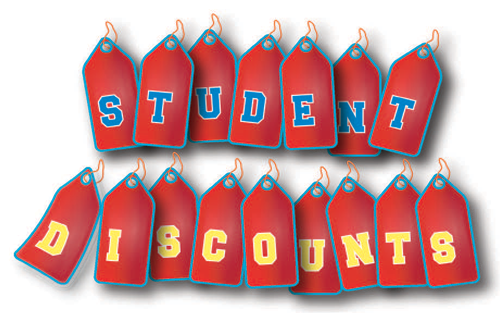 Being a student leaves you with little to no money at times, which can make paying for food, electronics, clothes or a night out on the town difficult.
Many vendors offer discounts to college students. Some are publicized, but others must be requested.
"I have known about them for a while," education major Kat Perez said. "My parents used to work at the science exhibit museum, so I knew there would be some discounts."
Amazon offers a six-month free trial for its Amazon Prime service with free two-day shipping. Once the trial ends, students can purchase the Prime service 50 percent off.
Apple stores give discounts on laptops and iPods while Best Buy emails deals to students who sign up under school email addresses. Microsoft offers free software and AT&T discounts on wireless plans and equipment.
Many entertainment venues, such as movie theaters, sporting teams and amusement parks, also reduce ticket prices for students.
Even when the amount is small, education major Selena Castillo appreciates the discounts.
"At least you have saved some money," she said.
Science major Lawan Usman would like to see more price cuts for students.
"That would be nice," he said. "It would motivate more people to go to school."
Visit dcccd.edu/SS/oncampus/discounts for more information on these discounts. Most offers must be redeemed online.
Dallas Stars College night games
Terrace tickets $15, plaza tickets $50
Dallas Zoo
Tickets $10 each, $5 off the regular price
Medieval Times
40 percent off adult admission
Six Flags over Texas
Save at least $25 off the gate price
Angelika Film Center in Dallas
$8 movie ticket and free 85-ounce popcorn with unlimited refills every Tuesday
Sam's Club Collegiate Membership
$15 gift card with additional offers after sign up
—Carolina Catalan and Maryory Morales